Service Learning Trip to Thailand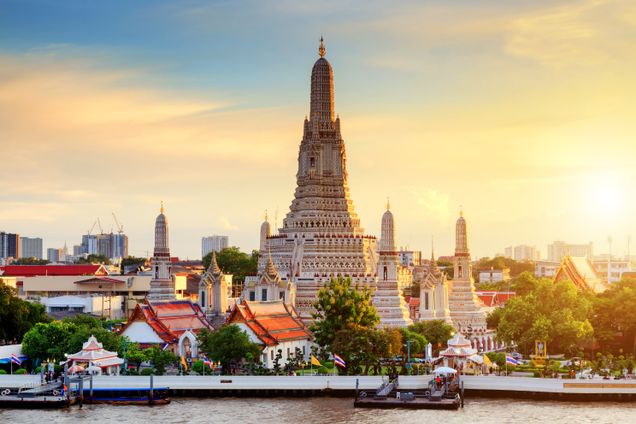 Program Dates: May 20-June 2, 2024
Thailand has long been a famous tourist destination, and it's not hard to see why. Known as the "land of smiles," visitors revel in the country's incomparable pad thai, idyllic beaches, full-moon parties, and sacred spaces. This "Transforming Tourism" program digs below the surface of conventional tourism to examine its pitfalls and the emergence of new community-led alternatives that focus attention on local income generation, environmental sustainability, and social justice. 
Journey from the hustle and bustle of Big Mango to the rolling hills of Chiang Rai and glimmering temples of Chiang Mai. Explore ancient ruins, meet gentle giants, taste delicious local food, and immerse yourself in Thai culture while you examine the pitfalls of the tourism industry and the power of community-based alternatives to transform it.
The deadline to apply is January 26, 2024.
SHA graduate students and undergraduate students in good academic standing will be given priority. SHA undergraduate minors are also eligible to apply. This course fulfills the HF440 International Experience requirement.

Questions?
Contact: Mara Littman, Director of Corporate and Public Relations, at mlittman@bu.edu
---
Program Highlights: 
Embrace the chaos and complexity of modern Bangkok – from the delights of Thai cuisine to the beautiful temples and pagodas, and the harsh realities in the urban slum of Khlong Toey.

 

Get up close and personal with the endangered Asian elephant while we talk about the ethics of animal tourism at Elephant Nature Park.

Stay with local families in a hill tribe village and learn about one of Thailand's most successful volunteer and community-based tourism initiatives.

 
Timeline & Fees:
Applicants will be notified by February 7, 2024. 
Program Fees: $2395 per participant*
Program fees will be split into three separate installments:

Universal Deposit ($395/participant) – February 14, 2024

 

Membership Fee (50% = $1000/participant) – March 6, 2024

Program Fee (50% = $1000/participant) – April 8, 2024
Program Fees Cover: 
Lodging: shared rooms and bathrooms

 

In-country transportation for tours and activities

 

In-country meals (3 daily) with locally operated eateries or family homestays to highlight regional cuisine while ensuring healthy options for a range of dietary needs

 
All inclusions are "in-country" and not prior to or after the service-learning trip within Thailand. Fees do not cover additional "at-leisure" dining, entertainment, recreation, and incidentals. 
*Program Fees do not include international flights, visas, and travel documents.
Need-based financial assistance is available. Travel Grant Request Form.
The deadline to apply for a Travel Grant is January 26, 2024.
Thailand: Transforming Tourism (Two-Week Sample Itinerary)
Program Background:
BU SHA partners with Operation Groundswell, a not-for-profit dedicated to making accessible and educational travel experiences that positively affect the lives of the traveler and the communities visited. The trip combines cross-cultural immersion and responsible community service with off-the-beaten-path adventure. Learn to tackle some of the world's most pressing issues with local activists, grassroots organizations, and host communities. Let's explore together to help build a better understanding of the world and our place in it!