Out with a Bang
by A.J. Kleber
photos by Frank Curran and A.J. Kleber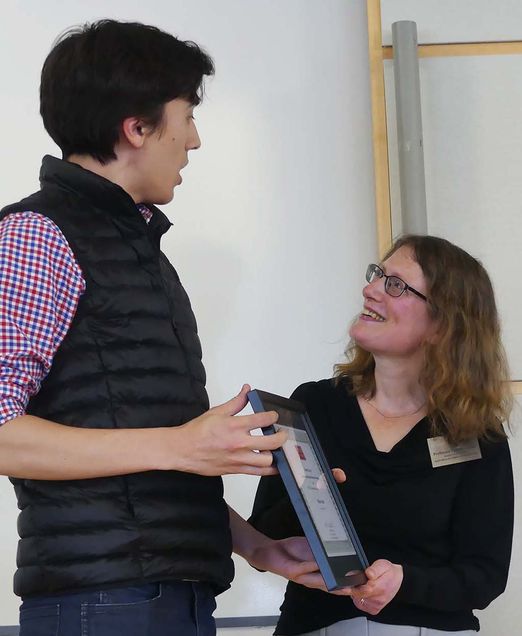 ECE Day
It's an annual spectacle on the ninth floor of the Photonics Center in early May: the ECE senior class exhibits the capstone projects they've toiled over together for the past year, armed with the array of skills and theory they've been studying for the past four. Faculty, peers, and volunteer alumni judges wind their way through tables and posters displaying feats of engineering designed for use in everything from healthcare to motorsports. There's an element of competition, of course, with a slate of awards at stake, but equally, there's an air of celebration. These students are ready to take their place as societal engineers in their own right, as Professor Alan Pisano declared in his welcome speech this year; Commencement might be a couple of weeks down the road, but ECE Day is the true site of that transformation.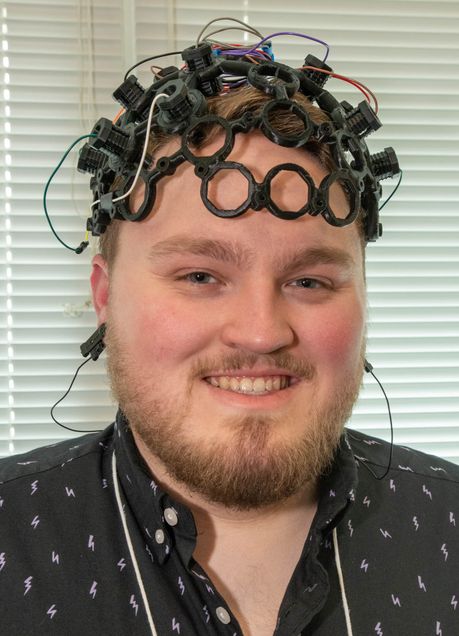 This year, the four Design Excellence Awards were presented to teams who created a computer brain that can be played with only the player's mind, a brushless DC motor controller, a cyber-physical in-flight recording system for aerobatic pilots, and an interface system for computer users whose inhibited fine motor skills interfere with standard mouse and keyboard use. The Entrepreneurial Award went to a team of app designers whose product would allow a user to design their own custom application without technical training, and the Best Senior Design Project was an inclusive video game controller "designed specifically to fit the needs of individuals with rheumatoid arthritis," according to the students' abstract. Benyamin Trachtenberg, a member of the business-savvy app design team, won the Michael F. Ruane Award for Excellence in Senior Capstone Design. Two Undergraduate Outstanding Research Awards were given to Vikrant Sharma for his senior thesis, "Artificial Hearts: Photoacoustic-mediated heart organoid development for cardiovascular disease modeling," and to William Krska for his work with Professor Vivek Goyal's lab, as published in IEEE Xplore.
Graduate Student Awards
Of course, the season's laurels were not reserved for undergraduate students alone; an award ceremony was held for ECE graduate students a few days later, recognizing both research acumen and dedicated community service among Masters and PhD students at all stages of their respective programs. Professors Chen Yang and Vivek Goyal, the respective Associate Chairs of the two graduate programs, made the presentations with pomp and enthusiasm.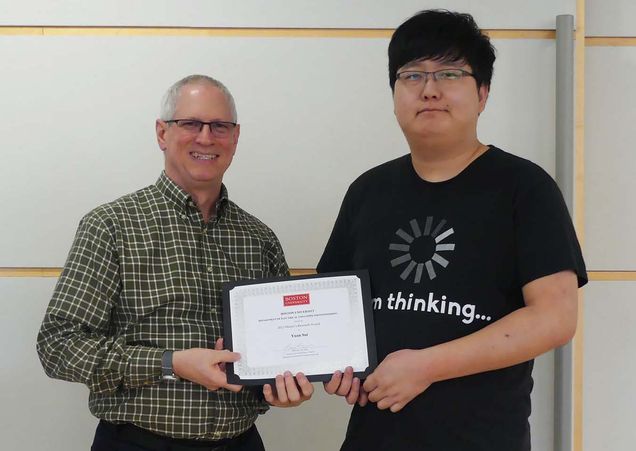 Two MS Research Awards were given, for best MS Thesis and best MS Project. The former was awarded to Yuan Sui for "Developing a Scanning System for Intraoperative Deep-Margin Assessment of Oral Cancer Tumors Using Elastic Scattering Spectroscopy," under the advisory supervision of Professor Irving Bigio. Advised by Professor Gianluca Stringhini, Angela Castronuovo's winning project was "Tracking the Evolution of Android Malware." Taken together, the two award winners are an excellent demonstration of the significant variety of research topics undertaken by ECE students.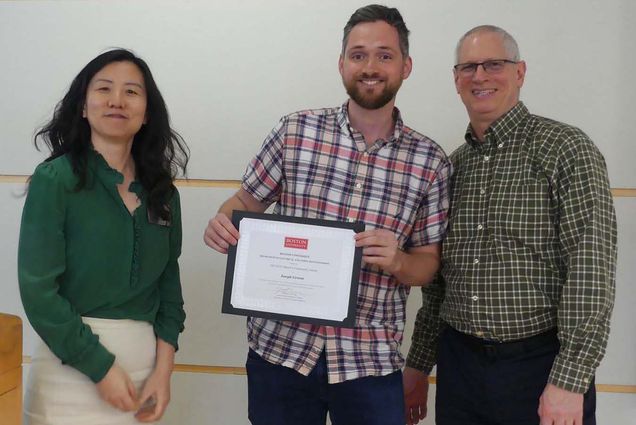 MS students Haochuan Hu, Luis Ivey, Priyank Negi, Yifan Wu, and PhD student Joseph Greene were recognized with ECE MS Community Service Awards for their assistance with this year's Masters Open House.
This year's PhD Dissertation Awards were given to Zihao Yuan's "Modeling and Optimization of Emerging On-Chip Cooling Technologies via Machine Learning," and Yuyao Chen's "An Integrated Neural Network and Optimization Framework for the Inverse Design of Optical Devices;" CE and EE theses advised by Professors Ayse Coskun and Luca Dal Negro, respectively. The inaugural Doctoral Achievement Awards, which recognize PhD students' outstanding contributions in both service and research, were bestowed on Havva Begum Kabagoz and Sheila Seidel. Kabagoz, advised by Professor Siddharth Ramachandran, served as co-founder and officer of the ECE Graduate Student Association, as a key member of the BU Optica/SPIE student chapter, and developed outreach to students at Roger Williams University, in addition to writing her dissertation on multimode optical fibers. Seidel, an advisee of Professor Goyal, was particularly noted for her mentorship of undergraduates and outstanding student teaching. Her thesis addressed non-line-of-sight imaging.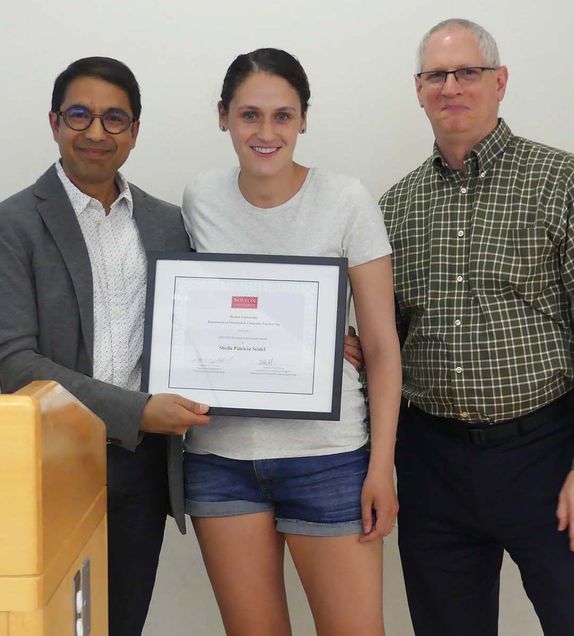 Ashley Antony Gomez was honored as well, for the 2023 Graduate Teaching Assistant of the Year Award, presented previously at ECE Day in the presence of some of her former EC 410 pupils.
The ECE Department once again congratulates these award winners, and all of our hard-working, creative, and dedicated students and impending graduates, on the completion of a successful academic year!