Hariri Highlights: ECE Professor To Lead Computing Institute, and More
by Allison Kleber
With such clear interests and goals in common, it's no wonder that there is a strong relationship between BU's Department of Electrical and Computer Engineering and the Rafik B. Hariri Institute for Computing and Computational Science & Engineering, with many members of our faculty serving as Research Fellows, faculty affiliates, Junior Faculty Fellows, and initiative directors at the Institute. Spring 2022 marks a substantial reaffirmation of that relationship, as an ECE faculty member accepts a Hariri Focused Research grant, an ECE PhD student joins the ranks of Hariri's Graduate Student Fellows, and ECE Distinguished Professor Ioannis Paschalidis prepares to step into the role of Director of the Institute.
Professor Venkatesh Saligrama and his collaborator, Professor Kate Saenko of the Computer Science Department, are one of two teams selected to receive a general Focused Research Program grant for their project, "Teaching Machines Human Like Intelligence." With $146K in support from the Institute, Professors Saligrama and Saenko will hold discussions, seminars, and other programming to foster an interdisciplinary focus on artificial intelligence, with the goal of building a robust, long-term collaborative approach to future AI research at BU and beyond.
The Institute's competitive Graduate Student Fellows Program awards fellowships in recognition of outstanding PhD work on computational and data-driven research at BU, providing $5K in research support and an invitation to contribute to their "Did You Know You Could …?" seminar series, among other opportunities. Second-year ECE PhD student Anqi Guo was selected following a nomination by Professors Martin Herbordt and Vivek Goyal. His research centers on HPC and Cloud computing system architectures, FPGA-based smartNIC, and application accelerations. Anqi joins three of his ECE peers among the ranks of the current Graduate Student Fellows.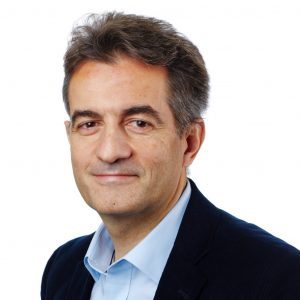 Professor Ioannis Paschalidis has been appointed the incoming Director of the Rafik B. Hariri Institute for Computing and Computational Science & Engineering, a role he will step into as of Friday, July 1, 2022. Professor Paschalidis, who was recently named a Distinguished Professor of Engineering by the College, joined the faculty of Boston University in 1996. A dedicated and prolific contributor to his field in both academic and research spheres, he serves as the Director of BU's Center for Information & Systems Engineering (CISE), of which he is a founding member, and is widely recognized as a leading light in the fields of systems and data science, specifically with regard to applications in computational biology, health, and autonomy. As the College of Engineering's 2020 Charles DeLisi Distinguished Lecturer, he spoke about data-driven reasoning and predictive health analytics; a talk relevant to one of the Hariri Institute's own inaugural Focused Research Programs, "Leveraging AI to Examine Disparities and Bias in Health Care," which he led.
As director, Professor Paschalidis is poised to advance the Institute's foundational purpose of fostering socially impactful collaborative research in computational and data sciences, working with many ECE researchers and students, such as Professor Saligrama and Anqi Guo.