ART HOUSE
A behind-the-scenes look at the making of an original live-action TV comedy pilot
A co-production of BU College of Fine Arts School of Theatre and BU College of Communication Department of Film & Television
April 27 – May 6, 2023
Joan & Edgar Booth Theatre
Art House, a co-production of BU College of Fine Arts School of Theatre and BU College of Communication Department of Film & Television, introduces the audience to a young woman who returns home after a bad breakup and discovers her brother has turned their Boston family home into a workplace for struggling artists. The BU and Boston community was invited to be a part of the live studio audience as this original multi-camera sitcom is performed and filmed each night at Booth Theatre.
The episode – written by students from the Film & TV and Playwriting programs – unfolded as the crew films the action, reshoots as needed, and runs through scenes. All filming, editing, cinematography and directing was helmed by Film & Television students, with acting, design, production, and management provided by Theatre students.
This exciting, first-of-its-kind experience bridges programs from across the University, as students make history together. The pilot is set to premiere in late 2023.
April 27 – 29, 2023 • Pilot Tapings
Performed before a live studio audience with cameras
May 6 , 2023 • Studio Performances
Performed before a live studio audience (no cameras)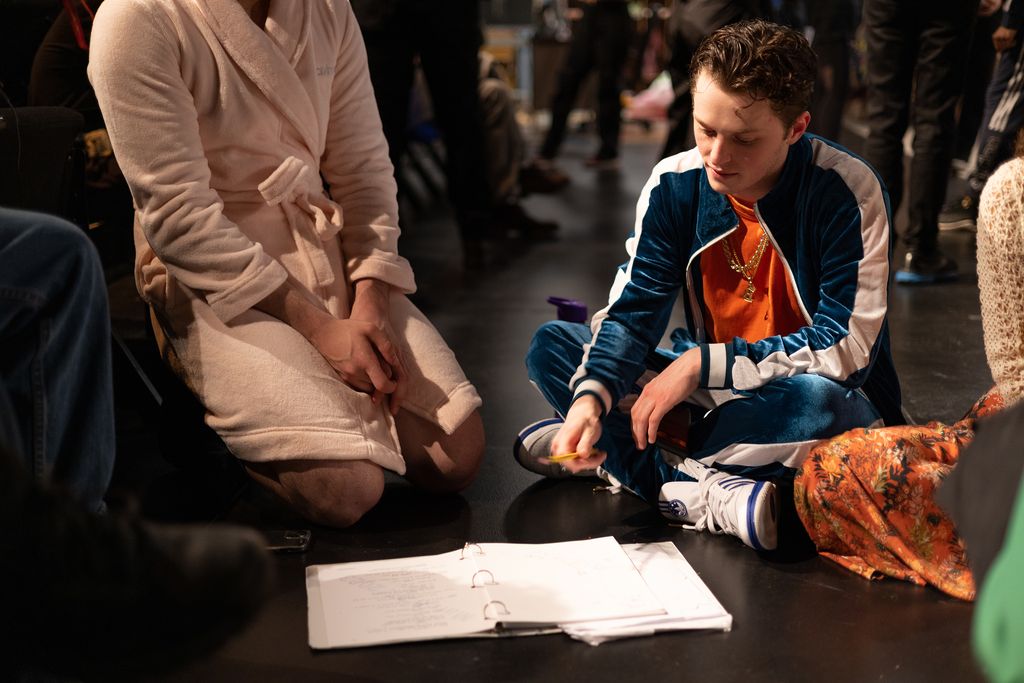 ---

14 writers, 2 professors, 16 masks, and a whole lot of funny sat in a classroom. Our ambitious goal: write 3 episodes of an original sitcom. Each of us had different ideas and visions, which made the arguments—I mean, discussions, all the more spirited.

We constructed conflict, developed our characters, and brought in more writers. For a year, we wrote and pitched jokes… Then came rewrites. And more rewrites. And then rewriting the rewrites. And then rewriting the rewritten rewrite. We wrote a lot, created a lot, and laughed a lot.

I know I speak for all the writers when I say there is an insurmountable level of passion, devotion, and, hopefully, some humor in this story. The characters became real to us, and we know they will feel real to you. We hope you laugh watching this as much as we laughed while writing it. Although that's probably impossible.

---
CAST
In order of appearance
Lil Bub – Aidan Close
Barb Shipley – Acsa Welker
Summer Sage – Michaela Lazarou
Candy Baker – Katie Mcrae
Floppy Shipley – Tyler Statkevicus
Mitchell Hendricks – Samuel Regueros
Albert – Charley Danger
Percy Bennet – Tori Van Loon
Art House Is BU's Homegrown Sitcom
Acsa Welker (CFA'23), who plays Barb, says, "Honestly, it feels like the perfect learning space, because it's kind of the best marriage of the two forms. I just feel kind of ready to—hopefully—step onto a set in the future. Even if it's not the same, I still feel like I've learned a lot."
Program
Learn about the cast, crew, and creative team behind bringing Art House to stage and screen!
Info & Credits
Photos by Michael D. Spencer
Co-produced by Boston University College of Fine Arts School of Theatre and College of Communication Department of Film & Television
WRITERS:
Abe Akinsete, Ian Aquino, Maddey Bedenko, Sarah Craig, Mira Dhakal, Julia Glicksman, Ella Gullion, Zack Kaplan, Sarah Klein, Ashley Makuwa, Olivia Malek, Nick Mason, Jameson Murray, Edwin O'Neill, Hannah Schreiber, Charlotte Schuster, Amanda Schneider, Joe Sigman, Samir Singh, Bridget Wixted
DIRECTOR: Eli Canter
DIRECTOR OF PHOTOGRAPHY: Dinghao Zhang  
PRODUCTION DESIGNER: Steven Velasquez
LIGHTING DESIGNERS: Molly Beall, Celeste Delgadillo
SCENIC DESIGNERS: Anna Vidergar, Sarah Lloyd, Marc Andrea Vento
SOUND DESIGNER: Sam Bliss
COSTUME DESIGNER :Lisa Victoria Coleman
PRODUCTION STAGE MANAGER: Sierra Hoss
PRODUCTION MANAGER: Grecia Hernandez-Ramirez
PRODUCER / 1ST AD: Maggie Borgen
ASSOCIATE PRODUCER/2nd AD/SCRIPT SUPERVISOR: Valeria Hernández