Academic Immersion (AIM)
The 2023 session of AIM was a great success. Please check back on December 15 for details about next summer's program and to submit an application. Sign up for an email reminder.
A 3-week program
Here's your chance to do a deep dive into a subject that fascinates you. Picture this: three stimulating weeks on campus engaging in intensive study, with classmates who feel just as passionate about a single academic topic as you do. If you're entering your junior or senior year of high school, we invite you to apply.
2024 AIM topics
Introduction to Experimental Psychology
AIM: Introduction to Experimental Psychology combines classroom work in the psychological sciences with the experience of conducting research. You will learn to design and carry out your own research experiments under the supervision of Boston University instructors.
Introduction to Medicine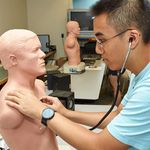 AIM: Introduction to Medicine is a premedical program that combines classroom work in the sciences with experiential learning activities that include simulations, lab work, and explorations of different medical fields.
Creative Writing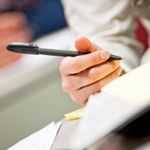 AIM: Creative Writing gives you the opportunity to develop your writer's voice in a supportive, inspiring environment. You will learn formal techniques in multiple genres from seasoned instructors and participate in workshops that build confidence and sharpen skills. You will hear published authors discuss their craft, engage in free-write exercises, and visit important cultural centers around Boston. This exciting track is offered in partnership with BU's renowned Creative Writing Program.
2024 AIM calendar
Introduction to Experimental Psychology

Residential begins
June 30
Residential ends
July 19
Commuter begins
July 1
Commuter ends
July 19

Introduction to Medicine & Creative Writing

Residential begins
July 21
Residential ends
August 9
Commuter begins
July 22
Commuter ends
August 9
Note: The dates listed above are pending approval and subject to change.
The Big Picture
For three amazing weeks, you will reside in a college dorm in the heart of Boston, make new friends, enjoy lots of planned social activities, and gain valuable, hands-on experience in the field of medicine, psychology, or creative writing. Academic Immersion is open to both commuter and residential students.
Zero In
If you're an engaged, motivated high school student who wants to focus intensively on a specific subject for three weeks, AIM is for you. All AIM tracks combine classroom work and theoretical studies with practical applications and experiential activities including field trips, guest speakers, and group projects. In addition to experiencing college life, you'll gain invaluable insight into potential career paths.The AIM tracks are open to residential and commuter students who are entering their junior and senior years of high school.