CURA Hosts Talk on Legislating Atrocity Prevention
November 15, 2019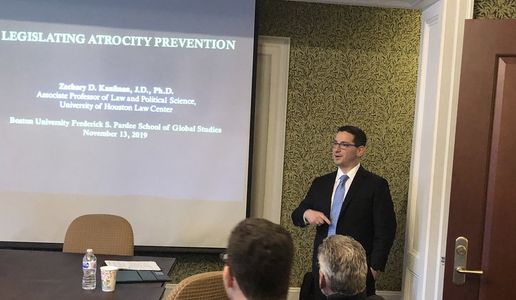 The Institute on Culture, Religion and World Affairs (CURA), an affiliated regional studies center of the Frederick S. Pardee School of Global Studies at Boston University, hosted a November 13, 2019 talk with Zachary D. Kaufman, Associate Professor of Law and Political Science at the University of Houston Law Center.
Kaufman's talk, entitled "Legislating Atrocity Prevention," examined lessons learned 25 years after the Rwandan genocide including the need for legal advancements in atrocity prevention and response.
Two such pieces of legislation—the Syrian War Crimes Accountability Act and the Elie Wiesel Genocide and Atrocities Prevention Act—recently became law in the United States. These landmark acts unprecedentedly enshrine "atrocity prevention" and define "transitional justice" in U.S. law. Amid an era in the United States that is more polarized than any time since the Civil War, that each law garnered overwhelming support from both Democrat and Republican officials demonstrates that Americans can still agree on at least some basic principles.
Boston University's Institute on Culture, Religion, and World Affairs (CURA) brings together a multi-disciplinary community of scholars to encourage and support research on the role of religion in public affairs. Established in 1985, CURA is the oldest center for the study of religion and world affairs in the United States. Supported by a substantial endowment and grants from funders such as the Henry Luce Foundation, the Templeton Foundation, the Bradley Foundation, the Kroc Institute for International Peace, and the Metanexus Foundation, CURA has sponsored over 140 research projects on five continents that have led to the publication of over 145 books. Learn more about CURA here.