FMHT to Host Refugee Education Week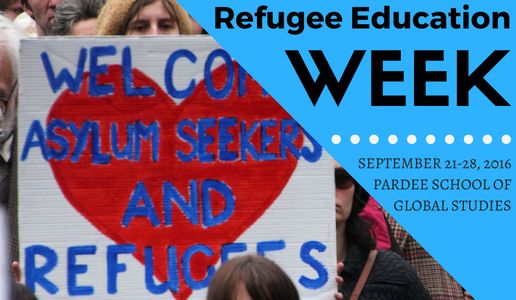 Join the Frederick S. Pardee School of Global Studies at Boston University Initiative on Forced Migration and Human Trafficking (FMHT) for Refugee Education Week, a week-long series of events about refugees and forced migration.
The week will kick off on September 21 with Global Insights Discussion: Along the Migrant Trail hosted with the Boston University International Affairs Association. The discussion will focus on contemporary issues surrounding refugees and forced migration. FMHT Graduate Co-Chair Vicky Kelberer will discuss her research on forced migration, and ways that Boston University students can get involved in the response to the global migration crisis.
On September 22, FMHT and REACT to Film will host a screening of the film After Spring, a feature documentary that focuses on the Syrian refugee crisis.  The screening will be followed by a panel with Professor Somy Kim and Karam Foundation Chairman Dr. Omar Salem. Dinner and refreshments will be served.
FMHT will also host the panel Global Crisis, Local Action: Boston Refugee Organizations on September 27. Panelists include representatives from the International Institute of New England, the Boston Center for Refugee Health and Human Rights, Eyes on Refugees, and others. Learn how you can have a global impact through local actions.
Refugee Education Week will be capped off with the Refugee Benefit Gala for the NGO Eyes on Refugees. The gala will include Syrian music, a silent auction, food and refreshments. Tickets are required for this event, and can be acquired here.