Student Spotlight: Ziyi Zhang Studies Global Development Policy in Geneva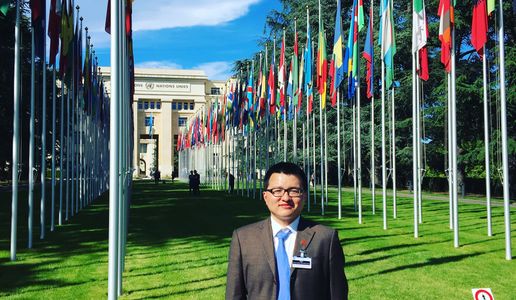 Several students from the Frederick S. Pardee School of Global Studies, had the opportunity to visit international organizations this summer while studying abroad in Geneva, Switzerland — supplementing his Pardee School classes with real-world experience.
Ziyi Zhang, MA Candidate in Global Development Policy, participated in the "Global Governance, Economic Development and Human Rights" study abroad program that included visits to the United Nations Geneva Office, The United Nations Office of the Higher Commissioner for Human Rights, the U.S Mission Geneva, World Trade Organization, International Environment House, The Global Fund and International Committee of the Red Cross.
"It was a great opportunity to make in-depth connections with officials and experts who could explain their roles and relieve my curiosity," he said.
He said the opportunity  to visit a variety of organizations with different missions provided him with a broader understanding of global development policy.
"Different types of organizations constitute a wide spectrum of missions, and each provided insightful knowledge and deepened my understanding of global development policy," he said. "I believe the combined knowledge of what I have learned from both the Pardee School and in Geneva is one of the best ways to learn international relations and global development policy."
The Global Governance, Economic Development and Human Rights program critically examines contemporary global governance structures and efforts with a particular focus on achieving economic development that is environmentally sound and socially inclusive. Students gain an in-depth understanding of the many different roles that states, inter-governmental organizations, and non-governmental organizations play in global governance in the early parts of the 21st Century. You can learn more about it here.