Pardee Students Tour BPD Headquarters
Students from the Frederick S. Pardee School of Global Studies visited the Boston Police Department headquarters in Roxbury on April 21, 2016 to tour the 911 dispatch center and learn about different technologies police use in their daily operations.
During the visit, which Boston Police Commissioner William Evans approved, the 24 students met with Lieutenant Matthew J. Spillane, who gave them a tour of the 911 dispatch center, and then met with a call-taker to learn how a 911 call is processed, how the interview is conducted and the various technologies, such as geospatial and tracking of police, fire, and EMS units, that are used in the dispatch center.
The center has a busy operational tempo, receiving approximately 700,000 calls per year, which have to be quickly and accurately processed.
Students met with a veteran police dispatcher who, among other things, showed them how ShotSpotter technology operates. Using a sensor array located throughout the city, this system enables Boston Police to rapidly identify gunshots fired and pinpoint the location of the shots.
Boston Police Crime Laboratory Director Donald Hayes welcomed the students to the BPD crime lab. Criminalist Alexis Manolakis, who earned her MS in biomedical forensic science from Boston University, gave the students a tour of the lab's work areas and briefed them on crime scene processing, DNA identification, ballistics and reconstruction.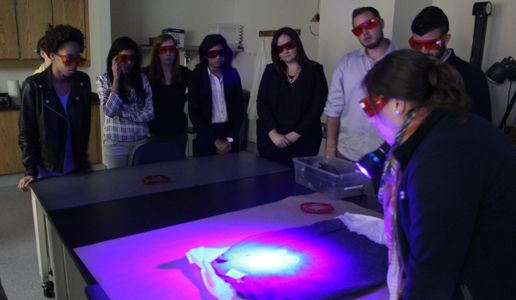 The tour was part of Professor John D. Woodward's "Intelligence and Homeland Security" IR 526 course. Retired Deputy Superintendent William M. Casey joined the students to provide his expertise and answer questions.
"The tour gave students the unique opportunity to learn how critical homeland security and law enforcement missions are conducted and to meet with the people who perform them," Woodward said. "The Pardee School appreciates the outstanding support the BPD provided for this site visit.  They went out of their way to accommodate us."
Pardee School MA candidate Bryn Schweda said that getting a look behind the scenes of a major police department was especially valuable to those students considering careers in civil service or law enforcement.
"For those of us considering careers in civil service, the trip was a great opportunity to witness the support and analysis that goes into every 911 call and investigation," Schweda said. "Not only did we learn a lot about the capabilities of the police department, but we also got a real-life glimpse of what a day on the job in law enforcement actually looks like. Overall, it was a great experience."
MA candidate Michael Cavanaugh said the trip provided the chance to see how the lessons discussed in Woodward's course are applied in the field.
"Following the Boston Marathon bombings, we saw how crucial local law enforcement was to our national security," Cavanaugh said. "Having the opportunity to see the inner-workings of the Boston Police Department was a great experience that allowed me to see some of the issues we discussed in class and how they apply to real life, day to day operations."