Jessica Stern to Join Pardee School Faculty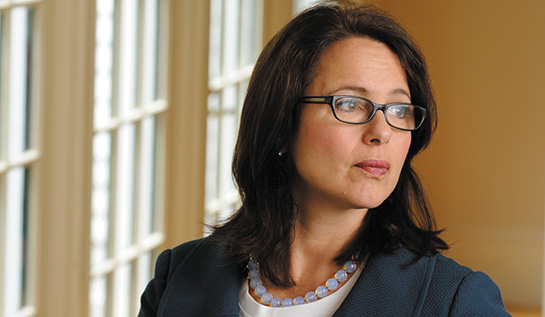 The Frederick S. Pardee School of Global Studies at Boston University is proud to announce that Jessica Stern, internationally-renowned expert on terrorism and former member of the National Security Council, will join the faculty as Research Professor, starting Spring 2016.
"I am thrilled to be joining the Pardee School," Stern said. "Dean Najam is clearly committed to bringing together an extraordinary team of faculty from many disciplines; and the excitement of both students and faculty is palpable."
Stern will teach "Guerrilla Warfare and Terrorism" in Spring 2016, a class which will feature the latest insights on ISIS from her most recent book, ISIS: The State of Terror (co-authored with J.M. Berger). She is also the author of Denial: A Memoir of Terror (2001), named a best non-fiction book of 2010 by the Washington Post, Terror in the Name of God: Why Religious Militants Kill (2004), selected by the New York Times as a notable book of the year; and The Ultimate Terrorists (1999).
Pardee School Dean Adil Najam said, "Jessica Stern is one of the most insightful scholars on one of the most pressing challenges of our times; terrorism. We are delighted to count her as a colleague at Boston University and at the Pardee School." He added, "I know she is excited about working with our students, and they will find her to be an extraordinary intellectual resource."
Stern served on President Bill Clinton's National Security Council staff from 1994 to 1995 as the director for Russian, Ukrainian, and Eurasian Affairs. She was named a Council on Foreign Relations International Affairs Fellow, National Fellow at the Hoover Institution, Fellow of the World Economic Forum, and a Harvard MacArthur Fellow. She is a 2014-2015 Fulbright Scholar and, in 2009, she was awarded a Guggenheim Fellowship for her work on trauma and violence. Stern is a member of the Trilateral Commission.
Jessica Stern was included in Time magazine's 2001 series profiling 100 people with bold ideas. The 1997 film, "The Peacemaker", with Nicole Kidman and George Clooney, was based on a fictional version of her work at the National Security Council.
She has a BS from Barnard College in chemistry, an MA from MIT in chemical engineering/technology policy, and a PhD from Harvard University in public policy. Stern was a Postdoctoral Analyst for Lawrence Livermore National Laboratory from 1992-94 and has taught at Harvard University for many years.