Online Health Communication Class Wins Innovative Teaching & Learning Award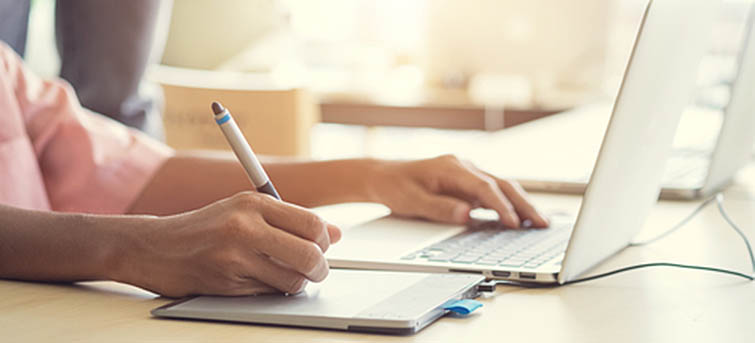 A pair of Boston University Distance Education teaching professionals have been recognized for the success of an innovative new course in the Health Communication program by this year's Blackboard Catalyst Awards.
Instructor Alane Bearder and Senior Instructional Designer Elena Garofoli are the recipients of the 2017 Blackboard Catalyst Award for Teaching & Learning, bestowed for their work on MET HC 762 Visual Communication in the Digital Health Age, the first course to be developed as part of the Graduate Certificate in Visual & Digital Health Communication program. The award is conferred upon those who have positively impacted the educational experience through the adoption of flexible, distance, and online delivery.
"We're proud to keep Boston University on the vanguard of higher education for professional health communicators with this, and other innovative learning experiences still ahead," Health Communication Program Director Leigh Curtin-Wilding said of the award.
Press Release
Boston University Health Communication Educators Win Blackboard Catalyst Award
Lecturer Alane Bearder and Senior Instructional Designer Elena Garofoli Recognized
with 2017 Blackboard Catalyst Award for Teaching & Learning
June 16, 2017, Boston—Alane Bearder, lecturer of health communication at Boston University's Metropolitan College, and Elena Garofoli, senior instructional designer in the University's office of Distance Education, have been named winners of the Blackboard Catalyst Award for Teaching & Learning in higher education. The international award honors educators and institutions who have adopted flexible, distance, and online delivery to positively impact the educational experience.
The award comes in recognition of the pair's efforts on the pioneering Visual Communication in the Digital Health Age course offered online as a foundational component to BU's new Visual & Digital Health Communication graduate certificate program.
Founded in 2005 by education technology leader Blackboard Inc., the annual Catalyst Awards recognize and honor innovation and excellence in the Blackboard global community of practice, where millions of educators and learners work every day to redefine what is possible when leveraging technology. Winners are selected by a cross-functional team of Blackboard experts.
"Crafting and offering students the first online graduate course in visual health communication was an extremely gratifying milestone for our faculty and staff," said Leigh Curtin-Wilding, director of health communication programs, offered jointly by Metropolitan College and BU's College of Communication. "This course filled an unmet need in the educational experience of professional health communicators. We're excited that now any student, anywhere in the world, can learn design theory and skills critical to communicating and storytelling in the digital age of health care. Having this visionary work recognized by our partner in global education technology, Blackboard, is such an honor."
BU's Visual & Digital Health Communication graduate certificate program was created in 2016, addressing the profession's demand for greater expertise with visual health literacy and social media best practices in health care. The course Visual Communication in the Digital Health Age uses industry-standard applications, such as Adobe Creative Suite, made available to online students through Blackboard Learn technology. Instruction for these design tools and applications has traditionally been offered through face-to-face computer labs.
"To be recognized by an organization as large as Blackboard and to stand out among the thousands of courses that use their learning management system is quite an honor," said BU Office of Distance Education Director Eric Friedman. "Senior Instructional Designer Elena Garofoli worked in close conjunction with instructor Alane Bearder and other members of the ODE course development team—including Instructional Designer J-Jay Araullo, whose technical input was crucial—to devise a whole new method of page design to present the content. Similarly, our media producer, Summer Garrard, used a number of innovative techniques to incorporate animation and other graphical components into the course videos, making them exceptionally engaging."
"Blackboard is proud to recognize this year's Catalyst Award winners for their commitment to leveraging technology to improve the education experience," said Bill Ballhaus, chairman, CEO and president of Blackboard. "We look forward to continuing to work with these educators to support learner success, and to share best practices widely for the benefit of the education community."
"To design and develop a course to such high standards that merits this recognition by Blackboard is truly an honor," said Professor Lou Chitkushev, associate dean of academic affairs at BU's Metropolitan College. "The Catalyst Award for Teaching & Learning is a testament to the leadership and creativity of the faculty and staff at Metropolitan College, whose work continues to ensure a learning experience that is on the vanguard for professional health communicators, and for our distance education students."
Bearder and Garofoli will be honored alongside this year's other Blackboard Catalyst Award winners during BbWorld 2017, Blackboard's annual user conference to be held July 25–27 in New Orleans.
Blackboard is the leading provider of learner success-focused technology solutions and services, serving over 16,000 clients across 90 countries reaching 100 million users. Its product portfolio is unmatched in the marketplace, spanning teaching and learning, analytics, community engagement, campus transactions and security solutions as well as student services. For more information on the Blackboard Catalyst Awards, please visit: https://community.blackboard.com/groups/catalystawards.
Visual Communication in the Digital Health Age may also be taken as part of the Master of Science in Health Communication program.
About Boston University
Founded in 1839, Boston University today is internationally recognized as a top institution of higher learning and research. With more than 32,500 students from all 50 states and 140 countries, it is the fourth-largest independent university in the United States. BU consists of 17 schools and colleges, offering more than 250 undergraduate, graduate, doctoral, and special degree programs. Collectively, the BU network has more than 340,000 alumni, worldwide.
About Metropolitan College & the College of Communication
As one of Boston University's 17-granting degree bodies, Metropolitan College (MET) has helped broaden the reach of BU for more than half a century, with part-time study during the evening and through innovative online and blended programs. Today, the College hosts more than 70 undergraduate and graduate degree and certificate programs, along with hundreds of individual courses, that support the academic, professional and intellectual needs of working adults. For more information visit bu.edu/met.
BU's College of Communication (COM) is dedicated to the proposition that the free flow of ideas and accurate information is vital to the development and improvement of democratic societies. Recently recognized as a destination for "new influencers" in media by PR Week, the College has long been committed to educating professional communicators, offering the world's first degree in public relations in 1947 and the first master's and PhD degrees in emerging media studies in 2015. The College mission is to provide an educational center of excellence focused on teaching, research, and service in the study and professional practice of communication. The College includes three departments: Film & Television; Journalism; and Mass Communication, Advertising & Public Relations. Each department offers professionally oriented undergraduate and graduate programs. Learn more at bu.edu/com.
About Boston University's Distance Education Programs
The Distance Education office works with Boston University schools and colleges to develop rigorous, industry-relevant graduate programs that are fully online. Flexible and affordable, BU's acclaimed online degree and certificate programs are team-developed by full-time faculty, instructional designers, and expert multimedia professionals, providing a state-of-the-art, accessible learning environment distinguished by individualized support for each student.
About Blackboard
Blackboard's mission is to partner with the global education community to enable learner and institutional success, leveraging innovative technologies and services. With an unmatched understanding of the world of the learner, the most comprehensive student-success solutions, and the greatest capacity for innovation, Blackboard is education's partner in change.