Kilachand Hall & House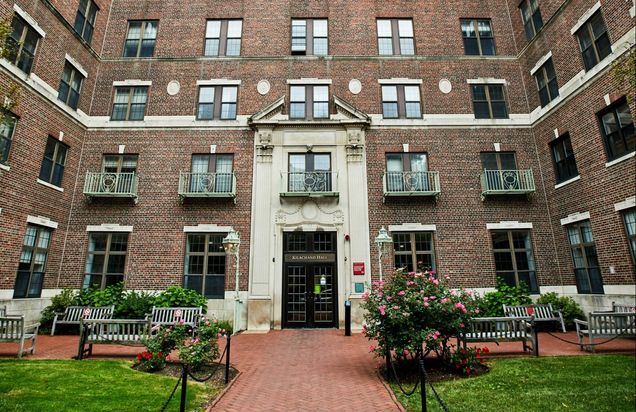 Kilachand Hall
Kilachand Honors College is the flagship living and learning community at Boston University.
First-year Kilachand students live in suites on designated floors of Kilachand Hall where juniors and seniors in Kilachand Honors College serve as Resident Assistants to support the newest members of the Kilachand community as they acclimate to college life.*
The Kilachand Directors, Academic Advisors, and Post-Doctoral Associates have offices on the first floor of Kilachand Hall.  The access to the program's leadership, faculty, and support teams allows students to get to know those in their community in ways that are unique to Kilachand.
Kilachand Commons, our first-floor common room, is at the heart of Kilachand Hall. Most Co-curricular events, teas, social events, and celebrations are held in Kilachand Commons, right downstairs from many of our students. And we couldn't forget our seminar room, nestled within the Kilachand offices where many of our small, seminar-style courses are held.
Kilachand Hall has a rich history dating back to 1923 and has housed Kilachand Honors College, its students, and two Kilachand Faculty-in-Residence since 2013.
*Kilachand Hall is being renovated beginning in May 2022 and is scheduled to be completed in August 2023. During this time Kilachand will offer alternate specialty housing options to the Kilachand community during the 2022-2023 academic year. Please review the Kilachand Hall Renovation page for more information about our exciting renovation plans and the potential impacts to Kilachand Hall and the residential experience from September 2022- May 2023.
Kilachand House
After their first year, Kilachand Honors College students may choose to live anywhere on or off campus that suits their preferences and needs. Many students choose to remain in Kilachand Hall, and others opt to move about a block down Bay State Road to Kilachand House – the Kilachand Honors College brownstone.