Faculty-in-Residence
The Boston University Faculty-in-Residence (FIR) program expands the Boston University classroom by providing a residential experience that is interdisciplinary, innovative, and meaningful. Faculty-in-Residence serve as role models, resources, and advocates for the students with whom they live and learn while cultivating interactions with undergraduates that empower students to grow, develop, and refine their values.
Kilachand Hall Faculty-in-Residence
John D. Woodward, Jr.
Professor of the Practice of International Relations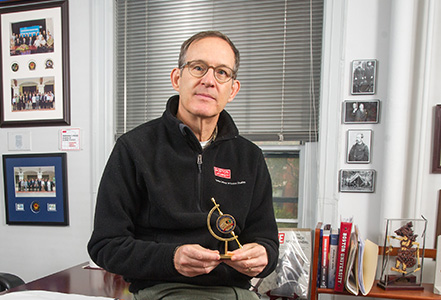 John D. Woodward, Jr. is a former Central Intelligence Agency (CIA) officer. During his twenty-year CIA career, Professor Woodward served as an operations officer in the Clandestine Service and as a technical intelligence officer in the Directorate of Science and Technology, with assignments in Washington D.C., East Asia, Africa, South Asia, and the Middle East.
Professor Woodward teaches the Kilachand first-year seminar Spies and Terrorists of Boston and enjoys hosting Nacho Nights at Kilachand Hall.
Explore the memorabilia Professor Woodward has collected during his work and travel.
Anthony Petro
Associate Professor of Religion and 
Women's, Gender, & Sexuality Studies
Professor Petro is an associate professor in the Department of Religion and in the Women's, Gender, & Sexuality Studies Program and the NEH Distinguished Teaching Professor at Boston University.