Collaborative Spaces
COVID-19: The Institute's collaborative spaces are closed for the time being due to the pandemic.  All activities are taking place online.  We look forward to reopening these spaces when it is safe to do so.
Please review the new policy around hosting in-person meetings and gatherings for the Fall 2020 Semester at Boston University.
---
Collaborative spaces encourage innovative thinking by allowing people of various academic backgrounds to gather and collectively contribute to a project or idea. This type of space is invaluable to cultivating interdisciplinary research as it provides a community space for creative approaches for solutions to modern problems.
One of the benefits of being a Hariri Institute Faculty Affiliate is the usage of resources. This includes the two meeting spaces at the Institute: the seminar room and the fishbowl conference room. The Hariri Institute also has informal gathering spaces for casual, small-group meetings. Below, you will find instructions on how to reserve rooms through 25Live along with the features of both meeting spaces.
How to Reserve a Room
Requesting Access as a New User:
Click one of the "Reserve Room" buttons below.
Scroll to the bottom of the page and click "Request Access to 25Live".
Fill out the form. If you are requesting a space to have an event, select "I'm a Requester".
The review of "training materials" refers to this list of guides. Review them to become more familiar with 25Live.
You will receive a notification confirming your request. It could take a few days for your request to be approved.
Navigating and Creating Events:
Once you have access to 25Live, click one of the "Reserve Room" buttons below.
Click "25Live" in the "Access" section of "GENERAL EVENT REQUESTING ACCESS".
Log in using your Kerberos information.
If your previous access request was approved correctly, there will be a blue "Create Event" button.

You will receive a notification once your reservation is confirmed.
---
Rooms Available to Reserve
Seminar Room – MCS 157
The seminar room is a medium-sized room suitable for lecture-style presentations, collaborative discussion, and more.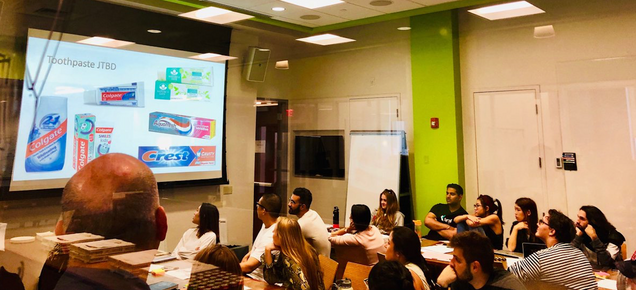 Features:
Can accommodate 50 guests (seated) and up to six tables for group work
State-of-the-art telepresence with audio/video capabilities
(HDMI connector with AUX cord for audio)
Whiteboards for creative thinking
Podium for presentations or traditional classroom-style lessons
Reserve Seminar Room
Room Arrangements:
Lecture

Seating Capacity – 50

No. of Tables – 0

Ideal for – Lectures and Talks
Curved Classroom

Seating Capacity – 50

No of Tables – 0

Ideal for – Talks, Seminars involving discussion
U-shaped

Seating Capacity – 20 chairs

No of Tables – 6

Ideal for – Discussions, meals, etc.
Luncheon/Big Meeting

Seating Capacity – 50 chairs

No of Tables – 6

Ideal for – Meetings, group work, eating together
---
Fishbowl Conference Room – MCS 155
The Fishbowl Conference Room is a smaller room suitable for team meetings and conference calls with audio/video capabilities.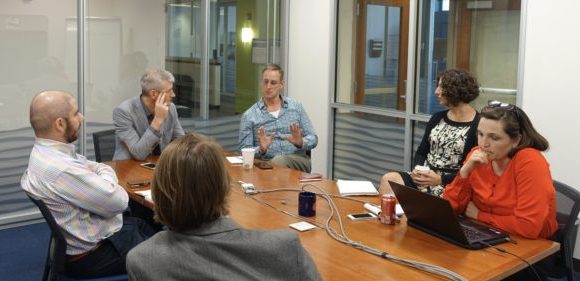 Features:
Can accommodate 11 guests (seated) with one table
Includes telepresence capabilities for remote meetings
Large display screen for computer screen-sharing or video conference calls (HDMI connector with AUX cord for audio)
Reserve Fishbowl