Spark! Ventures Demo Day Showcases Student Innovation
By Kaitlin Barnes
An aircraft collision avoidance system and platform for expediting college transfer credits are just two of the 11 original projects presented at the inaugural Spark! Ventures Demo Day. 
Over 60 attendees, including project mentors, industry partners, and faculty and staff from CAS, IS&T, CS, CFA, Pardee, and Innovate@BU, joined students for a poster presentation and lightning presentations. The course was taught by BU Spark! Director, Ziba Cranmer, who brought in numerous industry mentors, including several BU alums. The 17 students enrolled in the course completed the Spark! Product innovation program, spending all semester building and testing innovative mobile applications. Their projects ranged from addressing anxiety and building habits through social accountability to using mobile technology to assist in cannabis cultivation. The poster session also featured select Spark! X-Lab projects, including the More than a Mile app created for the Boston Public Schools.
Vipul Patel teamed up with mentors Peter Mansour, Ace Battacharjya, and Susie Forth to develop JustTransfer, an app that expedites course credit transferring between academic institutions while giving students a higher rate of accepted courses and giving universities a better way to track data. Patel was inspired to create the app based on his personal experience of spending over a year attempting to receive transfer credits for previously completed courses. He hopes this app can ease what is now such a tedious and expensive process for so many students.
Sarah Larbi and Taylor Potye created On the Move, an app that provides a collective source of information about local dance events, classes, auditions, and shows based on when users are looking to attend one of these events. Larbi and Potye are both dancers studying computer science who wanted to combine their two passions. The initial app version is specific to Boston-area events, but the duo hope to implement additional features to make this a more comprehensive app that can be used in any location.
Another project addressed the challenge of collaborating for team projects. Designed by students Max Mesirow and Chris Ackerman, Community Cast uses a Chromecast web app to allow team members to see what one another are working on and then creates one aggregated project as opposed to several different components. Though the group met several challenges during their innovation journey, they are excited to begin beta testing on the app soon.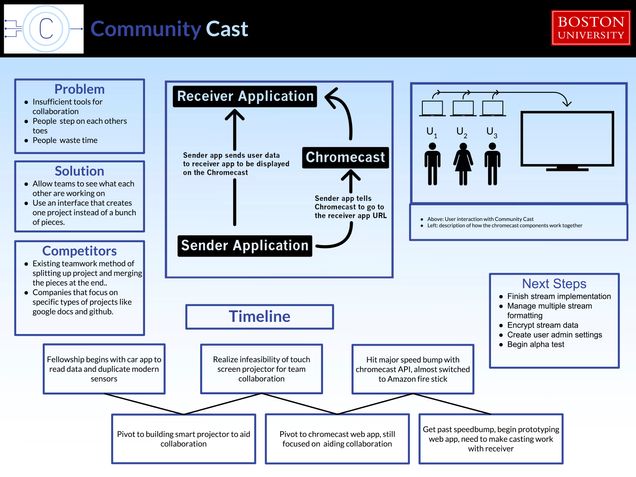 One of the more ambitious projects developed a new receiver that aims to enhance flight safety through improved collision avoidance and augmented situational awareness for pilots. Dharmesh Tarapore and Vincent Wahl designed the Aircraft Collision Avoidance System (ACAS) to work with all types of powered aircrafts and interfaces with existing electronic flight bags (EFBs) such as ForeFlight and Garmin Pilot. The team expects their product to provide 80% safer advisories than existing solutions.
With attendees packing the room to watch student pitches, the event was a tribute to the success of the inaugural run of the Spark! Ventures course, which will run every semester. Already, 40 students have applied to take the spring 2018 section of the course, some of whom are current students who will use a second section of the course to further advance the projects they worked on this fall.