BU Spark! Hosts LEGO Serious Play Meetup
POSTPONED – New date TBA
6:00 pm – 8:00 pm
Hariri Institute for Computing, Seminar Room
111 Cummington Mall
This event was originally scheduled for Thursday, May 11, 2017; the new date will be announced shortly.
Need a break studying for finals? Join BU Spark! as they host a LEGO Serious Play Meetup at the Hariri Institute. LEGO Serious Play is a facilitation methodology to foster creative thinking through team building activities using lego bricks.
The event is free and open to the BU community, but an RSVP is required.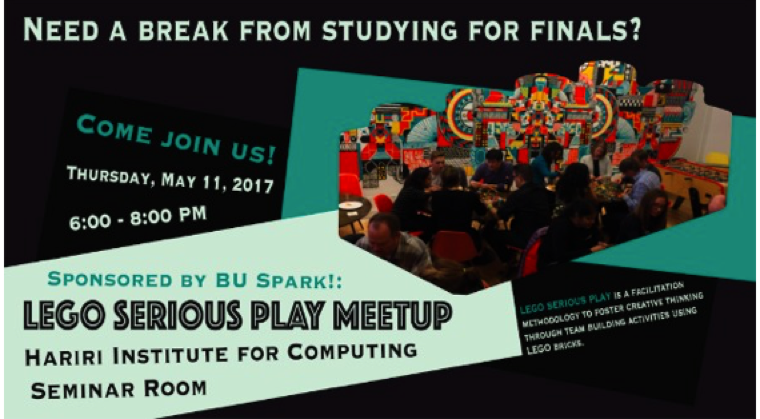 The event will help participants look behind the scenes of a project team and its workings using the LEGO® Serious Play® team-thinking methodology. LEGO Serious Play is a play-based and proven hands-on tool to improve communication and creativity in a team environment. In a LEGO Serious Play session, LEGO bricks are used as a medium to build and to express complex ideas and thoughts through metaphors and storytelling. In response to build challenges posed by the facilitator, participants construct 3D models, give meaning to these models and share stories about these models. While building, unconscious knowledge is accessed, especially by using both hands. This process is a very effective way to unlock the full potential of a team quickly and deeply and at the same time a powerful way to solve complex problems.