Hariri Institute Announces 2012 Junior Faculty Fellows
The Hariri Institute for Computing at Boston University is pleased to announce its second cohort of Junior Faculty Fellows. They are:
Jason Bohland, Assistant Professor, Department of Health Sciences
Luis Carvalho, Assistant Professor, Department of Mathematics and Statistics
Dino Christenson, Assistant Professor, Department of Political Science
Douglas Densmore, Assistant Professor, Department of Electrical and Computer Engineering
Sharon Goldberg, Assistant Professor, Department of Computer Science
Nachiketa Sahoo, Assistant Professor, Department of Information Systems
The Junior Faculty Fellows Program
The Hariri Institute Junior Faculty Fellows program was established both to recognize outstanding junior faculty at Boston University working in diverse areas of the computational sciences, as well as to provide focal points for supporting broader collaborative research in these areas at BU and beyond. Junior Fellows are selected by the Hariri Institute Executive Steering Committee based on nominations received each spring, and are appointed for a two-year term.
"We are delighted by the level of energy and collaboration that the first cohort of Junior Faculty Fellows have brought to the Institute, and look forward to even more interactions as we welcome into the program the impressive cohort selected for 2012/13. It is heartening to see the positive reception and the significant interest that the entire university community has expressed in the program," says Prof. Azer Bestavros, Founding Director of the Hariri Institute.
Meeting the Fellows
Over the next several months, each of the Junior Faculty Fellows will be giving a Hariri Institute Distinguished Lecture. For more information and to receive notices about this and other Hariri Institute activities, please join the Institute mailing lists by becoming an affiliate member. For more information, please visit the Institute's web site.
About the Fellows
Professor Jason Bohland, Assistant Professor in the Departments of Health Sciences and Speech, Language, and Hearing Sciences in the College of Health & Rehabilitation Sciences, joined the BU faculty in 2009. His research focuses on understanding the circuits in the brain, using a variety of methods to gather large-scale data about signaling among neurons in both mouse and human brains. He also serves as the Director of the Quantitative Neuroscience Laboratory. Prof. Bohland received his Ph.D. at Boston University specializing in cognitive and neural systems.
Prof. Kathleen Morgan, chair of the Department of Health Sciences, notes, "Jason's creative and innovative research approach that integrates large data sets describing the brain's underlying architecture (such as brainwide gene expression profiles and connectivity atlases) with functional data (such as fMRI measured in humans) has an exceedingly high probability of leading to major breakthroughs in our understanding of the brain. The outcome of integrating these quantitative data with behaviorally relevant brain maps will not only provide new insights into the brain's basic architecture but also inform possible approaches to treat a wide range of disorders."
Professor Luis Carvalho joined BU's Department of Mathematics and Statistics after receiving his Ph.D. from Brown University in 2008. He began his education in Civil Engineering, with a focus on transportation engineering. As he learned more about operations research, he became more interested in the theory, leading to his work in statistical applications. His work has found applications in diverse areas, including unsupervised land cover classification from satellite images, assessing interaction among genes in genome-wide association studies, and identifying communities in social networks. Prof. Carvalho specializes in Bayesian statistics, computational biology, and statistical inference.
Prof. Tasso Kaper, chair of the Department of Mathematics and Statistics says, "Our department is proud that Prof. Luis Carvalho has been named as a Junior Fellow of the Hariri Institute for Computing in recognition of his pioneering research in computational statistics and computational biology. He has developed new Bayesian statistical methods for analyzing high-dimensional data arising in sequence analysis, RNA secondary structure prediction and classification, and phylogenetic analysis. In addition, he has begun to address the problem of extending genome-wide association analysis methods to detect gene-gene interactions, among new collaborations with colleagues in the Bioinformatics Program. Outside of biology, Luis has made contributions to statistical aspects of land-cover classification data with colleagues in Earth Sciences at Boston University and to transportation engineering."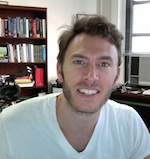 Professor Dino Christenson, Assistant Professor in the Department of Political Science, received his Ph.D. from Ohio State University in 2010, and came to the BU faculty later that year. He studies American political behavior with a focus on the context in which individuals and organizations seek out, receive and process political information. His recent work concerns campaign dynamics in the early stages of presidential primary elections and interest group networks. Prof. Christenson also serves as the Director of the Honors and BA/MA programs for his department and is the co-Organizer of the Research in American and Comparative Politics Workshop.
Prof. Graham Wilson, chair of the Department of Political Science, notes that "Dino is a dynamic engaging teacher and scholar who has already made a big impact on our department. He brings skills and perspectives to the department that we have long needed. We are so fortunate to have him."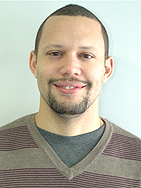 Professor Douglas Densmore was awarded his Ph.D. from the University of California, Berkeley in 2007. Originally interested in programming video games, Prof. Densmore discovered an interest in microprocessor design, leading to his expertise in computer-aided design (CAD) tools. A postdoctoral fellowship enabled him to start applying this expertise to the design of CAD tools for synthetic biology, opening up an exciting new area in life sciences. In addition to working in the Department of Electrical and Computer Engineering, Densmore also serves as Affiliated Investigator for the Synthetic Biology Engineering Research Center.
Regarding Densmore's work, Prof. David Castañón, chair of the Department of Electrical and Computer Engineering, says, "Prof. Densmore's research merges ideas from electronic design automation with synthetic biology. Specifically, he examines how to create design automation tools that allow for the high level specification, design, and assembly of new biological systems. His work will increase the complexity of feasible designs, reduce design time, and allow for truly engineered biological systems.  His efforts have attracted significant funding from various agencies, as well as prestigious awards such as the Richard and and Minda Reidy Professorship and Gold Medals from the International Genetically Engineered Machine (iGEM) Competition. His interactions with the Hariri Institute will aid the development of computational sciences to enable the design of complex biological organisms with the rigor and precision that is associated with modern design of integrated electronics."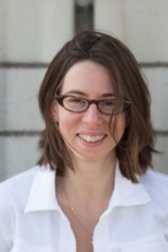 Professor Sharon Goldberg joined BU's Department of Computer Science in 2010. Her research focuses on the security and privacy of computer networks, by combining formal techniques from cryptography and game theory with empirical network data and large-scale simulations. She has served on working groups of the advisory council to the Federal Communications Commission (FCC) on the security and reliability of telecommunications systems. Prof. Goldberg received her Ph.D. from Princeton University in July of 2009. Before coming to BU, she worked as a postdoctoral researcher at Microsoft Research, New England.
Prof. Stan Sclaroff, chair of the Department of Computer Science, says, "Sharon is a rising star in the critical area of Internet security.  Her interdisciplinary work leverages ideas from economic game theory to devise incentives that will make the Internet infrastructure more secure.  Her work gets noticed by network operators, Internet standards bodies, and even the Federal Communications Commission, which has convened a working group in response to Sharon's groundbreaking research findings. We are delighted that Sharon has been selected as a Hariri Institute Junior Faculty Fellow."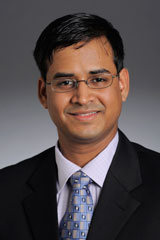 Professor Nachiketa Sahoo joined the Information Systems Department in the Questrom School of Business in July of 2011. His research includes applying machine learning techniques to problems in social science. For example, how should recommendation systems (such as for books or movies) handle changing preferences among the customers? In another arena, how can publications, blog posts, and comments be used to identify individuals with particular areas of expertise? Before working at Boston University, Prof. Sahoo earned his Ph.D. from Carnegie Mellon University's Heinz College.
Prof. Chris Dellarocas, chair of Information Systems, notes, "Nachi does cross disciplinary research on managing information overload. He has brought together ideas from social science and methods from statistical machine learning to design novel personalized information filtering techniques. I see a lot of potential for him as he expands his research into the phenomena of social/human information filtering over online social networks. His exposure to the Hariri Institute has already led to a collaboration with members of BU's Computer Science department so I am thrilled to see him recognized as a Hariri Institute Junior Faculty Fellow."
About the Hariri Institute
The mission of the Hariri Institute for Computing is to initiate, catalyze, and propel collaborative, interdisciplinary research and training initiatives for the betterment of society by promoting discovery and innovations through the use of computational and data-driven approaches, as well as advances in the science of computing inspired by challenges in the arts, sciences, engineering, and management. Endowed by a generous gift from Bahaa R. Hariri, the Institute strives to create and sustain a community of scholars who believe in the transformative potential of computational perspectives in research and education. This vision is realized through the support of a portfolio of ambitious computational research projects, and forward-looking educational and outreach initiatives at Boston University.