CGS Celebrates 70th Anniversary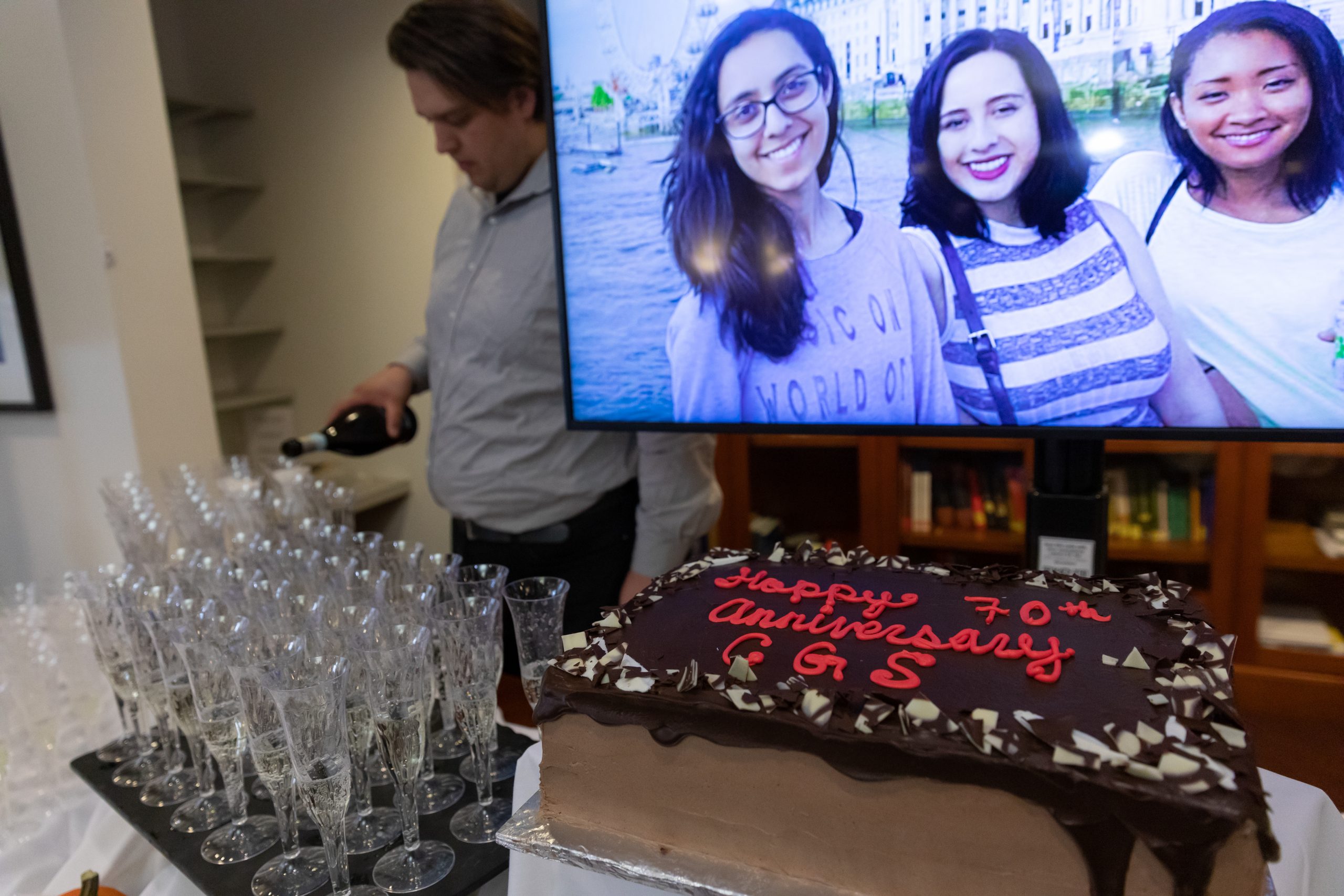 For 70 years, the College of General Studies has been a home to students within Boston University, instilling the value of exemplary interdisciplinary education, providing the backdrop for lifelong friendships to be built, and preparing its students for the challenges of real world problem solving.
On Sept. 29, CGS alumni, students, faculty and staff gathered in the Katzenberg Center to celebrate the College's 70th birthday, recognizing the accomplishments of the last seven decades while looking forward to the future.
The celebration, held as part of BU's Alumni Weekend, also featured the presentation of three annual faculty awards as well as the Distinguished Alumni Award to attorney Mitchell Garabedian ('71, CAS'73).
70 Years of Excellence
In her remarks commemorating the anniversary, Dean Natalie McKnight reflected on how much about the College has stayed the same over the years, while also highlighting several key changes.
"We still offer an interdisciplinary core curriculum, the team structure is still in place, and we still end the sophomore year with a group project, which used to be the Utopia project and is now the Capstone project," McKnight said. "Perhaps most important, we still believe in the transformative power of a liberal arts education that emphasizes strong connections among students, faculty and advisors."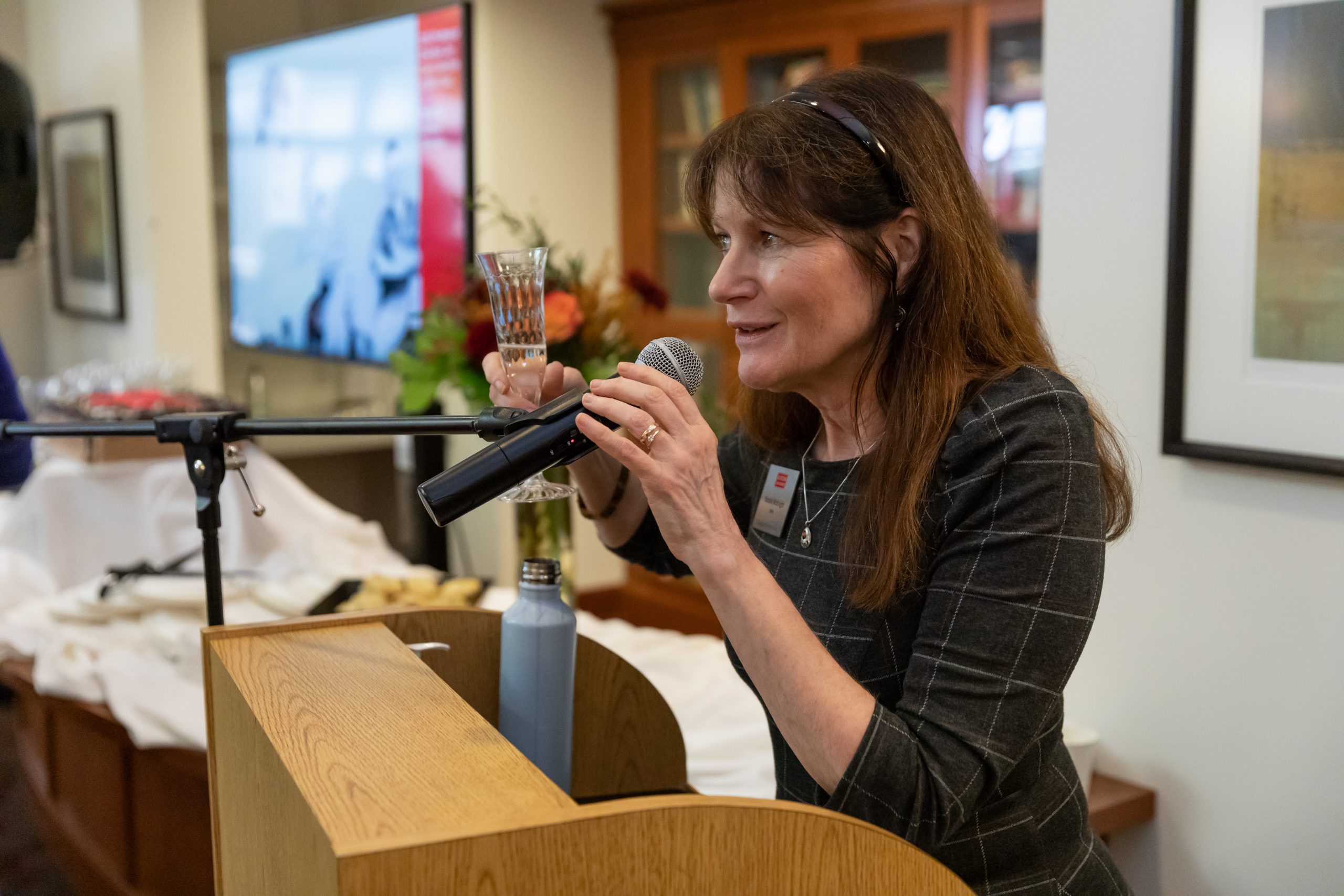 But while the College's foundations remain unchanged, several new developments have been made in recent years, McKnight said, including the addition of the fall gap semester and summer study programs in London and New England for first-year students, the launch of the Minor in Interdisciplinary Studies, and the increased focus on research among undergraduates and faculty.
"I am very proud to be part of such a vibrant college that has grown in such unique, creative and impactful ways while also still preserving the best bones of our initial architecture," McKnight said.
McKnight also announced the creation of the CGS Anniversary Scholarship Fund, which will become endowed once $100,000 is raised. The fund will provide scholarships to support the education of CGS students in need.
Honoring a Distinguished Alumnus
CGS's Distinguished Alumni Award was presented to Attorney Mitchell Garabedian, whose work representing and advocating for victims and survivors of sexual abuse was immortalized in the Academy Award-winning film Spotlight.
Garabedian has represented more than 2,500 victims of sexual abuse in 14 countries, won substantial settlements for those victims, and successfully argued that clergy should be added to the list of mandatory reporters of child abuse and that statues of limitations have not expired in cases brought by adults who were sexually abused as children.
McKnight praised Garabedian for his bravery in taking on the Catholic Church in Boston and for the difference he has made not just in the lives of his clients, but for the many other abuse survivors who have since come forward to tell their stories. 
"Mr. Garabedian, you have made the world a better place for thousands of clients," McKnight said. "You have helped them achieve some measure of justice, and compensation for their suffering, and your work has encouraged others to come forward and made it easier for them to present their cases. You have helped give voice to the voiceless and you continue to pursue this mission."
In his acceptance speech, Garabedian thanked CGS for the education he received as a first-generation college student. He commended the faculty for always having the door open to students, literally and figuratively, and said he is still grateful to the school for the ways in which it shaped him as a young person.
"The door was always open. And they always interacted with you, they always encouraged you, they always pushed you," Garabedian said of his professors.
Recognizing Extraordinary Faculty
McKnight also presented three awards to outstanding members of the CGS faculty.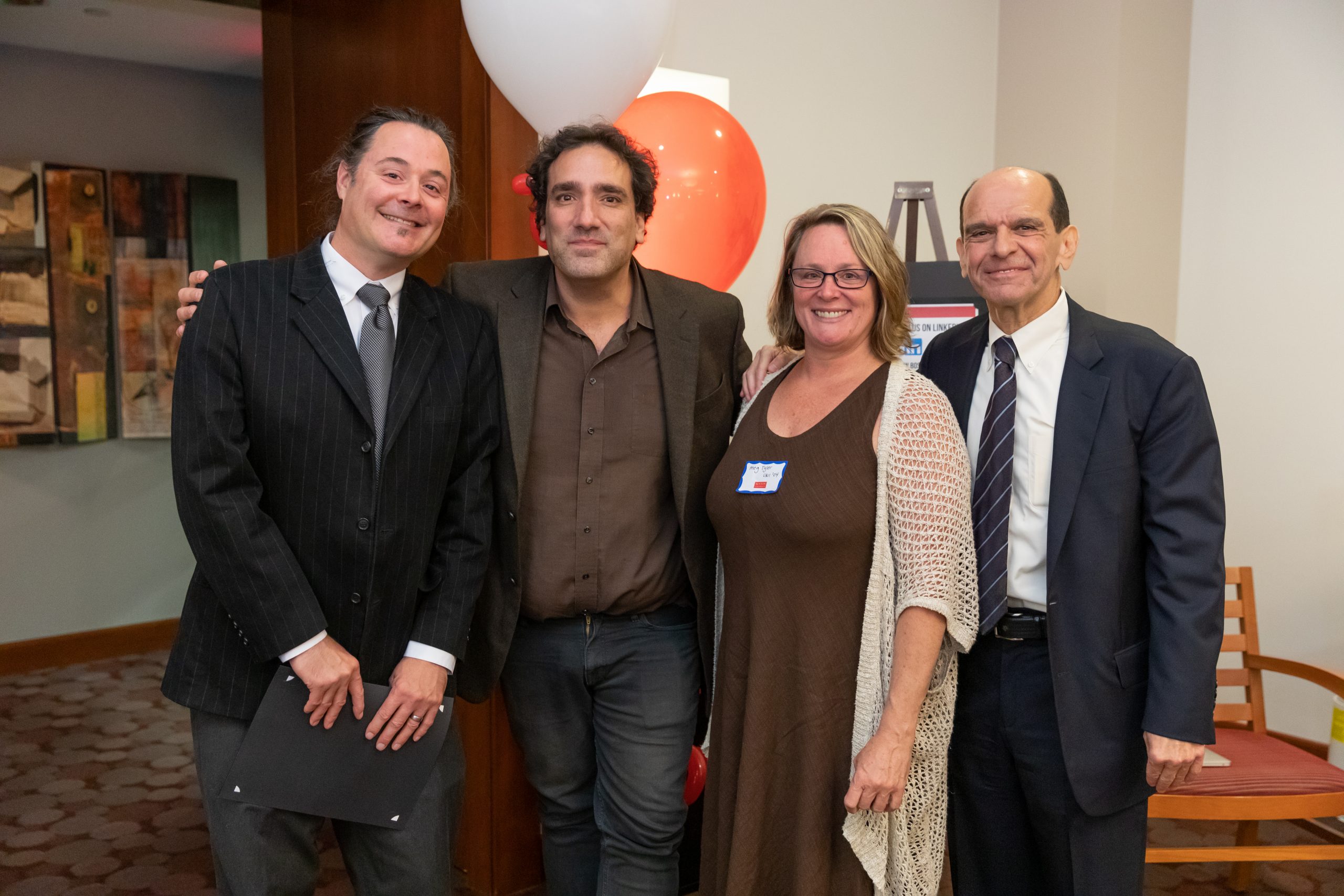 The Peyton Richter Award, established by alumnus Gary Kraut and awarded annually to faculty who have demonstrated excellence in interdisciplinary teaching, was presented to Associate Professor of Rhetoric Aaron Worth.
Worth's ability to balance his teaching duties with his prolific research and publishing record made him a deserving candidate for the award, McKnight said.
"Students praise Aaron for his enthusiasm, intelligence, and ability to make connections among disparate topics. Many thank him for the 'valuable lessons' he has taught them both within and beyond the classroom," she said.
The Dr. Ismail Sensel Award, given to CGS professors who have demonstrated excellence in their professional record, was presented to Christopher Coffman, Master Lecturer in Humanities.
Coffman's work as Book Review Editor for the last 11 years on Impact: The Journal of the Center for Interdisciplianry Teaching & Learning and his publications on topics ranging from Thomas Pynchon to the Grateful Dead were highlighted.
"On top of these professional achievements, Chris is also an outstanding teacher of Humanities in our Boston-London program and very capably led his team in London this summer in our return to the city," McKnight said.
The Outstanding Service Award, which rewards faculty whose leadership and service has made substantial contributions to the CGS community at large, was presented to Meg Tyler, Associate Professor of Humanities.
Tyler was recognized for her work as Director of CGS's Institute for the Study of Irish Culture for over 10 years, through which she has led a series of readings and lectures on contemporary poetry and literary studies.
"I am grateful to Meg for her leadership in running the series and building a sense of community centered in CGS, and also grateful for her leadership as coordinator for her team of faculty at CGS. She brings to the leadership of her team the same attention to detail and dedication to community building that make her events so successful," McKnight said.
Watch a slide show of archive photos from CGS's 70-year history below:
— By Chelsea Feinstein