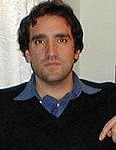 Aaron Worth
Associate Professor, Rhetoric
Teaching Interests
Rhetoric and Technology, History of the Essay, Writing and Media History
Research Interests
Victorian Literature and Culture, History of Science, Cognitive Literary Studies, and Media Studies
Selected Publications
Books

Ed
itor of The Great God Pan and Other Horror Stories (Oxford University Press, 2018).
Imperial Media: Colonial Networks and Information Technologies in the British Literary Imagination, 1857-1918 (Ohio State UP, 2014).
Articles
"'Thinketh: Browning and Other Minds," Victorian Poetry 50.2 (Summer 2012): 127-146.
"Arthur Machen and the Horrors of Deep History," Victorian Literature and Culture 40.1 (2012): 215-227.
"Imperial Transmissions: H.G. Wells, 1897-1901," Victorian Studies 53.1, pp. 65-89 (Fall 2010).
"Tennyson and the Poetics of Alterity," Victorian Newsletter 117, pp. 75-89 (Spring 2010).
"ALL INDIA BECOMING TRANQUIL: Wiring the Raj," Journal of Colonialism and Colonial History 9:1 (Spring 2008).
"Edith Wharton's Poetics of Telecommunication," Studies in American Fiction 36:1, pp. 95-121 (Spring 2008).
Other Professional Activity and/or Awards
Conference organizer/host, Northeast Victorian Studies Association Conference at Boston University (Spring 2013).
Editorial Board, Impact: A Journal of Interdisciplinary Teaching and Learning (2011).