Students present undergraduate research projects
The Center for Interdisciplinary Teaching & Learning offers undergraduates an opportunity to partner with College of General Studies faculty on research projects. During the Undergraduate Research Forum on Feb. 4, seven students presented their research to Mike Gould, the donor that made that work possible. Gould said to the students, he "wants people to grow and thought this would be an opportunity to challenge yourself."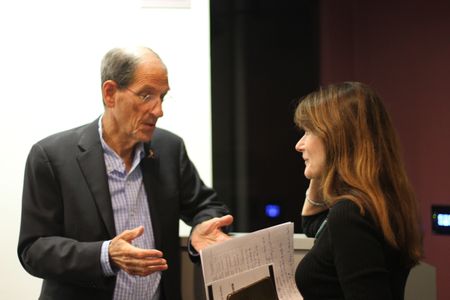 ---
Dominic Kemmett presented his research work with Peter Busher, which focuses on the relationship between northern water snakes and beaver structures. Over a period of time, he collected data and concluded that beaver structures appear to be a critical habitat for the northern water snake, especially during the late spring breeding season. For his possible future research, Kemmett wants to expand his area of data and focus on an endangered snake species.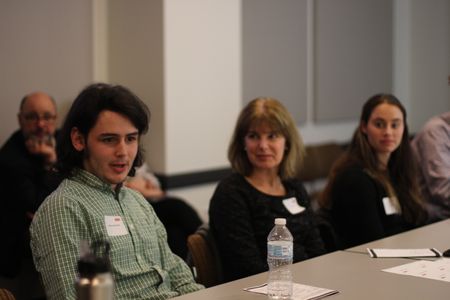 ---
Caroline Pratt worked with Robin Hulbert to measure the prevalence of MRSA bacteria in the gyms at BU. She continued her research from last semester and decided to test the same four equipment pieces every month in the gyms. She used three different methods to help her analyze and after three months, did not see a trend with the bacteria of the different facilities. Pratt did find that the dumbbell had the most bacteria for every round of sampling. For the future, she is looking into using human subjects.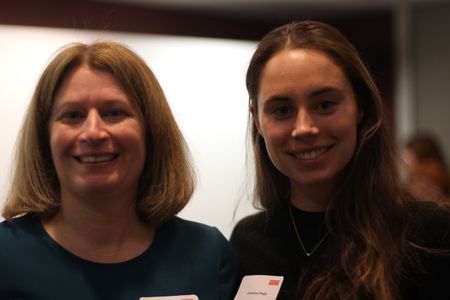 ---
Ruslan Crosby worked with Joshua Pederson to design an ethics class with a unique approach. He wanted a class that everyone could take and he wanted the source materials to be interesting. For example, he talked about using books like Peter Pan as a way of demonstrating the concept of hedonism. The course focuses on utilitarianism vs. hedonism, time, and climate change. Crosby said that he learned a lot and now knows what to do better next time, including having clearer objectives and a stronger planning process.
---
Adam Lazarchik presented findings from his research with Sandy Buerger on historical remedies that may help to counteract antibiotic resistance. While using plants and fruit as samples, he focused on four types of bacteria. His ultimate hope is that studying historical cures will help develop new antibiotics.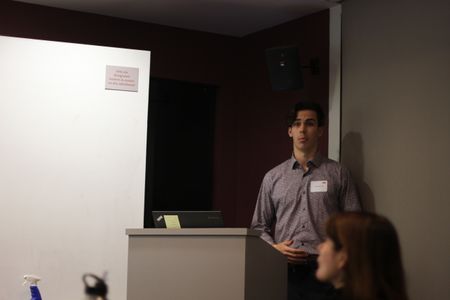 ---
Peter Moore, under the guidance of Shawn Lynch, explored neoliberalism globally during the 1980s. He noted that it was an interesting topic as he compared today's politics with the past. Not only did he learn a lot about neoliberalism, but he also learned about the research process itself and how fluid it is. During his time working with Lynch, he helped Lynch with a paper that will be published in 2021.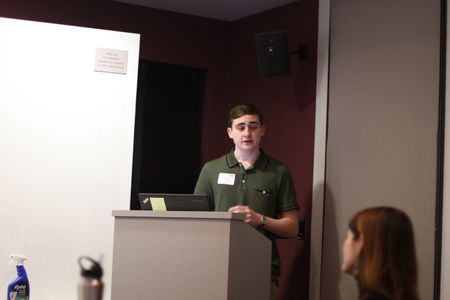 ---
Katherine Workman and Aanchal Goel, with the help of Sandy Buerger, observed the communication in environmental samples of bacteria from the Charles River and Lake St. Clair and the effectiveness of probiotics. Even though students in the past have done this experiment before, they wanted to redo it and see it for themselves. They concluded that the two bacteria do communicate based on the way they grew. Furthermore, they found probiotics to be less effective than expected.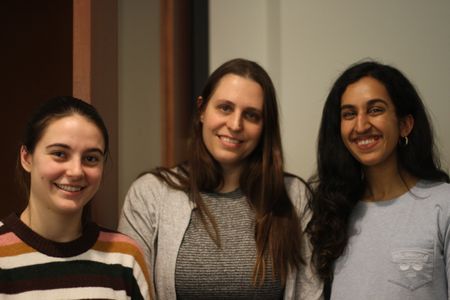 ---
Although not present at the event, Alexander Batt and Chris Coffman were also recognized for their research on the literary identity and improvisational strategies of The Grateful Dead. Batt will be presenting on his work at a conference in Albuquerque, N.M. later this month.
— Story and Photos by Natalie Seara