Undergraduate Research Opportunities
Undergraduate Research
Help a professor research a book or paper.
Research the robotics revolution … Study ancient cures for insights into modern diseases … Analyze the films of a Hollywood legend … The College of General Studies gives students a unique opportunity to partner with faculty on research projects as early as your first year of college.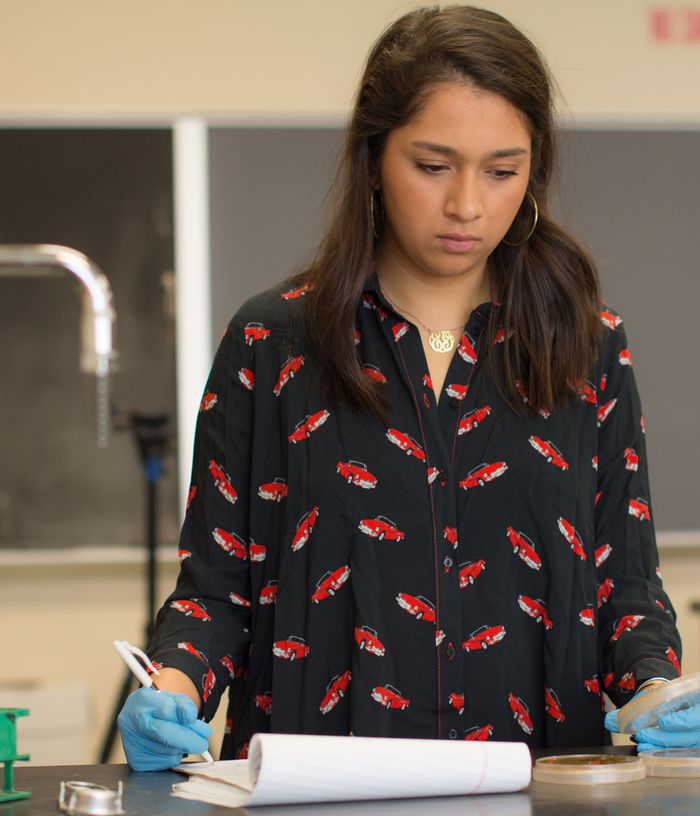 Science
Could history be the key to defeating superbugs?
Antibiotic resistance is a growing concern in the medical community. Adam Lazarchik (CGS'18, SAR'20) and Elizabeth Guerrero (CGS'18, ENG'20) are student researchers working with College of General Studies Professor Sandra Buerger to investigate historical cures for diseases.
Watch
I am really passionate about doing research so that I can add information to the world...and CGS has been great for offering me a really well-rounded education.
Adam Lazarchik (CGS'18, SAR'20)
Literature
Women Writers, Food, and Wartime
When a computer engineering student and an English major help a rhetoric professor with a book about British women writers, you're seeing the interdisciplinary synergy of undergraduate research.
Read
Researching UN peacekeeping and how Americans perceived it
Santana worked with CGS Senior Lecturer Michael Holm to research how Americans perceived the United Nations and its peacekeeping operations in the aftermath of the Cold War. After sifting through almost a decade of material from media, intellectual journals, and Congressional debates, Santana says, "I learned so much about how to manage my time appropriately and how to find and make use of research databases. This experience really expanded my worldview and allowed me to develop critical skills I will be able to apply and use in the future."
Get started
Learn about undergraduate research options.
Earn academic credit for undergraduate research
Directed studies provide academic credit for undergraduate research. Work with Student Services at the College of General Studies to discuss directed study options.
Apply
Join with University-wide research opportunities
UROP fosters faculty-mentored research experiences for BU undergraduate students. Faculty mentors serve as guides, coaches, and facilitators; student researchers hone critical skills while learning the language of their chosen discipline.
Learn