Researching COVID-19 in the Media
A team of researchers from the Artificial Intelligence & Emerging Media (AIEM), which is housed in the Hariri Institute for Computing and is part of the Artificial Intelligence (AIR) Initiative, is studying how media outlets from different countries are covering the COVID-19 pandemic. 
In an article published recently in BU The Brink, Lei Guo, Assistant Professor of Communication and Margrit Betke, Professor of Computer Science, has teamed up to lead the researchers of AIEM to uncover how the media are covering COVID-19 in different countries around the world. The goal of the project is to develop a tool that enables people to inform themselves about the topics the media is focused on. Specifically, the team is leveraging an algorithm that uses unsupervised machine learning to retrieve news stories and analyze the headlines to identify the main news topics. The topics are then linked to a list of associated terms and reviewed. For example, with the initial outbreak of the virus in the United States, the focus of the media was on the scientists and researchers. Now the focus of the media has shifted to not only include the research being done but also focusing on the economic impact the virus is having.
Looking down the road, Betke and Guo hope to expand their research to include additional countries. The research team will be joined by Derry Wijaya, Assistant Professor of Computer Science, who is an expert on automated cross-lingual text processing and will help to solve the language barrier aspect of their research.
About the Researchers
Lei Guo is an Assistant Professor, Emerging Media Studies, College of Communication and was selected as an Institute Junior Faculty Fellow in fall 2016. She is an assistant professor in the Department of Emerging Media Studies at Boston University's College of Communication. Her research focuses on the development of media effects theories and methodologies, emerging media and democracy, and international communication.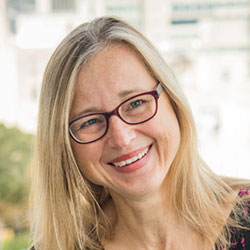 Margrit Betke is a Professor, Computer Science, College of Arts & Sciences. She co-leads the Image and Video Computing Research Group. She researches computer vision, in particular, the development of methods for detection, segmentation, registration, and tracking of objects in visible-light, infrared, and x-ray image data. She has worked on gesture, vehicle, and animal tracking, video-based human-computer interfaces, statistical object recognition, and medical imaging analysis. She has published over 100 original research papers.
Derry Wijaya is an Assistant Professor, Computer Science, College of Arts & Sciences. She researches natural language processing and knowledge bases, with a focus on machine learning and deep learning applications in these research areas. Her studies include machine translation, which demonstrates how to leverage well-annotated languages to improve the translation of less-annotated ones. She also studies methods for automatically learning the meanings of verbs and extracting information for the knowledge base population through analysis of diverse information sources.