BUMC Guest & Visitor Parking
Hourly Parking
Short-term parking
| 710 Albany Street Garage | Rate |
| --- | --- |
| 0-1 Hour | $8 |
| 1-2 Hours | $8 |
| 2-3 Hours | $12 |
| 3-4 Hours | $17 |
| 4-5 Hours | $20 |
| 5-6 Hours | $25 |
| 6-7 Hours | $30 |
| 7+ Hours | $40 |
| Crosstown Center Garage (7 Melnea Cass Blvd.) | Rate |
| --- | --- |
| 1 Hour | $5 |
| 2 Hours | $10 |
| 3 Hours | $15 |
| 10 Hours | $25 |
| 24 Hours | $35 |
| Early Bird (Mon-Fri; arrive 5am-9am; depart by 6pm) | $17 |

Click image above for full map with key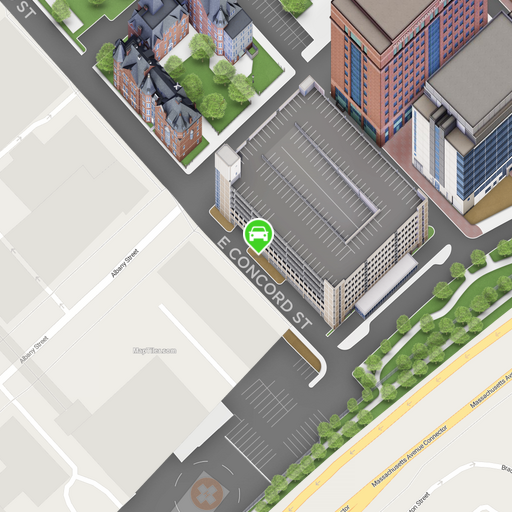 710 Albany Street Garage
710 Albany Street

Permits accepted: 710 Albany Street Garage Permit

Also allows CRC Employee Commuter, Employee Flex, Employee Off-Peak Commuter no more than three times per week

EV charging available: 8 spaces

View Map
Daily Parking
Daily-priced parking is available at the Crosstown Center Garage (7 Melnea Cass Blvd) for $17.00/day.
Electric Vehicle Charging
There are eight publicly-accessible Chargepoint EV charging ports in the 710 Albany Street garage. Users must pay to park while charging. Please do not charge your vehicle for longer than four hours. Vehicles must be charging when parked in EV spaces. For more details, including charging rates and instructions, please visit our EV Charging page.