About
At the BU Photonics Center we have four integrated missions: research, education, commercial incubation, and technology development. We strive to create a shared vision and mutual support among these missions, with a commitment to excellence and impact in the exciting field of photonics.
We're pioneering innovation in the science and engineering of light.
From its inception, the Photonics Center has attracted scholarly pioneers to lead our academic and educational programs in the field of photonics, and to conduct groundbreaking research in the areas of neurophotonics, metamaterials, imaging, nanophotonics, photonic materials, and biosensing. Today we are a unique international resource for the development of advanced research and technologies in the area of healthcare and government applications.
Our leadership in the field is supported by state-of-the-art facilities.
The Center is home to 26 faculty laboratories and four shared facilities including the Optoelectronic Processing Facility, the Precision Measurement Laboratory, the FIB/TEM Facility, and the MSE Core Facilities. These assets, combined with leading academic experts and a dedicated technical and administrative staff make the BU Photonics Center an extraordinary resource for students, faculty, and affiliated companies.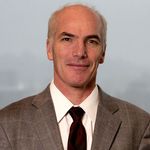 Dr. Thomas Bifano
Director, Boston University Photonics Center