Precision Measurement Laboratory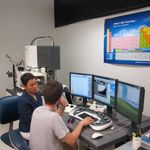 Precision Measurement Laboratory is a shared-use, core facility dedicated to the characterization of materials using scanning and surface probe microscopies. It also provides capabilities for examination of topographical features using optical laser interferometry profiling.
Address: 8 Saint Mary's St., Rooms B-19, B10 & B-25, Boston, MA 02215
Lab Manager: Rajendra Dulal, rdulal@bu.edu, Tel: 617-353-9045
Report an equipment problem here.
To receive training or help: Please fill in the following: Research Application Form and submit it to lab manager. Please do not contact without providing the details.
For the CARY5000 in PML, please contact Alexey Nikiforov at alnik@bu.edu, 617-353-9045