FIB/TEM Facility (FTF)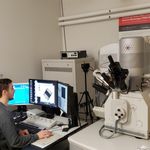 The Focused Ion Beam/Transmission Electron Microscopy Facility (FTF) located in B11B and B11C at the Photonics Center is a multi-user facility for materials characterization and high-resolution imaging and analysis of a variety of solid materials (non-biological) on nanoscale. The facility is supplemented by an adjacent materials preparation laboratory located in B10 with equipment for cutting, polishing, dimpling and ion milling for preparation of surfaces and cross-sections from bulk specimens for examination with TEM, FIB-SEM, EBSD, EDS.
For further details please contact:
Address: Rooms B11B, B11C, B10 8 Saint Mary's St., Boston, MA 02215
Lab Manager: Alexey Nikiforov
Room PHO 909
alnik@bu.edu
Tel: (617) 353-9045
Contact: Alexey Nikiforov, alnik@bu.edu
*NOTE: The Introductory Training Videos are password protected. To gain access and view them, please contact the FTF laboratory manager.