FIB/TEM Facility (FTF)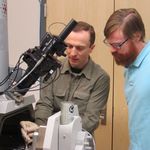 The newest Photonics shared facility, the FIB/TEM Facility (FTF) is in B11C at the Photonics Center.  The tools in this facility were purchased through the Materials Science and Engineering Division. This laboratory is located in the basement of the Photonics Center in a controlled environment that is corrected for vibration, acoustics, AC and DC fields, all of which can affect the performance of these instruments. 
Address: 8 Saint Mary's St., Room B11C, Boston, MA 02215, Tel: (617) 353-9045
Lab Manager: Dr. Alexey Nikiforov, alnik@bu.edu
*NOTE: The Introductory Training Videos are password protected, to gain access and view them, please contact the laboratory manager of FTF.