Optoelectronic Processing Facility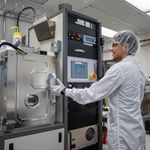 The Optoelectronic Processing Facility is a multi-user cleanroom outfitted with advanced equipment for fabricating semiconductor and optoelectronic devices on a wafer to die level. The 2500 square foot facility includes both Class 100 photolithography room and Class 1000 Cleanroom. In the Class 1000 cleanroom, capabilities include wet chemical processing, dry etching process, thin film Physical Vapor Deposition (including thermal oxidation and annealing), metrology, dicing saw and wire bonding. To view the OPF Lab Hood safety training, please click the following link: OPF Laboratory Hood Safety Training. The password can be obtained from the OPF lab manager.
Report an equipment problem here.
Sign up for training here.
Address: 8 Saint Mary's St., Room 816, Boston, MA 02215
Contact:
For Class 100 Cleanroom – Rajendra Dulal, rdulal@bu.edu, Tel: (617) 353-9044
For Class 1000 Cleanroom – Paul Mak, pmak@bu.edu, Tel: (617) 353-8869