Najam Publishes Research in SM+S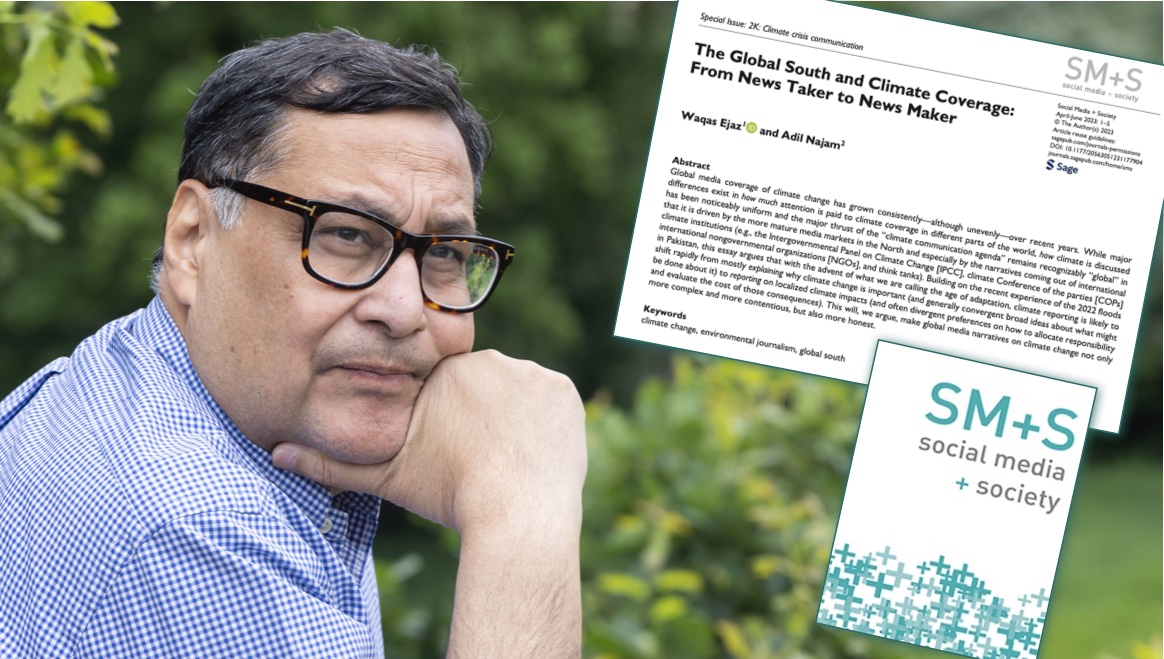 Adil Najam, Dean Emeritus and Professor of International Relations and of Earth and Environment at the Boston University Pardee School of Global Studies co-authored a research paper in the journal Social Media + Society (Vol. 9, No. 2, 2023) on how media attitudes on climate change coverage in the Global South are changing.
Titled "The Global South and Climate Coverage: From News Taker to News Maker" and co-authored with Dr. Waqas Ejaz of the Reuters Institute for the Study of Journalism at the University of Oxford, the paper was published in the journal's special issue on climate communication. The paper reflected work done whilst Prof. Najam was a Visiting Fellow at the University of Oxford at Wolfson College and the Oxford Centre for Islamic Studies during 2022-23.
The argument of the research paper, as described in its abstract, is as follows:
Global media coverage of climate change has grown consistently—although unevenly—over recent years. While major differences exist in how much attention is paid to climate coverage in different parts of the world, how climate is discussed has been noticeably uniform and the major thrust of the "climate communication agenda" remains recognizably "global" in that it is driven by the more mature media markets in the North and especially by the narratives coming out of international climate institutions (e.g., the Intergovernmental Panel on Climate Change [IPCC], climate Conference of the parties [COPs] international nongovernmental organizations [NGOs], and think tanks). Building on the recent experience of the 2022 floods in Pakistan, this essay argues that with the advent of what we are calling the age of adaptation, climate reporting is likely to shift rapidly from mostly explaining why climate change is important (and generally convergent broad ideas about what might be done about it) to reporting on localized climate impacts (and often divergent preferences on how to allocate responsibility and evaluate the cost of those consequences). This will, we argue, make global media narratives on climate change not only more complex and more contentious, but also more honest.
The full paper can be read here (without paywall).
Adil Najam is Dean Emeritus and Professor at the Pardee School of Global Studies at Boston University and since July 2023 also serves as the President of WWF-International. He served as the Inaugural Dean of the Frederick S. Pardee School of Global Studies from 2014-2022. He is also a former Vice-Chancellor of the Lahore University of Management Sciences (LUMS). His research focuses on issues of global public policy, especially those related to global climate change, South Asia, Muslim countries, environment and development, and human development. Read more about Najam on his Pardee School faculty profile.