Najam Profiled in Austria's Südwind-Magazin on 'Age of Adaptation'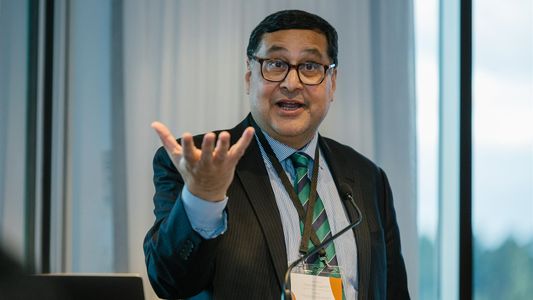 In a featured profile and interview, Austria's leading development journal Südwind-Magazin (March/April 2023 issue) featured Prof. Adil Najam, Dean Emeritus and Professor of International Relations and Earth and Environment at Boston University's Frederick S. Pardee School of Global Studies on how the realities of climate change and development are changing with the advent of the 'Age of Adaptation.'
Published in German, the feature article titled "Umweltforscher Adil Najam uber Eine neue Zeitrechnung" is written by Richard Solder and discusses how a series of major climate calamities – including the 2022 floods in Pakistan – have ushered a new realization that climate change is no longer a future issue but today's reality. The feature discusses the notion of the 'Age of Adaptation', an idea that Prof. Najam has been writing and talking about for a number of years as a way to highlight the need to establish deeper linkages between climate change and development, particularly in the most vulnerable developing countries. In the interview Najam also highlights the aspects of global climate justice that have come to the fore as it becomes clear that some of the countries being hit the hardest by climate change are the very countries that have contributed the least to creating the climate problem.
The full article, published on March 18, 2023, can be read on The New York Times' website.
Adil Najam is a global climate policy expert who served as the Inaugural Dean of the Frederick S. Pardee School of Global Studies at Boston University and was the former Vice-Chancellor of the Lahore University of Management Sciences (LUMS). Currently, while on sabbatical, he is a Visiting Fellow at Oxford University. His research focuses on issues of global public policy, especially those related to global climate change, South Asia, Muslim countries, environment and development, and human development. Read more about Professor Najam on his Pardee School faculty profile.