Pardee Alumni Win BU New Venture Competition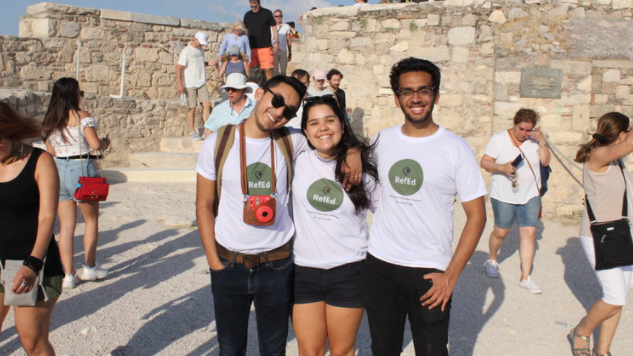 On April 16, 2021, Frederick S. Pardee School of Global Studies alumni Albert Jimenez (Pardee '18, Wheelock '21), Yasmin Morais – who studied International Relations at the Pardee School for two years – and fellow Boston University alumni Abhishek Valivarthi (SGT '21) won first prize in the BU New Venture Competition's (NVC) Social Impact Track.
The BU New Venture competition is Innovate@BU's largest annual competition that awards $64,000 to early-stage BU entrepreneurs and helps them transform their ideas into something real. This year, more than 80 teams were competing for prizes.
For their submission, Jimenez, Morais, and Valivarthi pitched RefEd, a mobile, interactive app designed specifically for refugee students without consistent access to education. RefEd's vision is to reach refugee children all over the globe with an accessible and tailored curriculum, which allows them to continue their studies and feel ready to re-enter the education system when resettled.
"The BU New Venture Competition was challenging and reassuring for us. It gave us an opportunity to dream bigger, plan our future steps, and connect even deeper as a team," said Morais, Co-Founder and Fundraising Lead at RefEd. "Winning this NVC prize opens up so many doors for RefEd and our students. We can now scale much more quickly and impact more students who otherwise would not have access to education. Our team is so incredibly grateful for this opportunity!"
As winners of the Social Impact first place award, RefEd now has $18,000 plus a social business accelerator to invest in its program, which will allow it to significantly increase its impact.
An article on RefEd's and the other NVC winners was published in BU Today on April 21, 2021.
Learn more about RefEd on their website. Keep up to date by following the organization on Facebook, Instagram, and LinkedIn or by singing up for their newsletter.