Gallagher Publishes Op-Ed on U.S. Trade Policy Under Trump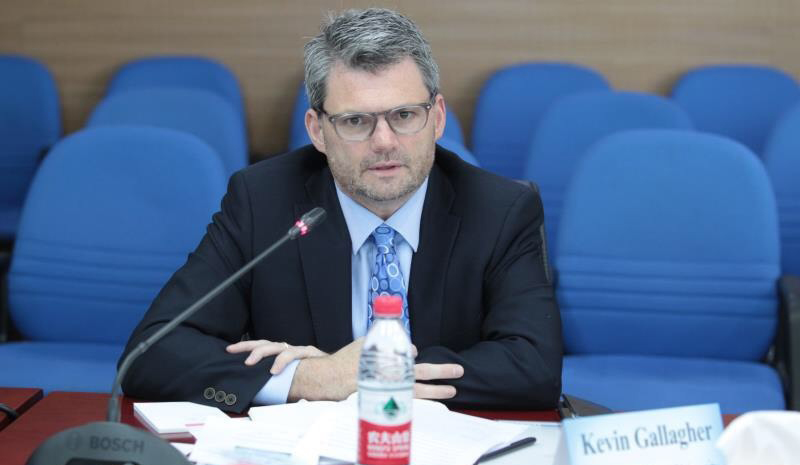 Kevin Gallagher, Professor of Global Development Policy and Director of the Global Development Policy Center at the Frederick S. Pardee School of Global Studies at Boston University, published an op-ed in The Hill, which discusses the current state of U.S. trade policy under Presidents Donald Trump and offers a suggested path forward. The op-ed draws on a new research report published by the Global Development Policy (GDP) Center, an affiliated regional center at the Pardee School, titled "How Trade Policy Failed US Workers – And How to Fix it." 
In the article, titled "US workers need a new trade policy, not a Trump trade tirade," Gallagher and co-author Sandra Polaski, senior research scholar at the GDP Center, argue that President Trump's trade strategy since taking office in 2016 has hurt the American heartland and failed to produce good jobs. While President Trump railed against U.S. trade policy during his first presidential run, Gallagher and Polaski say that his two signature trade initiatives – the U.S.-Mexico-Canada Agreement and the trade war with China – have not produced any significant economic benefits for working Americans.
In addition, the authors states that President Trump's trade policies pose a great threat to the environment. Gallagher and Polaski echo the sentiment made in the new GDP Center report arguing that the U.S. needs to reshape its trade policy to promote good jobs at living wages, tame income inequality, protect the environment from the effects of global climate change, support economic recovery from COVID-19, and emphasize international cooperation.
An excerpt:
As we argue in our study, the trade war with China has led to higher costs for consumers and losses to farmers cut off from that key market. For manufacturing sectors, any positive effects from Trump's tariffs were more than offset by the rising cost of inputs and negative effects from retaliatory tariffs imposed by trading partner countries who fight tit-for-tat when targeted. The only winners of the Trump trade policy? Big pharma, big finance and big tech.
The full op-ed can be read here. Details on the new GDP Center report can be read here.
Kevin Gallagher is a professor of global development policy at Boston University's Frederick S. Pardee School of Global Studies, where he directs the Global Development Policy Center. He is author or co-author of six books, including most recently, The China Triangle: Latin America's China Boom and the Fate of the Washington Consensus. Read more about him here.