Grimes and Colleagues Speak at IMF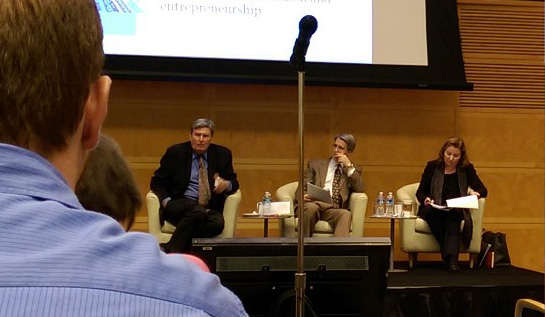 At an event held in Washington, D.C. on Oct. 29, William Grimes, Professor of International Relations and Political Science at the Frederick S. Pardee School of Global Studies at Boston University, joined a panel discussing mobile and digital remittances for migrants.
The event, "Mobile and Digital Remittances in Crisis-Affected Contexts: New Perspectives on Innovation, Policy and Development," was hosted by the Boston University Alumni Association. The panel included Grimes, Daivi Rodima-Taylor, Senior Researcher at the Center for Finance, Law and Policy, and Donald Terry, BU Law School.
"Remittances are extraordinarily important for developing countries and the communities they touch. It is important to bear those impacts in mind as we discuss policies to regulate financial and criminal risk in the evolving mobile and digital payments space," said Grimes. "This task force seeks to address that challenge by bringing together experts in finance, mobile platforms, and development to discuss the opportunities and trade-offs that these technologies pose."
The panel discussed regulatory and policy shifts and innovative institutional partnerships that foster the advancement of these novel ICT solutions for broader financial inclusion. Comparative examples from Africa and Asia were examined.
"Alternative remittance technologies in developing economies often thrive on local entrepreneurship and innovation, and offer valuable learning opportunities for regulators and financial service providers," said Rodima-Taylor. "Mobile money in Africa, for example, has been so successful because it accommodates people's actual money management practices and builds on cultural patterns of trust and cooperation."
The panel discussions centered around exploring innovative partnerships and institutional alliances, and novel technological and policy solutions for facilitating cost efficient and transparent remittance transfers.
The event was held at the International Monetary Fund (IMF), in Washington, D. C.
"The quality of the presentations and the interest of the topic made for a very enjoyable evening. Remittances are so important because they directly affect the welfare of people, but they also have huge macroeconomic implications," said Leo Bonato, IMF Deputy Division Chief. "In this regard, I think it was particularly appropriate for a discussion on this topic to be hosted by the IMF."
Sarah Speltz, Assistant Director of Alumni Education Programs for the BU Alumni Association, praised the speaker for providing their audience with this learning opportunity.
"The program on mobile remittances held at the IMF was a great opportunity, not only for BU alumni from nine different schools and college to network with one another, but also for the alumni and others to learn from some of BU's many experts," Speltz said. "By offering educational programs and other off-campus events in places like Washington, D.C., we strive to keep our alumni engaged with BU and connected to one another."
Rodima Taylor is also a Visiting Researcher at the African Studies Center, an affiliated regional studies center of the Pardee School. Learn more about her here.
Grimes is Associate Dean for Academic Affairs at the Pardee School, where he has taught since 1996. He previously served as chair of the Department of International Relations and as the first director of the BU Center for the Study of Asia. Learn more about him here.