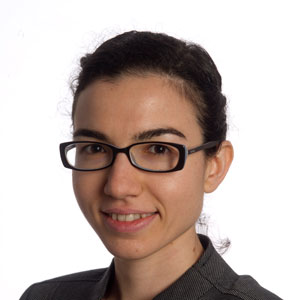 Canan Gunes Corlu
Associate Professor, Administrative Sciences
Coordinator, Supply Chain Management
Codirector, Decision Sciences Research Laboratory
Dr. Canan Gunes Corlu is an associate professor and the faculty coordinator for the Supply Chain Management programs at BU's Metropolitan College, and serves as codirector of BU MET's Decision Sciences Research Laboratory. She has both face-to-face and online teaching experience, with courses in operations management and supply chain management. Dr. Corlu's primary research interest is in the area of design and analysis of stochastic simulations under input uncertainty and applications of data analytics and simulation-based optimization in operations management and supply chain management, including computational transportation and logistics. She also utilizes simulation to address problems in manufacturing and service supply chains. Lately, she has been investigating emerging risks, including disruption risk and climate change risk, and their impact on decision-making in supply chains. Her research has appeared in a variety of journals, including Operations Research, IISE Transactions, Journal of Simulation, and International Journal of Production Research. Her work on the representation of input risk on inventory simulations was recognized by the INFORMS Minority Issues Forum Best Paper Competition in 2017 and 2018.
Dr. Corlu is the recipient of the INFORMS 2021 Volunteer Service Award and 2009 INFORMS Simulation Society Committee for Underrepresented Minorities and Women (CUMW) award. She is currently serving as INFORMS Simulation Society's (I-Sim) treasurer. She was I-Sim's communications editor from 2018 to 2020. She served as the treasurer of the INFORMS Junior Faculty Interest Group (JFIG) from 2016 to 2020. She has been a program committee member for the INFORMS Winter Simulation Conference Logistics, Supply Chain Management, and Transportation track, as well as Modeling Methodology track since 2011. She cochaired the Model Uncertainty and Robust Simulation track in 2020 and 2021. She is an associate editor for the Journal of Simulation and an editorial board member of the Journal of Business Analytics.
View Dr. Corlu's Curriculum Vitae 2021.
View Dr. Corlu's Google Scholar Page.
View the Decision Sciences Research Laboratory Website.
Research Interests
Courses
Scholarly Works
Faculty Q&A