Ramachandran and Paschalidis Named Distinguished Professors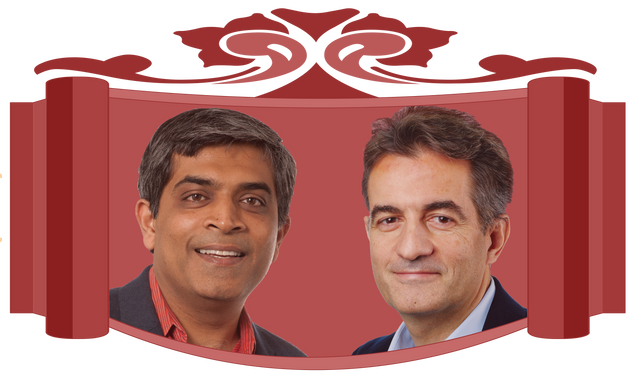 by Allison Kleber
Two ECE faculty members have been named to the second cohort of Term Distinguished Professors of Engineering by the College, in recognition of their superlative record in both their research, and their service to the college. In addition to honoring them with a title they will retain throughout their careers at BU, each newly-minted Term Distinguished Professor will be provided with discretionary funds for the duration of their term, to support the pursuit of "risky, but potentially high-impact" directions in their research, per Dean Kenneth Lutchen.
Professor Ioannis Paschalidis serves as Director of the Center for Information & Systems Engineering (CISE), of which he is a founding member. His research interests include artificial intelligence and machine learning, computational biology and medicine, stochastic systems, and much more. He served as the College's 2020 Charles DeLisi Distinguished Lecturer, and spoke about data-driven reasoning and predictive health analytics; a topic of considerable expertise, given his recent work creating predictive models around everything from pregnancy to health inequality in COVID-19 outcomes.
Professor Siddharth Ramachandran's research centers on nonlinear, ultrafast and quantum photonics, fibers and guided-wave devices, brain imaging, classical & quantum networks, and other related topics. He leads the High Dimensional Photonics Lab and was named a Vannevar Bush Faculty Fellow in 2019 by the Department of Defense; that agency's most prestigious award given to an individual researcher.
The Boston University Department of Electrical and Computer Engineering congratulates Professors Paschalidis and Ramachandran on this latest remarkable achievement!