Ünlü Elected AIMBE Fellow
By Liz Sheeley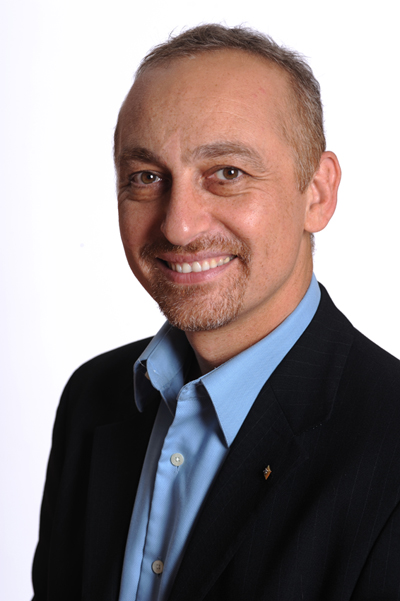 Professor Selim Ünlü (ECE, BME, MSE) has been elected to the American Institute for Medical and Biological Engineering (AIMBE) College of Fellows.
"I'm honored to be chosen by as an AIMBE Fellow and thrilled to join the growing group of fellows at Boston University," says Ünlü. "The College of Engineering at BU has allowed me to expand my research in biological sensing and imaging by providing a rich and highly collaborative environment."
The College of Fellows is comprised of the top two percent of medical and biological engineers in the country. Boston University now has 35 AIMBE fellows, fifth most in the nation, and Professor Joyce Wong (BME, MSE) serves as chair of the College of Fellows.
Ünlü joined the faculty in 1992 and his current research focuses on developing innovative methods for optical imaging and microscopy. His election to the College of Fellows is because of his contributions using optical interference in biological sensing and imaging.
The concept of light interference has been documented since the 1600s, but Ünlü has been able to apply the concept to enhance the light collection efficiency of photodetectors and to develop novel biological sensing and imaging technologies. Light interference can be seen in the colorful reflections created by soap bubbles—the bubble's film partially reflects back light at its closely spaced surfaces, preferentially enhancing or decreasing the reflection of colors constituting the white light illumination.
Ünlü uses this concept to detect nanoparticles as the presence of particles modifies the interference of light reflected from the sensor surface, producing a distinct signal that reveals the size of the particle (which is not otherwise visible under a conventional microscope). This technique has allowed Ünlü to quickly and accurately detect viruses in a blood sample. The method doesn't require the user to be highly skilled or trained, no sample preparation is needed and the instrument does the work making this an ideal technique to transfer to resource-poor areas.
Most recently, Ünlü is working to pivot this technique so that it can be used to detect the virus causing the COVID-19 pandemic.