ECE Alumna, Rosalind Wynne, advances fiber optic research
By Colbi Edmonds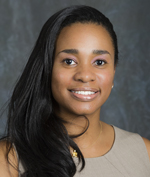 Boston University alumna Rosalind Wynne (ENG'01, ENG'05) is an award-winning African-American engineer. She is currently an associate professor at the Villanova University's College of Engineering. Reflecting back on her graduate years at BU, Wynne acknowledges some of the impactful faculty during her M.S. and PhD studies in BU's ECE Department.
"Mark Horenstein, Bill Oliver, Roscoe Giles, all of those people were very supportive during my PhD program." said Wynne.
Katherine Kennedy at BU's Howard Thurman Center as well as Katherine Jackson at the Ahana group also had a positive impact on Wynne's social experience on campus.
"These were excellent resources for me and other graduate students of color. They really gave us the support to complete our programs successfully," said Wynne.
As a child, Wynne watched her father and uncle fix things around the house, which led to her curiosity about engineering. But, she has always been interested in the research that is behind fixing those "things."
Currently, she conducts research on fiber optics, and is the director of the Laboratory for Lightwave Devices which involves hands-on experience for students. According to Wynne, she felt "well equipped" to begin her career outside of BU and start sharing her knowledge with students.
"I work with spaghetti-sized strands or eyelash-thin strands of glass that have cavities in them. I put things like cells and bacteria in them to look at cell cultures for point-of-care, real-time testing of, for example, water or food quality," explained Wynne.
According to Wynne, this research is applicable to various forms of manufacturing such as food and pharmaceuticals, environmental protection, and healthcare industry.
Professor Wynne is excited about the future of fiber optics as technology continues to advance throughout the field.
"It's such a powerful tool, and we're just now scratching the surface of what light can do now that the manufacturing technology has caught up. Eventually, we hope photonic computing will become a reality, and through optofluidics we will monitor the behavior of the brain activity using light," predicted Wynne.
According to Wynne, these studies may help understand the general workings of the brain, on the chemical and electrical level, and have far-reaching consequences.
"The brain is almost like the ocean, it's a planet itself. It's undiscovered territory, it's unexplored territory," said Wynne.