ENG Gains Highest-Ever Ranking in US News' Graduate Programs List
By Michael Seele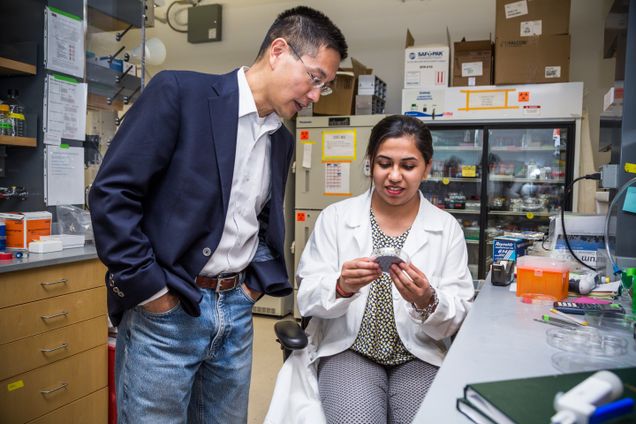 The College of Engineering and several of its programs advanced and saw improved peer assessment scores in the latest US News & World Report rankings of the nation's graduate engineering programs, released this week.
US News now places the College 34th among the 198 engineering schools with graduate programs that it ranked. That represents an advance of 18 places since 2006, the most of any top-50 engineering school. The College's subjective assessment score among the nation's engineering deans climbed, as did its assessment by employers, both heavily weighted factors in US News' ranking methodology of engineering schools.
"The excellence of our faculty and their research continues to gain increasing recognition among our peers," noted Dean Kenneth R. Lutchen. "This recognition is helping to fuel a virtuous cycle that attracts high-quality graduate students, who, in turn, help propel the College's research to ever-greater heights."
At the program level, subjective assessment by the respective department chairs nationally is the only factor used in ranking. The Biomedical Engineering program continues to be ranked among the elite nationally, at 12th among 120 graduate BME programs and 6th among private schools. Its peer assessment score was the seventh-highest; a number of ties among higher-ranked schools edged it out of a top-10 spot.
Other graduate programs saw significant gains in this year's rankings. The Computer and Electrical Engineering programs recorded their highest-ever assessment scores and rankings, both 36th in their large categories – jumps of six and seven places, respectively, over last year. The Mechanical Engineering program also notched a significant advance, six places to 42nd in a field of 170 programs.
The relatively young Materials Science & Engineering program also recorded its highest score and rank since it started being rated seven years ago and jumped 11 places into the 46th spot.
When comparing only private universities, every one of the College's programs is in the top 20.