Innovation in Ideation
Natural disasters have plagued civilization since the beginning, and although our understanding of them has improved over the centuries, too many people still suffer at the hands of environmental unrest. Togo (a country in western Africa), for example, faces annual difficulties with flooding during the monsoon season. Unfortunately, humanitarian aid functions on a linear schedule, not able to send life-saving supplies until after a disaster occurs. Therefore, Togo's citizens around the Mono River must battle with the clock to prevent the spread of disease that happens with riverine flooding.
Luckily, seniors in the Electrical and Computer Engineering (ECE) department at BU offer their skills to solve various engineering problems both around Boston and across the world. In their last year at BU, they work with a customer to research, design and prototype a solution to some specific challenge. All this work culminates in an annual event called ECE Day, when each team first presents their projects to a roomful of students and faculty, and then demonstrates their final designs at tables around the Photonics Center's ninth-floor rotunda. Their efforts are judged by a panel of ECE alumni from companies like Paytronix Systems, Google, Microsoft, and GE, who then award teams in several categories.
Some of this work, such as that by Team 8, can even help save lives. They developed a sensor that reliably measures the ever-changing water level of the Mono River and transmits its recordings to Red Cross, who uses a predictive model to allow for timely humanitarian aid deployment. "It's a low-cost river sensor, so all the components . . . are easily replaceable in case of any emergency or dangerous situation. Such as, well, the battery running out or being swept . . . down the river," says Mahesh Yarasi '18. The instrument thus allows consistent and affordable relief to be sent to Togolese communities before flooding causes hazardous conditions for the population.
Not all superheroes wear capes, though, and not all improvements to quality-of-life must be centered on survival. Team 8 is only one of 25 teams and more than 100 students in the ECE Senior Design capstone course. The course aims to solve a variety of problems in industry, government, nonprofits, and even for faculty and staff. Another team targeted sensory motivations for their problem-solving endeavors. Team 10's Haptic Box design allows for the hearing impaired to experience music through touch—by translating auditory experiences into haptic feedback. Rahmeh Fares '18 says, "I thought it would be a really great opportunity to help people who can't appreciate this thing that I appreciate so much."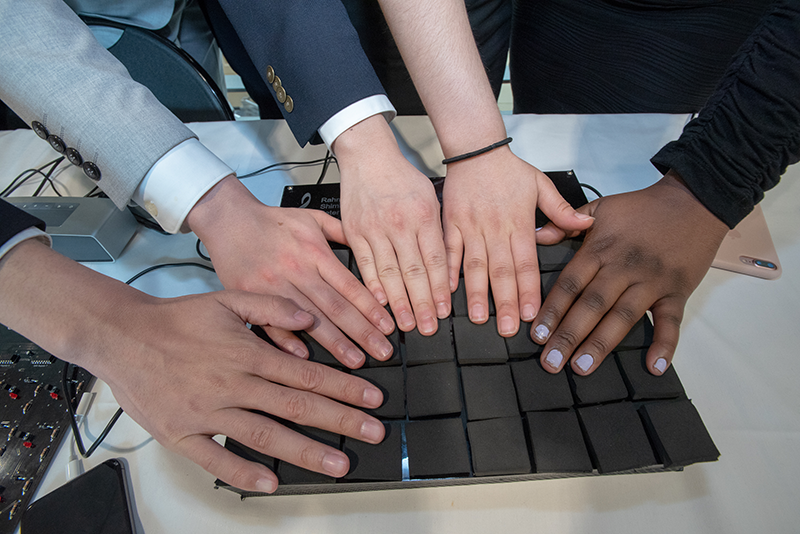 Additionally, other teams work on solutions for more niche audiences, such as the Helicopter Engine and Aerial Navigation Simulator (HANS) by Team 13. The goal of this project is to enable flight control simulation through a video game, so that future pilots can get a sense of what it might be like to fly a helicopter in reality. "It was really important for us to have an accurate description of how an engine would react [in] real time," says Vivian Pazmany '18, as the game was specifically designed to offer a realistic experience of flying a helicopter to students at career fairs who are exploring their options for the future.
There were seven awards given this year for ECE Day excellence:
Best ECE Senior Design Project Award: Team 2, Compos. For an adaptive, indoor localization system, using a network of beacons, a server, a webpage, and wearable devices for Alzheimer patients in order to alert caregivers about abnormal behavior and movement patterns; Reet Chowdhary (ENG '18), Jenna Zhu (ENG '18), Ben Rawstron (ENG '18), Qingru Xu (ENG '18), Rahul Jain (ENG '18).
Design Excellence Awards:
Team 15, LaserTrac. For researching the optical tracking of an unmanned aerial vehicle to maintain bi-directional optical communication between moving targets, potentially useful for providing internet access to disaster areas; Aviva Englander (ENG '18), Eduardo Portet (ENG '18),Anton Paquin (ENG '18), Jeffrey Lin (ENG '18), Christopher Liao (ENG '18).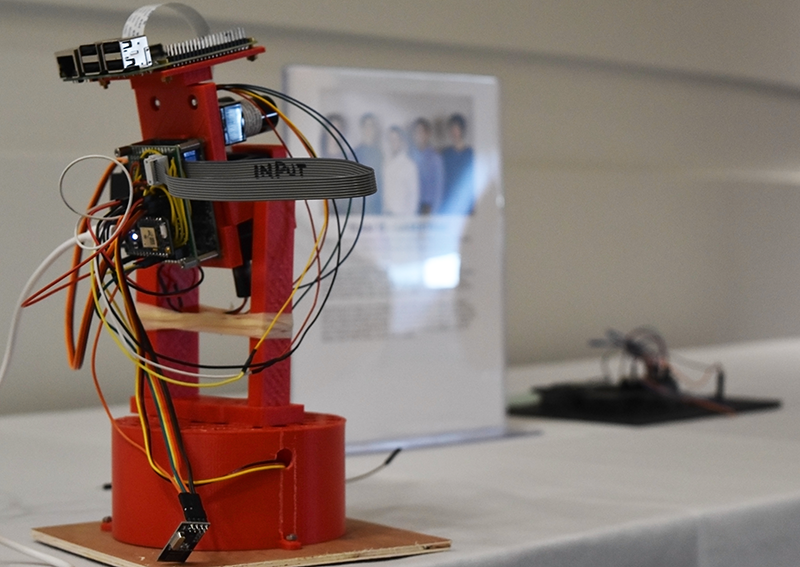 Team 18, Smart Lending Locker. For creating an automated method for school faculty to lend smart devices to students while exporting the status of products to the client using a cellular connection; Will Norman (ENG '18), Zheng (Isabelle) Yang (ENG '18), Samit (Jade) Dhangwattanotai (ENG '18), Joseph Ward (ENG '18), Erostin Lushka (ENG '18).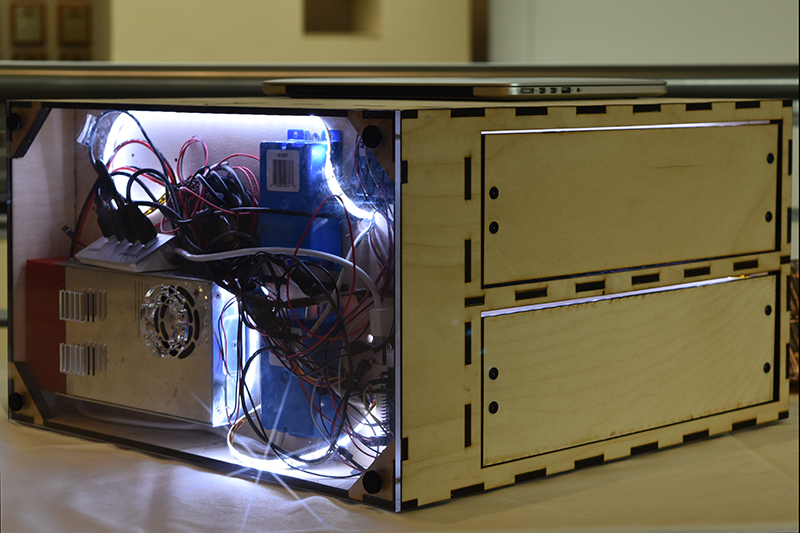 Team 20, Smart Loo. For developing sensors that monitor real-time supply levels of restroom inventory in order to reduce waste and the inefficiency of facilities' schedules by predicting maintenance needs for specific locations; Brandon Ng (ENG '18), Ben Corn (ENG '18), Sarah Araujo (ENG '18), Arturo Asmal (ENG '18), Bonnie To (ENG '18).
Michael F. Ruane Awards for Excellence in Senior Capstone Design: Christopher Liao (ENG '18) and Benjamin Rawstron (ENG '18).
Entrepreneurial Award: Team 12, Ubru. For developing a prototype of a fully-automated, networked espresso machine, able to create and store user profiles in the cloud to provide coffee drinkers with their personalized, favorite shot of espresso from any Barista device; Zack Woo (ENG '18), Vinay Khemlani (ENG '18), Veronica Herzog (ENG '18), Ricky He (ENG '18), Alex Moyse (ENG '18).
Watch the recording
of the presentations to appreciate more of these talented students' projects.
By Tami Lawless