Seven Years of Impact: A Q&A with Megan Sullivan
On July 1, Megan Sullivan will step down from her role as Associate Dean for Faculty Research and Development and Director of the Center for Interdisciplinary Teaching & Learning after seven years. In her time as Director and Associate Dean, Sullivan led CITL through a period of growth and development during which undergraduate research grants expanded dramatically and the College won an award for excellence in general education. Sullivan will be succeeded in the role by D. Lynn O'Brien Hallstein. We caught up with Sullivan to discuss her time at CITL and what's next for her as she hands off the role.
How has CITL evolved since you started your term as director?
CITL has evolved into a really burgeoning center for faculty, staff, student and alumni engagement. CITL has always taught summer institutes for lifelong learners on interdisciplinary topics, hosted academic conferences, published Impact: The Journal of the Center for Interdisciplinary Teaching & Learning, and more. We've since had the opportunity to offer or sponsor additional faculty development workshops, to fund more varied projects, and to offer the Global Impact Research Fund Award.
We've also been able to further harness our collective scholarship and commitment to pedagogy to present at national conferences and to become even more of a "name" in General Education. CGS has been 'doing' General Education for over sixty years, but I was honored that we were recognized by one of the most important associations for general education in my tenure as the director. CITL also wrote for and received grants to nurture staff and faculty development, which was important to me.
CITL has also accomplished smaller, but still important things: we've hired an ePortfolio mentor and offered student prizes for ePortfolios; all this helps in our ongoing assessment practices. We've revamped the look and feel of Impact; we've mentored 7 or 8 what we now call "Pedagogy Fellows" who have gone into careers in higher education; we've expanded faculty talks into Alumni Weekend; and we've established thoughtful processes and procedures for these varied initiatives.
Importantly, our Undergraduate Research Experience went from sponsoring approximately 3-5 undergraduate researchers to funding up to 50 students per year. This is largely because CGS and Dean Natalie McKnight secured funding from generous alumni and parents, and because we know that undergraduate research is a 'high impact practice,' or one of those practices that significantly impacts student success and retention.
CITL supports an incredible array of undergraduate research projects – what are some of the most memorable ones that have stood out to you over the last few years?
Great question, but there are too many to name! I think more than the topics, I love to see how a student grows as a result of whatever project he or she is involved in. I love to see students' eyes brighten when they discuss their research projects; I love that CGS faculty have invited students to present papers and attend conferences with them; and I love that now an entire cadre of undergraduates will know something about the process of writing a book or engaging in a long-term project. And I hope that this encourages them to someday write that book or engage in that long term project on their own.
Why do you believe it's important to give students an opportunity to engage in paid undergraduate research?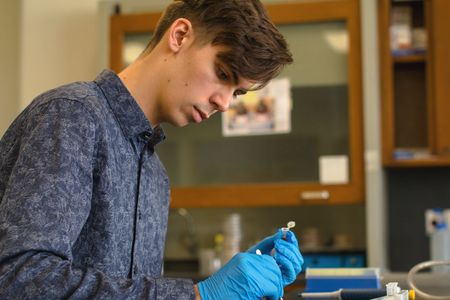 In the parlance of the day, paid undergraduate research is a 'win-win' for everyone: faculty obtain research help, and students learn to put the critical thinking and research skills they learn in college to work by engaging in "real world" research, or research that will make its way into labs, grants, articles, books and conferences. As I noted above, it's also important because engaging in undergraduate research has been found to increase students' level of academic success and retention. I also really like that alumni and parents get to 'win' in this situation, too. They get to talk to our research teams and feel their excitement. They can contribute with thoughts or deeds; and that is how real research is accomplished, with a shared canvas and a shared goal.
In addition to supporting undergraduate research, CITL acts as a resource on interdisciplinary general education. Why do you think general education is so important? How is CGS's program unique in the field of general education?
General education is important because it prioritizes the intellectual curiosity, skills and habits of mind that will help people become better in life and work. General education serves the whole person; it teaches us to be smart, ethical, community-oriented and autonomous. With the Hub, BU recognizes that students should have these opportunities throughout their four years of college, and that's good. However, research shows that we need to "catch" students in their first two years; these are the years that can literally make or break students' ability and desire to continue their education. General education is among the most important work a university has to accomplish.
What are you most proud of in your time as CITL director?
I'm really proud of what I've been able to do for the College of General Studies as a whole and with respect to each part or "stakeholder" in this whole. There can be a tendency for administrators to think in terms of constituencies: they support students or faculty or staff or alumni. I'm proud that I've been able to learn about and help foreground what folks need across the spectrum at our college and what makes them succeed, whether these people are students, staff, faculty, alumni, parents or donors. The reality is that a college is only as good as each of its parts, and from the beginning I've set out to contribute to all these "parts"; I'm proud of that. I was able to do so, because I wanted to, and because that's something Dean Natalie McKnight believes in and promotes.
I'm also proud that I've been able to participate in so many BU committees and to therefore meet people who could, through me, learn more about CGS—its goals, aspirations, sophistication and commitment to teaching and scholarship. When BU created its first university-wide general education program, or the Hub, I could contribute, because general education is what CGS does. Yet I could also be of service on the General Education Committee by allowing other units at BU to know more about what CGS does best: interdisciplinary, cohort learning. The same is true with respect to diversity and inclusion. Because I was able to be a member of the Office of Diversity and Inclusion Chairs' group, I could showcase how CGS is working on everything from diversity hiring to inclusive pedagogy. This has been hugely important to me. There are other examples, but the reality is that I always thought my role was to help people within CGS and to help others better understand CGS.
What's next for you when your term ends?
For the next year I am on sabbatical. All my energies will be focused on two things: writing a book about the Irish writer Maeve Brennan, and fostering a community of scholars, activists, educators and policy makers who will better attend to the needs of people in prison and their children. Just as my roles as Director of CITL and Associate Dean for Faculty Development led me to attend to the various communities that create a college, my research and scholarship have always pushed me to attend to and highlight those literary and material voices most in need of being heard.
— Compiled by Chelsea Feinstein