Woodwinds
Bassoon, Clarinet, Flute, Oboe & English Horn, Saxophone
Brass
Horn, Trombone (Bass & Tenor), Trumpet, Tuba & Euphonium
Percussion
Request more info about the performance diploma
With 140 students studying 11 instruments at all degree levels, Woodwinds, Brass, and Percussion represents one of the largest departments at the School of Music. So whether it's a lesson or coaching with one our 39 faculty members, or orchestral techniques class down at Symphony Hall, the Woodwinds, Brass, and Percussion department offers world-class instruction for students seeking meaningful careers as orchestral and chamber musicians, soloists, and teachers.
Celebrating 150 years of bu school of music
Woodwind Faculty
Brass Faculty
Percussion Faculty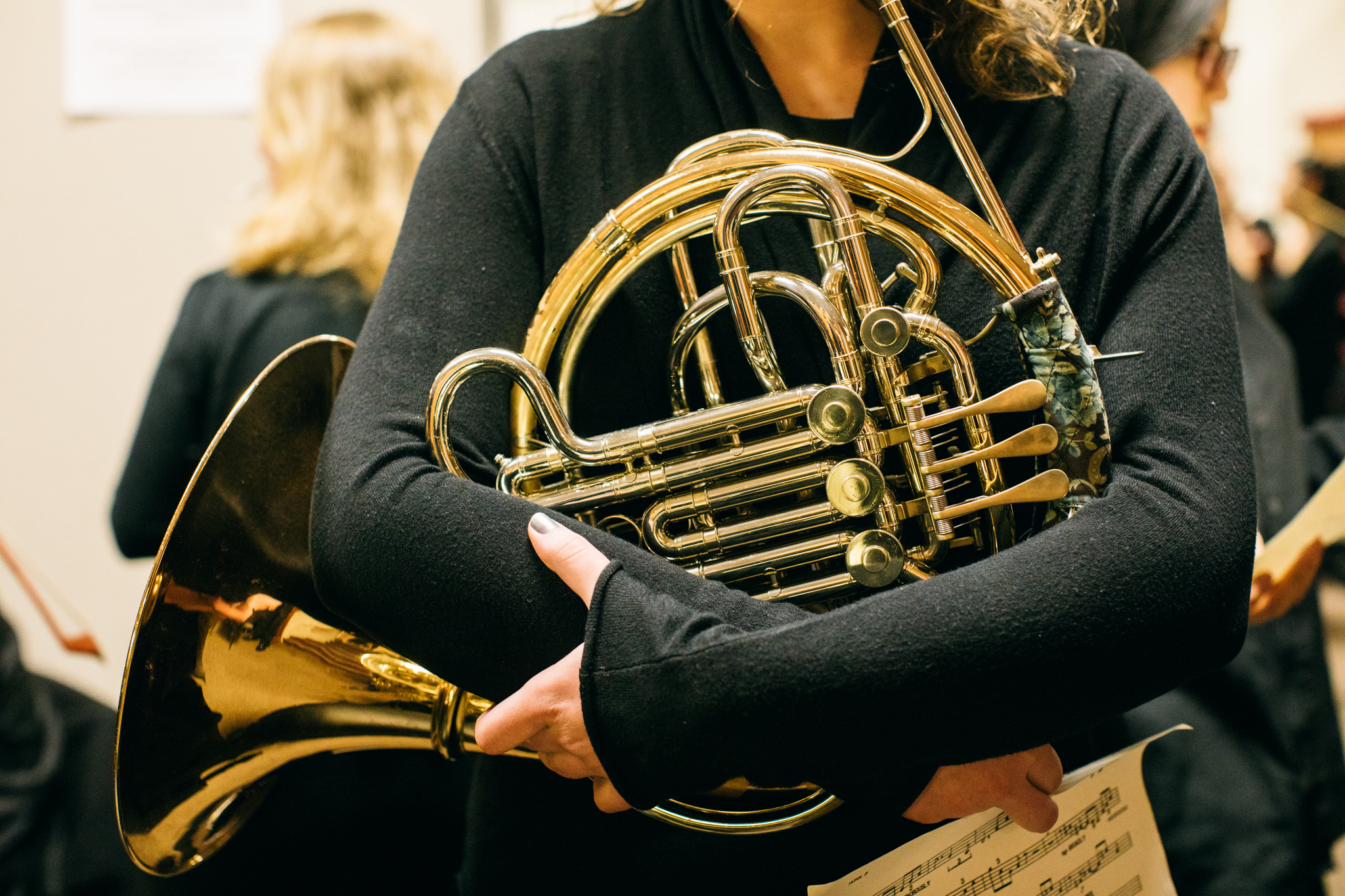 Program of Study
Applied Study
Our faculty members provide weekly private lessons for all music majors in 11 specialty instrument areas. All BU music majors study private lessons with a professional teacher, never a student assistant.
Let one of our 119 state-of-the-art practice rooms be your laboratory to learn repertoire, build technique, and experiment musically. Fortify ideas and test yourself through our ample performance opportunities in both formal and informal settings.
An annual series of guest masterclasses puts students in contact with a variety of distinguished artist-teachers to gain insight to many pedagogical styles and approaches.
Chamber Music
BU School of Music is dedicated to the study of chamber music at all levels. Our program instills in students the professional skills and entrepreneurial spirit necessary to have chamber music be a meaningful part of their careers. Empire Brass, Atlantic Brass, Boston Brass, and Synergy Brass were all started in our program, and the Grammy-nominated Imani Winds was founded by BU alum Valerie Coleman.
The woodwind and brass chamber music program provides each chamber group with 12 hours of coaching from our internationally recognized faculty-artists, as well as numerous performance opportunities each semester. BU students further their studies through master classes, open rehearsals, and residencies with renowned guest artists.
Many chamber groups perform in Boston and the Boston-area at medical centers, area churches, and other venues.
Additional Chamber Music opportunities include:
Trumpet Ensemble
Trombone Choir
Horn Choir
The Herd Tuba and Euphonium Ensemble
Percussion Ensemble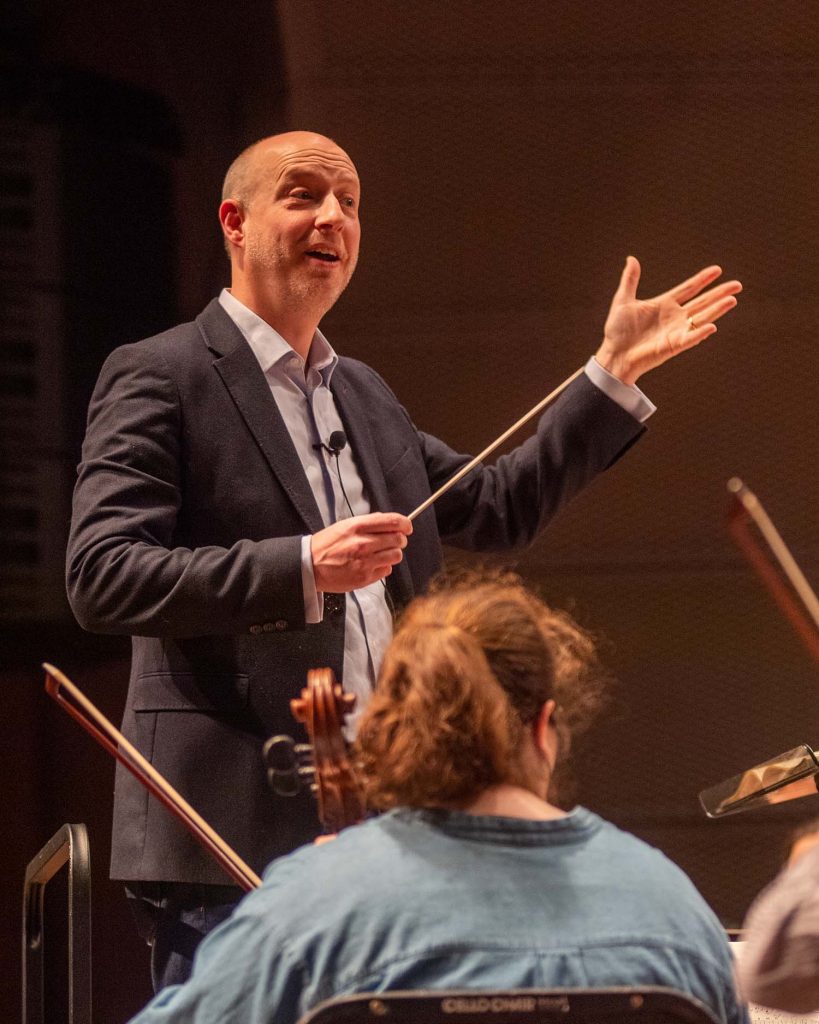 Orchestral Studies
With 9 faculty members playing with the Boston Symphony Orchestra, BU students learn from some the best orchestral players in the country. Our students focus on mastering the standard orchestral excerpts and learn to prepare for the complete orchestral experience through rep readings and repeated mock-auditions.
Under the direction of Maestro James Burton, BU maintains both a symphony orchestra and a chamber orchestra where students continuously perform both new and standard masterpieces as well as play in the pit for our superb opera productions.
Oh, and about that world-class symphony next door? You can go for free. Being exposed to great performances is crucial to growing as an artist. With the BSO College Card you will gain access to free concerts and open rehearsals at the Boston Symphony Orchestra.
Audition Requirements
Thinking of applying? Find out more about prescreening, repertoire, and audition details by instrument.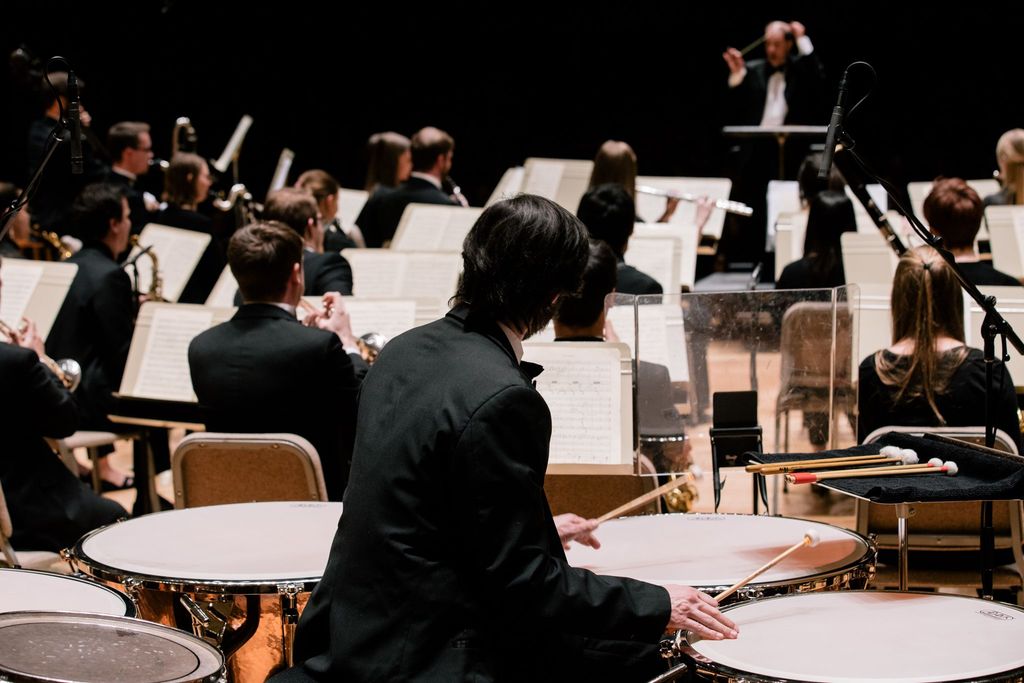 Performance Opportunities
During the course of their studies, students participate in a range of performance opportunities at a variety of venues at Boston University, in the city of Boston, and beyond. With hundreds of performances per year at the School of Music, students are always just a few steps from taking the stage. From recitals to orchestra concerts, students perform regularly including annual performances at Symphony Hall in Boston and Carnegie Hall in New York City.
BU Symphony Orchestra
BU Chamber Orchestra
Woodwind Ensemble
Opera Orchestra
Chamber Music
Annual Soloists' Competition
BU Baroque Orchestra
Notable Alumni

FLUTE
Katherine Velasquez
Principal Flute, Missouri Symphony

Valerie Coleman
Valerie Coleman, Flutist, Composer, Imani Winds, New York

Chia Jung Lee
Principal Flute, Shen Yun Ballet

Alexandra Conway (MM '09, DMA '17)
Piccolo, Winnepeg Symphony Orchestra. Substitute, Boston Pops Esplanade. Finalist, 33rd and 34th annual James Pappoutsakis Flute Competition. Honorable Mention, Alexander & Buono International Flute Competition

Allison Parramore
Second Flute, Cayuga Chamber Orchestra. First prize, 35th Annual James Pappoutsakis Flute Competition

Colleen McElroy
Piccolo/Third Flute, Boise Philharmonic Orchestra, Spokane Symphony Orchestra

Adam Workman
President and Founder, FLUTISTRY BOSTON

Hyun Jung Kwon
Second Flute, Bangor Symphony Orchestra. Interim Faculty Applied Music, Colby College. Second prize, 31st Annual James Pappoutsakis Flute Competition
OBOE
Courtney Miller
Assistant Professor of Oboe, University of Iowa
BASSOON
Gil Perel
Contrabassoon, Nashville Symphony Orchestra

Gabriel Beavers
Associate Professor of Bassoon, University of Miami Frost School of Music
SAXOPHONE
Adam Pelandini
Faculty, University of Central Washington

Jonathan Amon
Applied Instructor, University of Rhode Island

HORN
Joshua Blumenthal (BM '13)
Horn, Hyogo Performing Arts Center Orchestra
David Gamble (BM '07)
Third Horn, Kansas City Symphony, Former Associate Principal Horn, National Center for the Performing Arts Orchestra (Beijing). Member of Bay Street Brass, Bronze Medal Winner, 2007 Fischoff National Chamber Music Competition.
Jonathan Hurrell (BM '03)
Founding member, Synergy Brass Quintet
Gabrielle Finck (BM '01)
Associate Principal Horn, Baltimore Symphony. Former member National Symphony Orchestra, the Milwaukee Symphony Orchestra, and the Civic Orchestra of Chicago
Kevin Owen (BM '83)
Instructor of Horn, Boston Conservatory. Principal horn, Boston Pops Esplanade Orchestra, the Boston Lyric Opera, the Rhode Island Philharmonic, the Boston Landmarks Orchestra, and the Boston Philharmonic.
Sylvia Alimena (BM '82)
Former Second Horn, National Symphony Orchestra. Founder, Eclipse Chamber Orchestra
TROMBONE
Brittany Lasch (DMA '16)
Instructor of Trombone, Bowling Green State University. Winner, 2017 Astral Artist's National Auditions. 1st prize 2015 National Collegiate Solo Competition for Woodwinds, Brass and Percussion, Washington D. C. Member of "Boston Based" Trombone Quartet, 1st prize winner in the 2017 International Trombone Association's International Trombone Quartet Competition. Finalist, 2015 International Trombone Association Frank Smith Solo Competition
Minhwan Lee (PD '15)
Bass Trombonist, Macao Symphony Orchestra, China. 1st prize, 2015 National Bass Trombone Solo Competition, Eastern Trombone Workshop, Washington, DC/Fort Meyer, VA. First prize, 2015 Slider Asia International Bass Trombone Solo Competition, Hong Kong, China
Jonny Watkins (MM '09)
Associate Principal Trombone with the National Center for the Performing Arts Orchestra, Beijing, China. Former Principal Trombone with Hong Kong Sinfonietta, China. Performed with Royal Philharmonic, English National Opera, BBC Scottish Symphony, UK
Greg Spiridopoulos (MM '00)
Assistant Professor of Trombone, University of Massachusetts Amherst, Empire Brass Quintet. Principal Trombone: Albany Symphony Orchestra, Rhode Island Philharmonic, Glimmerglass Festival Orchestra. Principal Trombone, Portland Symphony, Maine
Douglas Wright (MM '95)
Principal Trombone, Minnesota Orchestra. Lecturer, Northwestern University
Larry Zimmerman (MM '89)
Professor of Trombone, St. Olaf College. Trombone, Grammy Award Winning Chestnut Brass
TRUMPET
Andrew Stetson (DMA '13)
Assistant Professor of Trumpet, Texas Tech University
Karin Bliznik (BM '06)
Principal Trumpet, St. Louis Symphony Orchestra
Joseph Foley
Principal Trumpet, Portland Symphony Orchestra, Maine, Principal Trumpet, Rhode Island Philharmonic. Founder, Atlantic Brass Quintet
Andrew McCandless (BM)
Principal Trumpet, Toronto Symphony Orchestra. Faculty, Royal Conservatory of Music (CA)
Rolf Smedvig
Former Principal Trumpet, Boston Symphony Orchestra. Founder, Empire Brass
Peter Chapman (BM, MM)
Former Second Trumpet, Boston Symphony Orchestra. Asst. Principal Trumpet, Boston Pops Orchestra
TUBA
Jose Martinez (DMA'20)
Principal Tuba, National Orchestra of Spain. Performed with Boston Symphony, Chicago Symphony, New York Philharmonic. Member, USA Pi Kappa Lambda National Music Honor Society since 2020.
Stephen Dombrowski (BM '03)
Principal Tuba, Colorado Symphony
Craig Knox (MM)
Principal Tuba, Pittsburgh Symphony Orchestra. Founding Member, Center City Brass Quintet. Artist Lecturer, Carnegie Mellon University. Faculty, Curtis Institute of Music
Kenneth Amis (BM '91)
Tubist, Empire Brass Quintet and the Palm Beach Opera Orchestra. Performing Artist/Clinician for Besson instruments. Taught on the faculties of Boston University, Boston Conservatory, the Conservatory at Lynn University, Longy School of Music, and the New England Conservatory of Music
Velvet Brown (MM '89)
Soloist. Professor, Pennsylvania State University. Faculty, Peabody Institute
Daniel Bauch (MM '04)
Assistant Timpanist, Boston Symphony Orchestra. Former Asst. Timpanist, Detroit Symphony Orchestra.
Kyle Brightwell (MM '12)
Section Percussion, Boston Symphony Orchestra. Faculty, Boston University, Boston Conservatory, New England Conservatory
Matthew McKay (MM '11)
Section Percussion, Boston Symphony Orchestra. Faculty, New England Conservatory
Gregory Cohen
Principal Percussionist, San Diego Symphony Orchestra. Faculty, San Diego State University
Adam Wallstein (BM '02)
Principal Timpanist, Spokane Symphony Orchestra
Joseph Becker (MM '10)
Principal Percussion, Detroit Symphony Orchestra. Former member, Jacksonville Symphony Orchestra
Wei-Chen Lin (MM '08, DMA '14)
First Prize, 2008 Classical Marimba League International Marimba Artist Competition. First Prize, 2007 PAS International Percussion Competition in Fermo, Italy. Laureate of The First Classical Music International Internet-Festival 2013 (Moscow). Winner, 2013 Taiwan NTCH Young Star Series. Silver Medal, 2012 Houston Symphony Ima Hogg Concerto Competition/ Third Prize, 2012 Atlantic Symphony Orchestra Concerto Competition. Second Prize, 2007 PASIC Marimba Solo Competition
Aziz D. Barnard Luce (BM '06)
Principal Percussion, Hong Kong Philharmonic. Former Principal Percussion, Jacksonville Symphony
Robert Marino (MM)
Principal Percussion, United States Army Field Band
Michael Roberts (MM '12)
Assistant Principal Percussion, Oregon Symphony
Keith Carrick (BM '05)
Principal Percussion, Kansas City Symphony. Former Principal Percussion, Sarasota Orchestra
Michael Israelievitch (MM '07)
Principal Timpanist, SWR Symphony Orchestra (Stuttgart, Germany). Former, Acting Principal Timpanist, Francisco Symphony. Former Principal Timpanist, Saint Paul Chamber Orchestra
Ted Atkatz (BM '93)
Former Principal Percussion, Chicago Symphony Orchestra. Faculty; The Colburn School, Lynn Conservatory of Music, Music Academy of the West, Texas Music Festival
Joseph Pereira (BM '96)
Principal Timpani, Los Angles Philharmonic. Former Assistant Principal Timpanist/Section Percussionist, New York Philharmonic. Adjunct Assistant Professor, Director of Percussion Studies, USC Thornton School
Next Steps for Applicants
The best way to determine if BU is right for you is to explore our admission requirements, financial tools, and resources to determine if the program is the right match.
Reach out to our Director of Admissions at visitSOM@bu.edu with any questions along the way or to request information. We are happy to discuss your educational interests and career goals.