Boston University Spotlight
in Weill Recital Hall at Carnegie Hall
A signature event of Boston University School of Music's 150th anniversary celebrations, join CFA to experience Boston University's exceptional student musicians on stage at Weill Recital Hall at Carnegie Hall!
This concert at New York City's renowned Carnegie Hall spotlights a select group of seniors in a unique capstone experience for their final undergraduate semester, along with an exceptional cohort of graduate students. All performers participated in a multi-stage competition and selection process run by CFA School of Music to secure a spot.
The performers for the spring 2023 concert were selected after participating in a competition in the fall of 2022, when each applied department within CFA School of Music (Voice, Piano, Strings, Woodwinds, Brass, and Percussion) held preliminary auditions open to seniors and graduate student performers. Finalists selected from each department competed before a panel of outside adjudicators, all renowned performing musicians. Finally, a slate of performers and a program was crafted under the curatorship of the director of the School of Music, Gregory Melchor-Barz.
These exceptional BU musicians took to the stage that has hosted world-class, top tier soloists and performing groups from prestigious musical organizations who regularly perform in Carnegie's various concert series. Learn more about the performers and the concert below.
Presented by Boston University College of Fine Arts School of Music.
---
2023 Concert
DATE & TIME
March 21, 2023
7:30pm
LOCATION
Weill Recital Hall at Carnegie Hall
154 W 57th St, New York, NY
Carnegie Hall is located at 57th Street and Seventh Avenue in Manhattan.
PERFORMERS & PROGRAM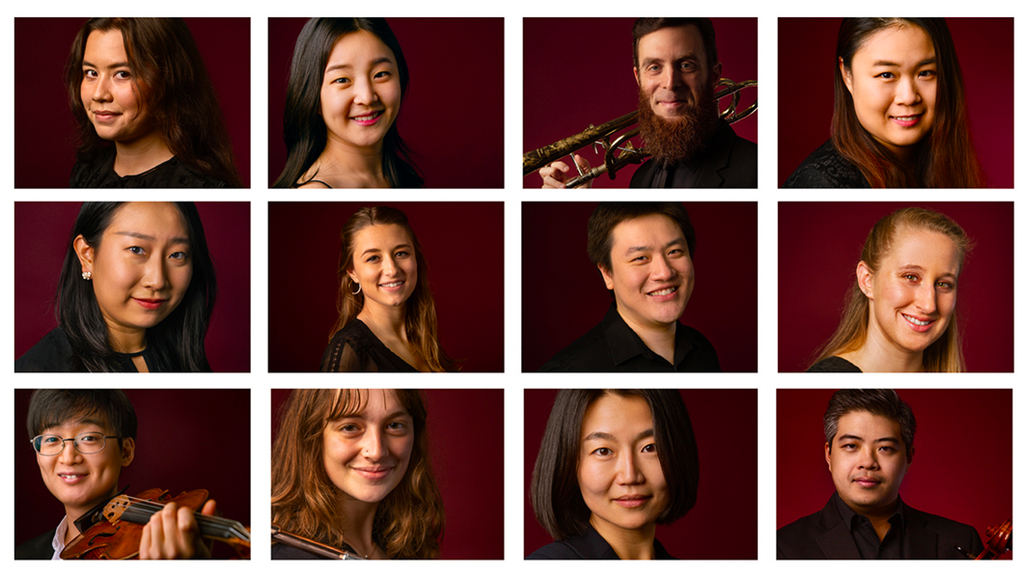 Boston University School of Music's 2023 performers: (Top row, left to right); Clara Montes, Chaeyoung Min, Kevin A. Virgilio, Tianhong Yang; (Middle row, left to right): Xueying Fan, Margaret Matejcek, Richard Rivale, Maria Rabbia; (Bottom row, left to right): Hudson Ye Hyung Chung, Grace Helmke, Dahee Park, Johnny Mok
Clara Montes, Violin
Dahee Park, Piano
Kevin A. Virgilio, Tenor Trombone
Richard Rivale, Piano
Margaret Matejcek, Soprano
Maria Rabbia, Piano
Grace Helmke, Flute
Hudson Ye Hyung Chung, Violin
Xueying Fan, Piano
Johnny Mok, Cello
Tianhong Yang, Piano
Chaeyoung Min, Piano
performing works by Ravel, Rachmaninoff, R. Strauss, Amanda Harberg, Saint-Saëns, Mendelssohn, Tchaikovsky, and Kapustin
Tickets
Tickets are $10, available through Carnegie Hall.
---
A Performer's Dream
In March 2022, after years of study and months of rehearsals, a select group of incredible BU musicians traveled to New York City to perform in Zankel Hall at Carnegie Hall. Barret Yueh (CFA'22), BM Woodwinds Performance and BA Political Science grad, and Alexis Peart (CFA'22), MM Voice grad, reflect on their journeys. The concert was a special capstone experience for select CFA graduating seniors and also features graduate students from the BU School of Music.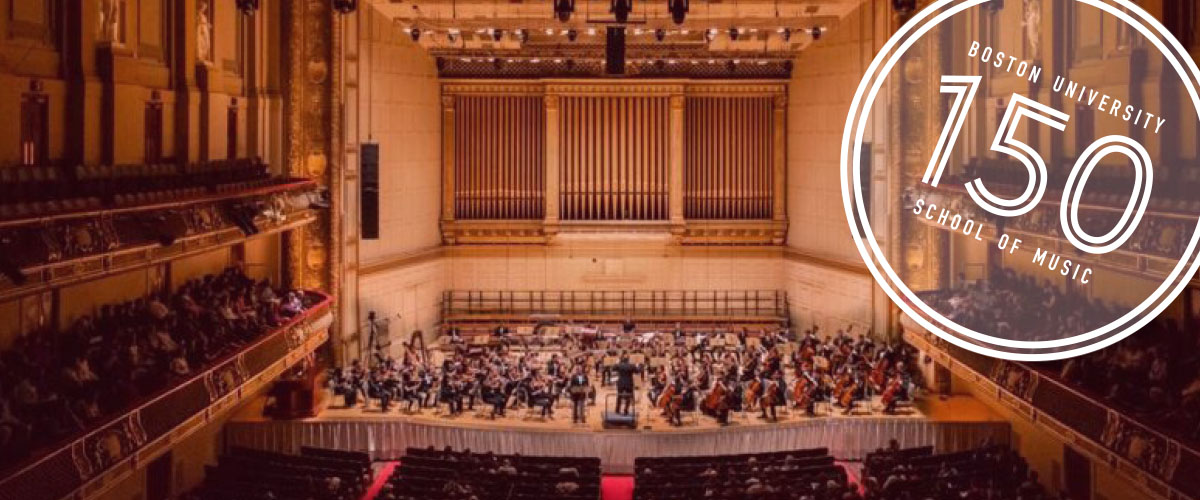 Celebrating 150 Years of BU School of Music
Join us throughout the year for concerts, talks, special events, and more as we commemorate this extraordinary milestone and look ahead to what's next!