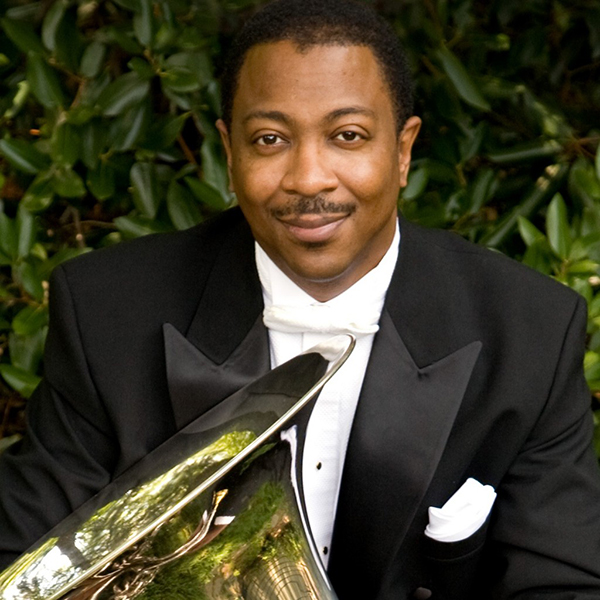 Kenneth Amis
Lecturer in Music, Tuba
World-renowned composer-performer Kenneth Amis enjoys an international career of high acclaim. Amis began his musical exploits in his home country of Bermuda. He started playing the piano at a young age and upon entering high school took up the tuba and developed an interest in performing and writing music. A Suite for Bass Tuba, composed when he was only 15, marked his first published work. A year later, at age 16, he enrolled in Boston University where he majored in composition. After graduating from Boston University he attended the New England Conservatory of Music where he received his Master of Music Degree in Composition.
An active composer, Amis has received commissions from several institutions and music organizations. He has undertaken residencies with educational institutions ranging from middle schools through the collegiate level and was a founding member and on the Board of Directors for the American Composers Forum New England Chapter. In 2007 he was the Composer-in-Residence at the South Shore Conservatory in Massachusetts.
Audiences around the world have enjoyed Amis's music through performances by such groups as the Shanghai Symphony Orchestra, the Indianapolis Symphony Orchestra, the Royal Academy of Music Symphonic Winds, the Detroit Symphony Orchestra, and the National Arts Center Orchestra of Ottawa. In 2003, Amis became the youngest recipient of New England Conservatory of Music's "Outstanding Alumni Award."
As a tuba player, Amis has performed as a soloist with the English Chamber Orchestra and has been a member of the Tanglewood Festival Orchestra and the New World Symphony Orchestra. His performance skills are showcased on many commercial records distributed internationally.
Amis is presently the tuba player of the Empire Brass and the Palm Beach Opera Orchestra, a performing artist for Besson instruments, the assistant conductor for the Massachusetts Institute of Technology Wind Ensemble, and serves on the faculty at Boston University, Boston Conservatory, the Conservatory at Lynn University, Longy School of Music, and the New England Conservatory of Music.
For more on Kenneth, visit amismusicalcircle.com and kennethamis.com.