BU Ecologist Lucy Hutyra Wins a 2023 MacArthur "Genius Grant"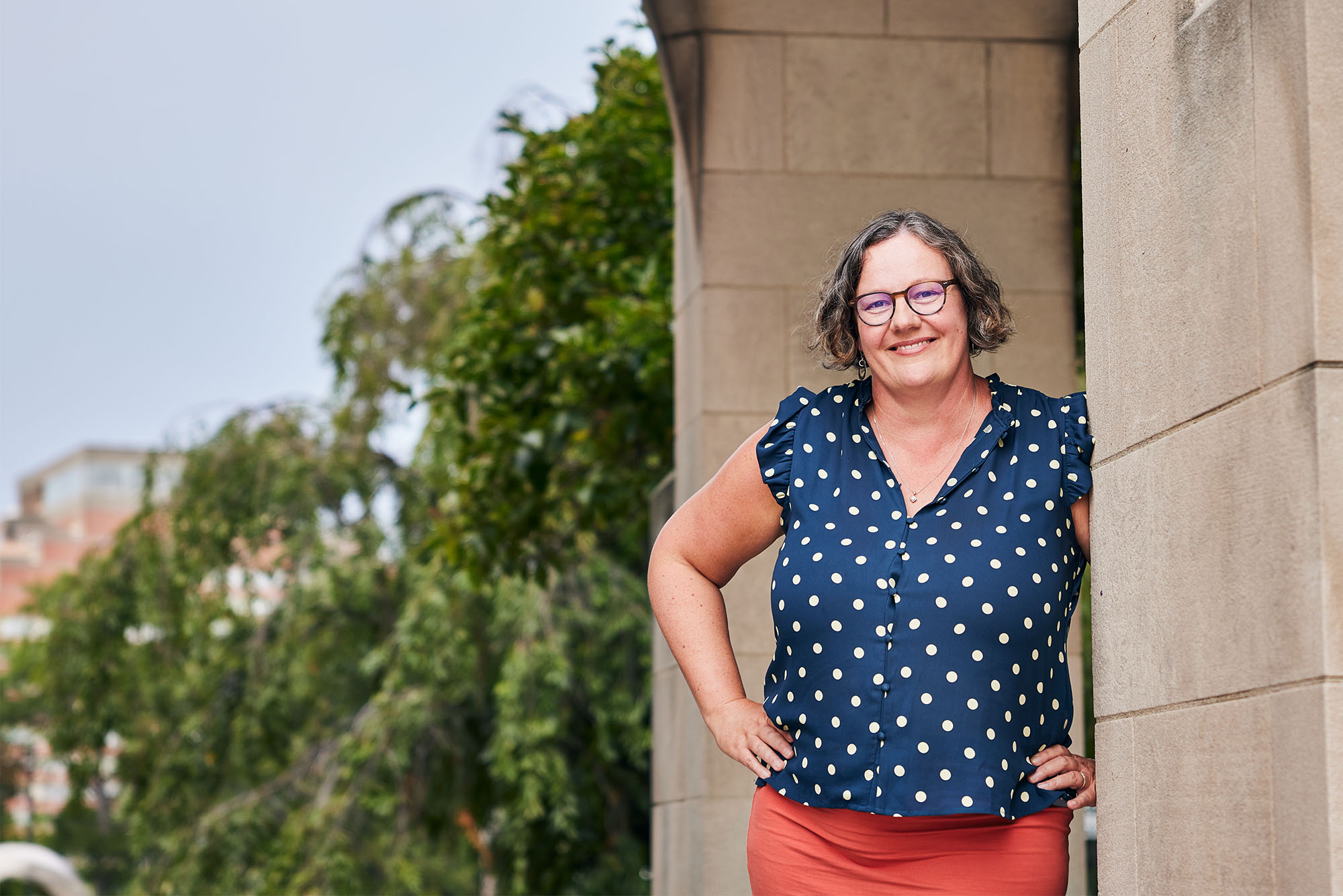 MacArthur Fellowship
BU Ecologist Lucy Hutyra Wins a 2023 MacArthur "Genius Grant"
Expert on urban climate honored for efforts to mitigate extreme heat and other consequences of climate change 
When Boston University climate expert Lucy Hutyra found out that she was to be named a 2023 MacArthur Fellow—one of the most prestigious awards for scientists, researchers, writers, artists, scholars, and professionals in a broad range of fields—the floor of her recently flooded basement at her Massachusetts home was being ripped out.
"I had a house full of contractors, it was extremely loud, and a Chicago number was calling repeatedly," she says. When she answered the phone, the voice on the other end informed her that she is one of this year's winners.
A BU College of Arts & Sciences professor of Earth and environment, Hutyra focuses on understanding the impacts of urbanization on climate and ecosystems, studying how urban environments influence trees and the carbon cycle, and advancing knowledge on how to meet climate action and emission reduction goals. She is one of 20 fellows whose names were announced Wednesday by the John D. and Catherine T. MacArthur Foundation. Each fellow receives an $800,000 no-strings-attached "genius grant," spread over five years.
"This is just about the greatest honor I can imagine receiving," Hutyra says. "To have my peers select me in such an anonymous and rigorous way highlights the impact of my group's work and the importance of focusing on climate solutions in cities. I'm very grateful."
The fellowship almost always comes as a surprise—the MacArthur Fellows program does not accept applications or outside nominations. Instead, potential awardees are selected through a pool of invited external nominators from a broad range of fields. Nominations are then evaluated by an independent committee that, after a multistep review, makes final recommendations to the president and board of directors of the MacArthur Foundation.
Hutyra "draws on a range of tools—including field observations, remote sensing, spatial analysis, and mathematical modeling—to measure where, when, and how much carbon moves between different reservoirs," the MacArthur Foundation writes in its bio of the scholar. "Hutyra expands understanding of carbon cycle variability in urban ecosystems, and her work will be critical to climate mitigation efforts that are increasingly localized as urbanization continues apace."
She joins a growing list of BU MacArthur recipients: Ibram X. Kendi, the Andrew W. Mellon Professor in the Humanities and founder of BU's Center for Antiracist Research, won in 2021; Nancy Kopell, a William Fairfield Warren Distinguished Professor and a CAS professor of mathematics, won in 1990; and Danielle Citron won in 2019 while she was at the BU School of Law. (She left BU in 2020 for the University of Virginia School of Law.)
Hutyra is director of the BU Biogeoscience Program, as well as the associate director of the BU URBAN Program, which prepares PhD students to address urban environmental challenges. This year, she is a visiting faculty researcher at Google working on a product under development—and strictly under wraps, for now—that aims to help cities mitigate extreme heat. Her research and numerous leadership roles have made her one of the nation's foremost climate scholars, and the award recognizes her exceptional creativity, significant achievements, and promise for future advances.
---

Lucy's approach to urban carbon cycle science—quantifying sources and sinks of greenhouse gases in urban areas from soils, plants, and humans—is unique and highly respected in the field.

---
"I was absolutely thrilled to learn that Lucy has been selected as a MacArthur Fellow," says Stan Sclaroff, CAS dean. "Lucy's approach to urban carbon cycle science—quantifying sources and sinks of greenhouse gases in urban areas from soils, plants, and humans—is unique and highly respected in the field. She and her students are elucidating how ecological processes and human activity are jointly impacting regional greenhouse gas budgets."
That work in climate science comes at a time of urgency and peril. Right now, the climate crisis is having visible effects on communities across the world, feeling more like climate fiction than reality: July was the planet's hottest ever recorded month; drought conditions in Maui led to one of the deadliest fires in American history; there were more than 1,000 fires across Canada's forests, sending smoke thousands of miles across North America; and floods devastated communities across the globe.
"I was delighted to hear that Professor Hutyra was selected for this highly coveted and prestigious award," says Gloria Waters, BU's vice president and associate provost for research. "Professor Hutyra is an extraordinarily talented and collaborative researcher who has made deep contributions to our understanding of carbon cycling in cities. Her work is clearly at the interface of science and policy and serves as a model of how the work of our faculty can have a clear societal impact."
Hutyra started her research career as a lab technician at Harvard University, working in the field to understand the carbon cycle in the Harvard Forest in Petersham, Mass. It sparked a passion. She then went on to earn a PhD from Harvard, with a dissertation that focused on carbon and water exchange in the Amazon rainforest of Brazil's Tapajós National Forest.
"Working in the rainforest was an incredible way to begin a career, but as time went on, I really wanted the science I was doing to have a local impact on the community that I lived in, a place where I understood more about land use decisions," Hutyra says. Two years later, she arrived at BU and started tracking and recording urban fossil fuel emissions, building out inventories of data that didn't exist before.
"I have a strong passion to have the science that I'm doing impact decision-making and policies to improve our environmental quality," she says. Air sensors on the roof of the College of Arts & Sciences building have been taking snapshots of carbon dioxide levels, allowing her lab—the Terrestrial Carbon Lab—and other scientists to monitor changes in emissions over the long term. Boston set a goal in 2019 to make the city carbon neutral by 2050, and reduce carbon emissions by 50 percent by 2030. In the four years since then, there has been little change.
"Boston has done a tremendous amount in instituting an urban forest plan and monitoring building-level emissions, and the carbon intensity of electricity has decreased. But we can't yet detect changes of the magnitude that we need," Hutyra says. This is due to a lot of systems staying the same, like consistent day-to-day traffic and a lack of electric vehicles. Her lab now mainly focuses on climate solutions. In collaboration with BU colleagues, Hutyra's work aims to understand how ecosystems function in cities and how they contribute to the sustainability of urban environments. Recent studies have shown that trees act and grow differently in urban versus rural landscapes, as well as at the edge of forests compared to the forest interior.
"One of the biggest discoveries that my group has made over the years, in a series of papers, is to show that trees in the city are more productive," Hutyra says. She found trees in cities grow faster, absorb more carbon, and release more water to the atmosphere than their country counterparts. Quantifying these effects, she says, is essential for making decisions about combating extreme heat and keeping carbon in the ground.
"Boston's the place in our backyard where we can ask these questions about how and why the systems are working the way they are, and develop numerical modeling approaches that can scale far beyond Boston," she says.
To Hutyra, becoming a MacArthur Fellow is a signal that her work and the work of her lab matters. And, as Boston's exceptionally rainy summer and Hutyra's flooded basement shows, none of us are immune to the impacts of climate change.
"Urban ecosystems are so perturbed by people, but that's where the people live and where some of the climate impacts are the largest," she says. "It's where I really think scientists need to get out of the ivory tower and put their incredible skill sets to work on solving our local and global problems."