Ibram Kendi, BU Center for Antiracist Research Founding Director, Wins 2021 MacArthur "Genius" Grant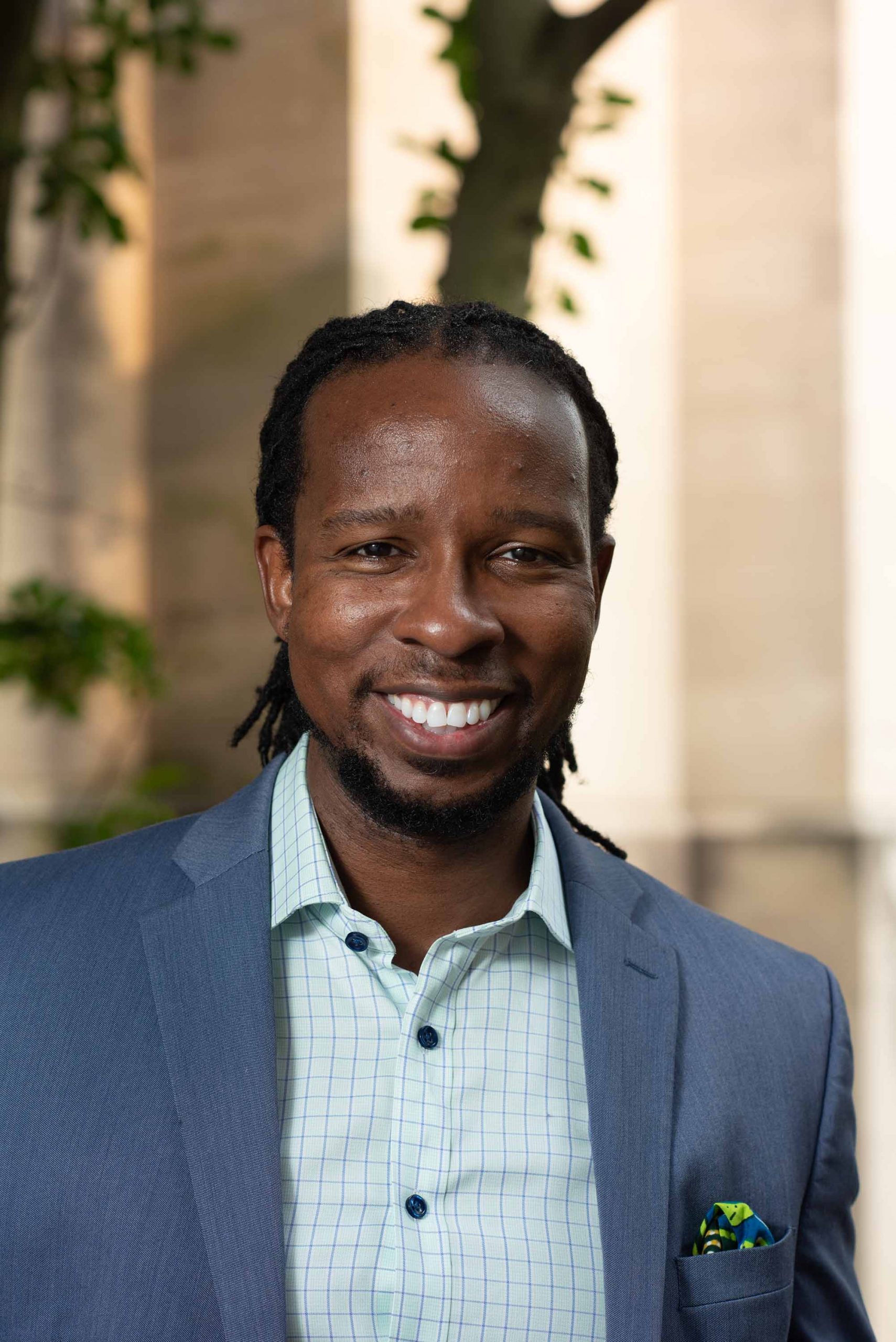 Accolades
Ibram Kendi, BU Center for Antiracist Research Founding Director, Wins 2021 MacArthur "Genius" Grant
The $625,000 no-strings-attached fellowship honors his exceptional creativity, scholarly achievements, gift for communicating his antiracist work and ideas with diverse audiences, and promise for further benefiting society
Boston University's Ibram X. Kendi, the National Book Award–winning historian, professor, and scholar whose research and gift for communicating his ideas with policymakers as well as with everyday people have made him a leader of a national movement around antiracism and the structural changes needed to create a more equitable world, has been selected as a 2021 MacArthur Fellow.
Kendi, who came to BU in 2020 from American University to found the BU Center for Antiracist Research, is a College of Arts & Sciences professor of history and the University's Andrew W. Mellon Professor in the Humanities. His name, along with the other 24 fellows, was announced Tuesday morning by the John D. and Catherine T. MacArthur Foundation. Each winner receives a no-strings-attached $625,000 so-called "genius grant" spread over five years, in recognition of their exceptional creativity, significant achievements, and promise for future contributions. The grants are intended to "enable recipients to exercise their own creative instincts for the benefit of human society," according to the foundation.
Kendi told BU Today he learned the news when the MacArthur Foundation called him at the end of August. Kendi, who was being barraged with anonymous hate calls related to his work, didn't recognize the number so he didn't pick up. Then came a text from the same number, with the name of the caller, and by googling the name, Kendi figured out the caller was with the MacArthur Foundation. "So I told them they could call me, and they [Marlies Carruth, director of the MacArthur Fellows program] called and told me, and my first words were, 'Are you serious?' I was just sort of in shock for the rest of the call."
Kendi's wife, Sadiqa Kendi, a Boston Medical Center emergency room pediatrician and a BU School of Medicine associate professor of pediatrics—"the real Dr. Kendi," her husband calls her—happened to be home at the time. Kendi had been told he could share his news with one person. "I went downstairs and told her and she screamed," he says.
It was all but impossible not to let their inquisitive five-year-old daughter, Imani, in on the secret. "She said, 'Good job, Daddy.'"
Kendi says he plans to celebrate with his family this weekend.
Kendi, who turned 39 in August, draws on "an in-depth understanding of racist ideology to present a framework for building a more equitable society," the MacArthur Foundation writes in its bio of the scholar. "His body of work includes traditional academic scholarship, non-profit leadership, writing for mainstream audiences, and public appearances and lectures….From this unique platform, he advances national conversations around anti-Black racism and the possibilities for accountability and repair grounded in historical context."
"This is a spectacular recognition of Ibram," says BU President Robert A. Brown. "The MacArthur grant is the most highly sought after award for people from all walks of life—from poets to writers to scientists—who are making their mark on our society through tremendous creativity. This puts Ibram in good company and denotes how he approaches everything he's doing. We're just really proud to have him as a faculty member and to have the Center for Antiracist Research that he founded at BU. This is more validation that we're on the right path."
Kendi joins Nancy Kopell, a William Fairfield Warren Professor and a CAS professor of mathematics, as BU's only current MacArthur Fellows (Danielle Citron won a MacArthur in 2019 while she was at the BU School of Law; she left last year for the University of Virginia Law School).
"We could not be more excited for Ibram and the work he is doing," says Jean Morrison, University provost and chief academic officer. "The MacArthur is among the highest national honors a scholar can receive, and this selection reflects the truly groundbreaking original research he is doing—research with major implications for society, the way we approach difficult questions, and the advancement of the human condition."
Past MacArthur fellows include Paul Farmer, the physician who founded Partners in Health; Marian Wright Edelman, founder of the Children's Defense Fund; biologist Paul Ehrlich, known for his warnings about overpopulation; public intellectual Susan Sontag; choreographer Twyla Tharp; former World Bank leader Jim Kim, and writer Jacqueline Woodson.
Kendi was a professor of history at American University, and gaining prominence as a writer and scholar of antiracism, when BU began recruiting him in 2019. By the time he arrived at BU to launch the Center for Antiracist Research, in July 2020, events, among them the murder of George Floyd by a white Minneapolis police officer and the nationwide protests and reckoning over race that followed, had catapulted Kendi, with his New York Times best-selling new book, How to Be an Antiracist, to center stage as a commentator and speaker whose ideas and hope for change are grounded in history. Since then, he and his BU team have been building the center, hiring faculty and staff, and launching new initiatives, including the Racial Data Lab, and partnerships such as one between the BU center and the Boston Globe Opinion team that is behind The Emancipator, an online antiracist media platform of ideas and opinion grounded in scholarship and data, expected to launch in early 2022.
Kendi is the author of eight books, including Stamped from the Beginning: The Definitive History of Racist Ideas in America, winner of the National Book Award for nonfiction in 2016. Most recently, he coedited, with historian Keisha N. Blain, Four Hundred Souls: A Community History of African America, 1619-2019 (One World, 2021). A 2020-21 Frances B. Cashin Fellow at Radcliffe Institute for the Advanced Study at Harvard University, Kendi is also a contributing writer at The Atlantic, a CBS News commentator, and the host of Be Antiracist with Ibram X. Kendi, a podcast he launched this past June with Pushkin Industries and iHeartMedia. In 2020, Time magazine named him one of the 100 most influential people in the world.
---

I do this work to create lasting change that will allow people to live a more just and joyful life…I have tremendous respect for the MacArthur Foundation and all the people who have been awarded their grants. To be one of those people is just deeply affirming in terms of the work that I'm trying to do.

---
Kendi, who takes pains in his writing and public appearances to credit other scholars, activists,and authors—he and Blain brought together 90 Black writers for Four Hundred Souls—says he works at guarding against expectations of external validation.
"I try to maintain a channel of humility and gratefulness, because I think that sort of drives me to continue to produce and to create and to research and to write and to build," he says. "I don't think we necessarily do this work to get honored. I do this work to create lasting change that will allow people to live a just and joyful life. But at the same time, it's hard not to appreciate the time in which your body of work was recognized. I have tremendous respect for the MacArthur Foundation and all the people who have been awarded their grants. To be one of those people is just deeply affirming in terms of the work that I'm trying to do."
It wasn't easy keeping the news of the MacArthur grant a secret. "Anyone who's able to be awarded this fellowship has had many people who have supported them and helped them along the way," Kendi says, "and to not be able to share this with those people was obviously challenging."
Kendi says he may use his MacArthur grant to support research for his latest book, Bones of Inequity: A Narrative History of Racist Policies in America, which is under contract with One World, an imprint of Random House.
The MacArthur Foundation bio of Kendi notes that he closes How to Be an Antiracist with reflections on his own recovery from stage 4 colon cancer and calls for treating "'America's metastatic racism' like a disease: 'saturate the system with a strong antiracist antibiotic, surgically excise the tumor, fortify with healthy inputs, and exercise ongoing vigilance to prevent recurrence.'"
Just five days ago, Kendi tweeted: "I can safely say I've now been cancer free for 3 years. My doc told me last night. It's a milestone year…I feel fortunate, lucky and determined to not waste the days I've been given. In a time of so much death, I wanted to share a small note of life."
Among the MacArthur Foundation's previous fellows are a number of writers and activists—including Bryan Stevenson, Nikole Hannah-Jones, and Ta-Nehisi Coates—who have been working for decades to educate policymakers and the public about the structural racism that is embedded in the nation's history. "I think there is potentially a greater awareness of racism right now than at any point in American history," Kendi says. "And it's because of the hard work of so many people. I'm glad to be writing and thinking and acting and working alongside those people. And I think we're in the process of trying to transform that awareness into action."