"A Lasting Legacy of Excellence": Reflections on President Brown's Impact on BU Research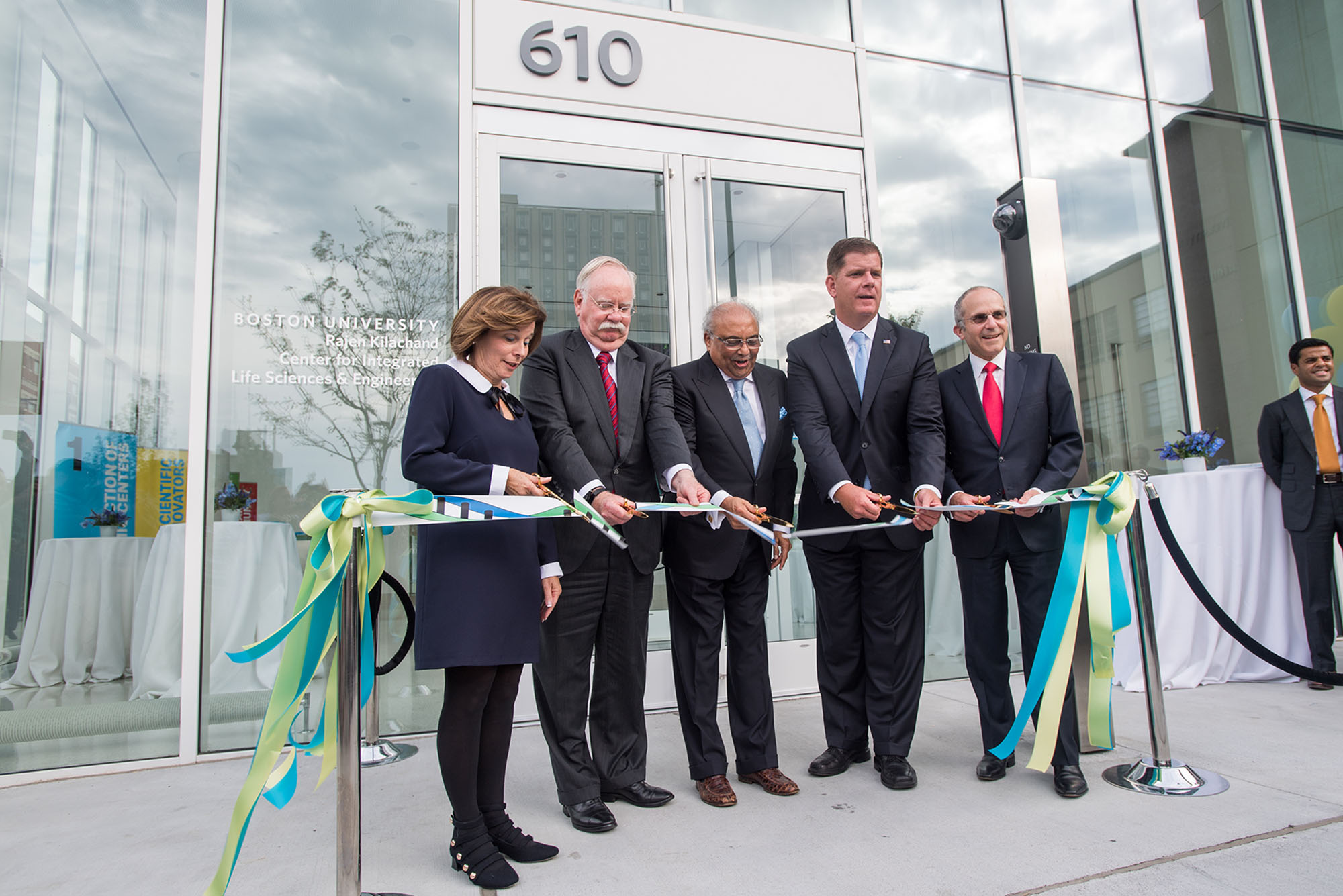 Administration
"A Lasting Legacy of Excellence": Reflections on President Brown's Impact on BU Research
BU researchers share how retiring president shaped their work and careers, as well as the University's standing on the national stage
To see President Robert A. Brown's impact on research at Boston University, you just need to take a walk through its campuses. A series of striking buildings, all built within the past two decades, are the physical representation of the University's emergence as a world-class research institution during Brown's tenure: the Rajen Kilachand Center for Integrated Life Sciences & Engineering, the National Emerging Infectious Diseases Laboratories, and—most recently—the eye-catching Center for Computing & Data Sciences.
After 17 years as BU president, Brown has announced his retirement; he'll step down at the end of the academic year.
During his time leading the University, sponsored research awards have grown by 74 percent, and federal research expenditures reached a record high of $630 million last year. Writing to the BU community to share the news of his retirement, Brown celebrated BU's research standing.
"Most importantly, we solidified our role as a major research university, with our faculty leading us to the forefront of traditional and emerging fields across the breadth of the University," he wrote. "We are committed to excellence and impact, and it shows in the growing recognition of individual faculty and programs, and the placement of our doctoral students."
In 2012, BU's research strength and status among the nation's best was cemented when the University joined the Association of American Universities (AAU), a group of America's leading research universities.
"Transformational is a word that many have used to describe Bob's tenure at BU, but there is none that I can think of that better describes the influence he has had on BU overall, especially in the area of research," says Gloria Waters, BU vice president and associate provost for research. "From the beginning of his time at BU, he set the bar very high for faculty hiring, tenure, and promotion. He was clear what the metrics were and that we were aspiring to be excellent. He was also clear that we needed to make choices and be strategic—we could not afford to be excellent in everything—and that there is a virtuous cycle, that excellence begets excellence."
A nationally recognized engineer and researcher in his own right, Brown also helped lead the foundation of a series of interdisciplinary research hubs, including the Center for Antiracist Research, the Rafik B. Hariri Institute for Computing and Computational Science & Engineering, and the Institute for Global Sustainability.
"BU is a very different institution than it was in 2005 largely due to his vision, strategic focus, and leadership," says Waters.
To see what Brown's impact has meant on a more personal level, The Brink reached out to researchers across BU to ask how his and the University's focus on research shaped their work and careers.
---

The strength of BU's research program under President Brown isn't just its rigor, but also its multidisciplinary scope, drawing from strong schools and colleges across both campuses. Centers like the

BU Center for Emerging Infectious Diseases Policy & Research

(CEID), which seek to find solutions to complicated and multidimensional problems like epidemics, can only exist and excel in research environments like the one created by Dr. Brown and his vision.

---
"President Brown's passion for supporting the highest caliber of science, engineering, and research emanated through every aspect of his presidency. His effort to bring researchers together from across the University helped to foster many new and exciting centers of excellence across science, engineering, medicine, and social sciences. He transformed the campus with new spaces, facilities, and buildings that have enabled cutting-edge research and teaching to thrive. He will be sorely missed by all of us, but his reshaping of Boston University leaves us with a lasting legacy of excellence at every level. For that I am truly grateful."
---

President Bob Brown started his presidency when I started BU as an assistant professor in 2005. His clear and bold vision to elevate BU to a world-class research institute enormously impacted my development as an independent researcher. BU's relentless pursuit of excellence in research has helped me prioritize research and demonstrate robust productivity in my publications, presentations, citations, and research grants. The generous

Undergraduate Research Opportunities Program

and work-study students also give me incredible and consistent opportunities to mentor all levels of students to do research and publish articles with them. I feel incredibly fortunate and proud to have started my research and education career at BU.

---
"During the last two decades, largely during President Brown's tenure, BU has greatly increased its stature as a respected academic research institution….President Brown [also] played an active role in the complex but effective strategic response to COVID-19 that allowed BU to have a fully populated campus during much of the pandemic. He even developed his own models of transmission to assess the potential impact of layered control strategies for the BU campus—his model was published in PNAS and our description of the campus control efforts was published in JAMA Network Open. He has been an inspirational leader and a great problem-solver."
---

I was dreading the day that this notification would come. Bob Brown, through his strategic and thoughtful leadership, has made BU a world-class institution. He has cultivated collaboration and innovation across the faculty and built a financial and institutional foundation that makes it possible for individual faculty like me to push the scientific and educational envelope. He leaves an enormous mark on BU and Boston—these will be very big shoes to fill!

---
"President Brown's vision of interdisciplinary science and research has shaped a lot of my work at BU. Most of my research collaborations are from colleagues across disciplines—engineering, computer science, and medicine—and these strong partnerships were forged under a larger environment of encouragement of cutting-edge interdisciplinary research."
---

I most appreciate President Brown's vision and leadership through the toughest parts of the COVID-19 pandemic. He helped build our robust local expertise in infectious diseases during his time as president. As a result, we were able to build a world-class testing program and to learn from our disease control efforts in real time. Throughout, these lessons were shared formally and informally for the benefit of communities beyond BU.

---
"I have deeply appreciated the clarity of his vision and principles, and how he communicated them. Equally important to his emphasis on scholarship was his attention to community. For example, I appreciated his decisions to hold the Day of Collective Engagement and his letter responding to the US Supreme Court ruling in Dobbs v. Jackson. Although I am excited to welcome him to day-to-day life in the halls of the College of Engineering, I will miss his presence at the helm of the University."
---

One of the most impactful contributions of President Brown has been his commitment to expanding our world-class science faculty and facilities at BU. The amount that the life sciences has grown here under his leadership has been tremendous, and his forward-thinking vision has made science at BU truly cutting edge. It's exactly this kind of forward-thinking vision that helps launch revolutions in science and helps nourish the research of early-career faculty like myself.

---
"BU's increased emphasis on interdisciplinary research has created many rich opportunities to collaborate with faculty, staff, and students across campuses and disciplines. I've found my conversations and projects through University-wide hubs and centers, such as BU's Initiative on Cities and the Center for Antiracist Research, to be among the most innovative, impactful, and rewarding experiences of my career. My research and impact in and outside of academia as a public health professor is stronger because of what I have learned from people with expertise different than my own."