Inside BU's $1.85 Billion Fundraising Campaign
How it happened and what it means for BU's Future.
1.85 Billion
How it happened and what it means for BU's future
The goal was ambitious and clear-cut: $1 billion. Boston University had never held an official fundraising campaign in its 180-year history until formally kicking off its first in 2012. And no other school had aimed to raise $1 billion in its first campaign, President Robert A. Brown said at the time. Seven years later, with more than $1.85 billion raised for financial aid, faculty support, research, and facility improvements, the University can now ask: What's next?
But before looking ahead, let's explore how this unprecedented campaign happened and how its impact will be felt for years, decades, even generations to come.
Q:
Words like "

historic

" and "

unprecedented

" get used a lot. Was this campaign really historic?

What made it historic wasn't just the dollar amount. It was that BU had never done one before. And setting a goal of $1 billion for its first campaign was one thing. Surpassing it was another. Scott Nichols, who ran the campaign as senior vice president for development and alumni relations, laughed when asked to put it all in perspective. "Founded in 1839. First campaign in 2012? Gimme a break!" So, yes, "historic" applies.

Q:
When people hear BU raised $1.8 billion, the first thing they'll ask is: Where does the money go?

Students, faculty, staff—the impact is visible everywhere. Look up and down Comm Ave for starters. The Rajen Kilachand Center for Integrated Life Sciences & Engineering. The Questrom School of Business. The Joan & Edgar Booth Theatre. The Frederick S. Pardee School of Global Studies. The campaign has driven a physical transformation of BU that's ongoing. The soon-to-be-built Center for Computing & Data Sciences would not be happening without the campaign.

Then there's the impact on people. Thanks to 267 endowed scholarships created during the campaign, BU is more accessible than ever to students from all backgrounds, especially first-generation college students, creating a far more socioeconomically diverse campus. It also helped Athletics. BU teams had 18 endowed scholarships when the campaign began; today, it has more than 50. Finally, dozens of full professorships now exist because of generous donations. The campaign is literally changing the face of BU, from the students being admitted to the faculty being hired to the buildings where they all teach, learn, and conduct research.
Were there any surprises with the campaign?
Many. But one stands out: nobody knew just how wealthy the University's alumni network was. BU has the 19th wealthiest alumni constituency in the US. For perspective, until 2012, BU had 34 donors whose lifetime of giving surpassed $1 million. Today, it has 176 donors whose lifetime giving has surpassed $1 million. Another surprise was the total number of donors: more than 175,000.
Why was the campaign so successful?
The big donations get the most attention, for good reason. They launched new programs and research centers and transformed the campus. But this campaign saw donations from more than 175,000 people, ranging from $1 to $100 to $1,000; there were more than 1,300 donations of $100,000 or more. Also notable: the number of young alumni donors—those under 35—doubled from the start of the campaign.
Did all this giving help make BU more affordable?
The numbers tell the story: In 2007, undergraduate financial aid investment was $160.7 million; by 2019, it was more than $280 million. Increasing financial aid and making undergraduate education more affordable for students of all socioeconomic backgrounds continue to be top priorities for the University. BU is expanding its financial aid program to meet the full need for all domestic students who qualify for financial aid, starting with the freshman class arriving in fall 2020. Donors especially embraced accessibility as a goal. Trustee Richard D. Cohen (CGS'67, Questrom'69) issued a challenge in 2018: he would match, dollar for dollar, new or increased gifts to support undergraduate need-based financial aid, up to $1 million.

To qualify for the Cohen Challenge, donors gave to BU's general scholarship fund, which supports undergraduates across campus, or to a specific school or college scholarship fund. In 2017, he made a targeted donation with low-income families in mind: the Richard Cohen Scholarship, aimed at eligible Pell Grant recipients. Today, the Richard Cohen Scholarship is used to help meet the full need, without loans, of students receiving Pell Grants.
So has making BU more accessible also made the campus more diverse?
Yes. From fall 2016 to fall 2019, the number of entering students from underrepresented groups climbed, from 15.7 percent to 19.6 percent. Also, in 2017, the number of Pell Grant recipients in the entering freshman class increased by 4.2 percent, and each subsequent year Pell Grant recipients have made up more than 15 percent of the entering class.
Are there examples of how the campaign is changing the campus experience for students?
Where to begin? In the last decade, BU has seen an explosion of opportunities for entrepreneurial-minded students. Many were made possible by campaign giving. Start with Innovate@BU, housed at the BUild Lab IDG Capital Student Innovation Center, a coworking hub for collaborative projects and new ventures, named in recognition of the lead support from IDG Capital and its CEO, University trustee Hugo Shong (COM'87, GRS'90). The Engineering Product Innovation Center (EPIC) is 15,000 square feet of cutting-edge opportunity and idea generation within the College of Engineering. The manufacture and design facility was funded through the University, ENG alumni and friends, and an $18.8 million gift. Then there's BU Spark! based at the Rafik B. Hariri Institute for Computing and Computational Science & Engineering and focused on innovations from students in computer science and engineering. Even annual events are growing, like TechTogether Boston (originally SheHacks), a student-run hackathon for women and nonbinary people that drew more than 1,000 people to the University last fall. Entrepreneurism is thriving at BU.
How else will students benefit from the campaign?
Lots of ways. BU built the Yawkey Center for Student Services, which brought together several scattered academic advising programs for undergraduates and includes a dining hall. The University invested $133 million in the renovation of Myles Standish Hall, increasing the number of private bedrooms and adding study rooms and music practice rooms. Before that, BU renovated Shelton Hall, thanks to a $10 million gift from trustee Rajen Kilachand (Questrom'74, Hon.'14), and renamed the student residence Kilachand Hall. The building houses students in the Arvind & Chandan Nandlal Kilachand Honors College, established with a pledge of $25 million from Kilachand and named in honor of his parents. And in 2012, the School of Medicine opened a student residence on Albany Street.
What were some of the biggest gifts made during the campaign?
The largest gift in BU's history came from trustee Rajen Kilachand (Questrom'74, Hon.'14): a $115 million commitment, which directed $15 million to support construction of the new Rajen Kilachand Center for Integrated Life Sciences & Engineering—a state-of-the-art research facility that promises to speed life-changing developments in the fields of human health, environment, and energy—and $100 million to establish an endowment known as the Rajen Kilachand Fund for Integrated Life Sciences and Engineering. Previously, he pledged $25 million to establish Kilachand Honors College and $10 million for renovations to Kilachand Hall.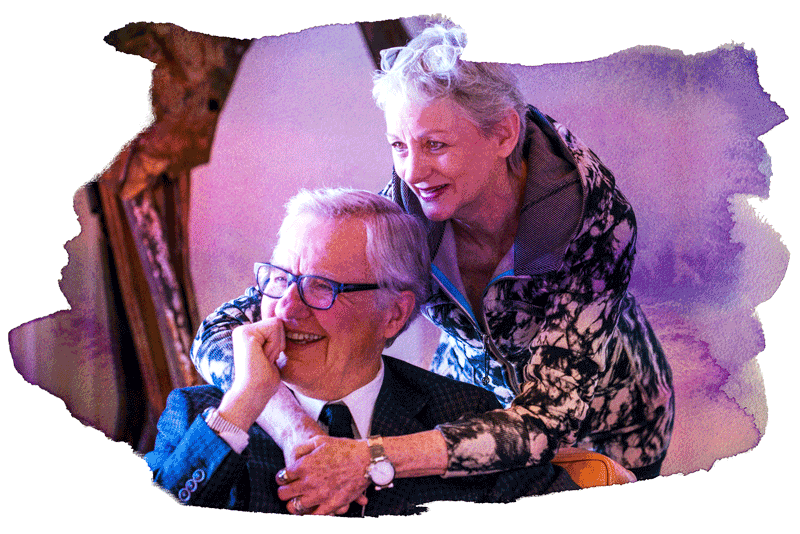 Allen Questrom (Questrom'64, Hon.'15), retired chief executive officer of several of the nation's largest department and specialty stores, and his wife, Kelli Questrom (Hon.'15), donated $50 million through the Allen and Kelli Questrom Foundation, a gift that renamed the School of Management as the Questrom School of Business, endowed 10 professorships, and launched plans for a new graduate business program facility. Frederick S. Pardee (Questrom'54,'54, Hon.'06), who runs a real estate management firm in Los Angeles, donated $25 million to launch the Frederick S. Pardee School of Global Studies. He later pledged another $25 million to support the school.
Was the giving spread out across campus, to various schools?
Each of BU's 17 schools and colleges received at least one pledge, grant, or gift of $1 million or more. That includes the University's newest school, Wheelock College of Education & Human Development, formed with the 2018 merger of the School of Education and Wheelock College. Nancy H. Roberts ('59,'61,'75), a Lesley University professor emerita, and her husband, Edward B. Roberts, the David Sarnoff Professor of Management of Technology at the MIT Sloan School of Management, have pledged $2.5 million to endow the Nancy H. Roberts Professorship of Educational Innovation. Roberts earned a bachelor's degree from the College of Arts & Sciences and a Master of Education and a Doctor of Education from Wheelock, then known as the School of Education.
The Top Five Areas where the campaign donations are going (In millions)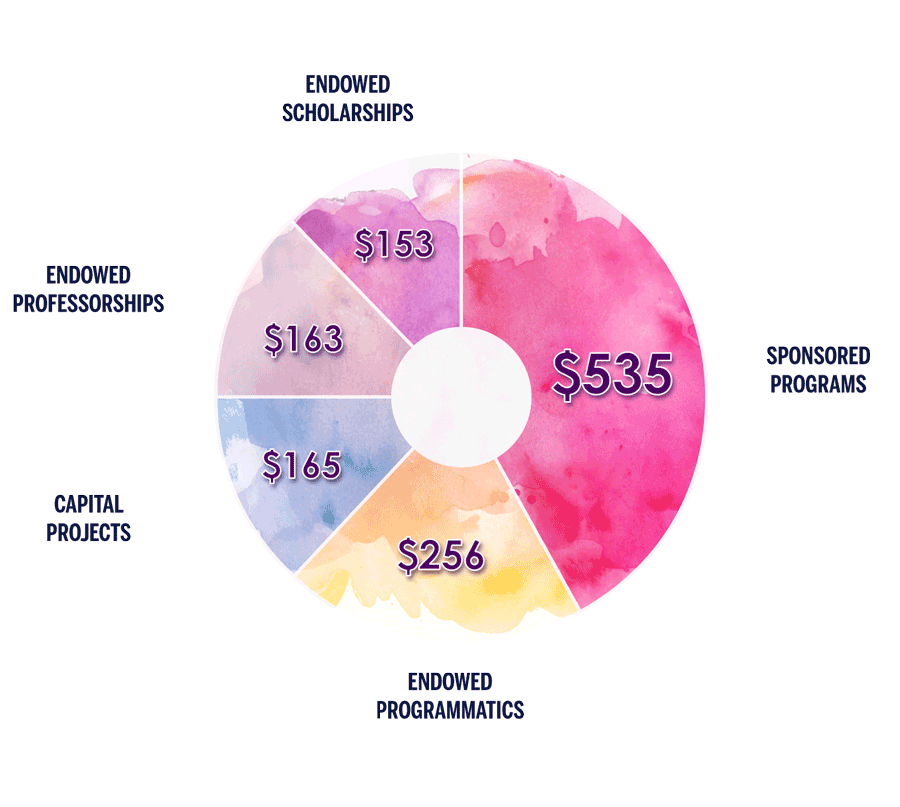 What's the impact on the Medical Campus?
There's been plenty of donor support. University trustee Shamim Dahod (CGS'76, CAS'78, MED'87) and her husband, Ashraf Dahod, pledged $10.5 million to the School of Medicine to establish the Shamim and Ashraf Dahod Breast Cancer Research Center, to endow assistant professor and international scholar positions at the center, and to support MED's student residence, which opened in 2012 at 815 Albany St. The late Jack Spivack, a founder of the Vie de France Corporation, provided more than $15 million in a series of planned gifts to establish the Spivack Center for Clinical & Translational Neuroscience. Also, MED's endowment for scholarships has grown, from $30 million to $61 million, with annual scholarship support rising from $1.4 million per year to $7.4 million per year, and the school established a loan forgiveness program to ensure that students who want to care for children and families are able to do so, says Karen Antman, provost of the Medical Campus and dean of MED.
What about research? It seems as though BU scientists have been more visible and in the news more often.
That's no coincidence. One of the campaign's most important impacts was in the transformation of BU into a world-class interdisciplinary research institution. In less than a decade, the amount of research funding flowing into the University overall rocketed from around $360 million to $579 million, helping BU scientists and researchers to become leaders in fields ranging from Ebola to concussions to lung cancer to data and computer sciences, and more.
What's been the impact of international alumni and donors?
One of the most visible and successful of BU's global outreach efforts is the President's International Advisory Board, a select group of several dozen leading alumni and friends, mostly from overseas, who act as informed advisors on global issues of importance to the University. This group, first brought together a half-decade ago, meets several times a year at locations around the world, and collectively contributed more than $250 million to the campaign.

A typical campaign at a US-based educational institution might expect to raise between 2 and 3 percent of its total funding from international donors. During BU's campaign, 20 percent of the funds raised came from donors in 105 countries outside the United States.
Why does the famous Castle have a new name?
The century-plus-old Tudor Revival building on Bay State Road, now the Dahod Family Alumni Center, underwent a 15-month top-to-bottom renovation in 2017 and 2018. Much of the $10 million project was paid for through the support of BU alumni, starting with the naming gift from trustee Shamim Dahod (CGS'76, CAS'78, MED'87) and her husband, Ashraf Dahod. The building is now accessible to those with disabilities and it houses facilities and gathering places for alums and the Alumni Relations offices.
Now that the campaign has come to an end, does that mean fundraising stops?
Sort of the opposite. The success of the first campaign only inspired a desire to keep going. The groundwork for the just-ended fundraising effort was laid shortly after President Robert A. Brown arrived at BU in 2005, when he asked administrators to work on a strategic plan laying out their vision for the University. The plan identified key priorities, from fostering academic excellence to enhancing the student experience and campus environment to expanding frontiers of knowledge while supporting interdisciplinary efforts. Now, a new strategic plan is afoot that should be ratified in 2020 and will chart the University's course for the next decade.