Scott Nichols to Retire after Leading BU's Successful First Comprehensive Campaign
He reflects on the massive six-year fundraising effort: "To see this breakout is extraordinary"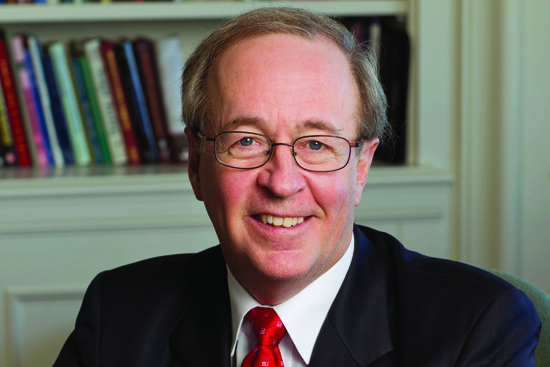 When Scott Nichols first met with Robert A. Brown back in 2006, over dinner at Island Creek Oyster Bar in Kenmore Square, he was not prepared for what the BU president was about to tell him. Brown wanted BU to undertake its first comprehensive fundraising campaign, and the goal would be crazily ambitious—$1 billion.
"I was blown away by the sheer audacity of that number," Nichols remembers thinking.
But it was that ambition, along with Brown's vision, that enticed Nichols to leave Harvard Law School and become BU's senior vice president for development and alumni relations.
Now, 12 years and one enormously successful fundraising campaign later, Nichols is preparing to retire this fall. The campaign that eventually started in 2012 with Brown's stated goal of raising $1 billion, will conclude in September after the first goal was reached early and a second, even higher, target of $1.5 billion was set. Not only has the effort driven a physical transformation of the University's campus, with donations from more than 150,000 individuals and organizations, it has also contributed to BU becoming more accessible to students from all backgrounds, especially first-generation college students, and helping to fund more than 250 new scholarships (and many of them will fund multiple students rather than just one).
"It's been just a massive turnaround for BU," Nichols says on reflection. "To see this breakout is extraordinary." The donors all had a desire to contribute to a greater good, he says, and they understood that "a better BU makes a better world."
He describes the campaign as both unique and historic, in part because it was BU's first true strategic comprehensive fundraising effort. "No university has accomplished what BU has done. Founded in 1839, first campaign in 2012? Gimme a break!" he says with a chuckle.
As for his retirement, the 70-year-old Nichols says he prefers to call it more of a slowdown. He will continue in an advisory capacity when needed, but he's also looking forward to playing tennis more often and spending time with his family and grandchildren.
An enduring legacy
"Scott Nichols has earned a place in the history of Boston University," Brown says. "The development and alumni relations organization that he and his colleagues have built, and the campaign he designed and led, are transformational for this institution. He was—and will always be remembered as—the right person at the right time."
In early February, just days after the Super Bowl champion New England Patriots paraded through Boston, Kenneth Feld (Questrom'70), chairman of the BU Board of Trustees, paid Nichols perhaps the ultimate compliment (for New Englanders).
"Scott is persistent and he never gives up," Feld said. "He's the Bill Belichick of development. He had a game plan. He stuck to it. He was relentless."
Of all the facts and figures Nichols learned during the campaign, two still astonish him: "We now know we have the 19th-wealthiest alumni constituency in the world," he says. The second: in its history, BU had had 34 individual donors whose lifetime giving surpassed $1 million prior to 2012—yet during the six-year campaign, there have been 196 people or organizations whose donations passed $1 million.
Nichols has particular pride in how the campaign attracted wealthy donors, but raised large sums from faculty and staff as well—and even from all 525 varsity athletes. "It was an extraordinary privilege to be a part of that," he says.
He also says the campaign has helped to further the already groundbreaking concussion research being done on chronic traumatic encephalopathy, led by Ann McKee, a School of Medicine professor and director of BU's CTE Center. That type of research, Nichols says, is one example of the legacy that the campaign should be remembered for: "CTE isn't about glorifying BU. It's about curing a horrible disease."
It's about people
One relationship in particular forged through the campaign stands out for Nichols.
"The experience with Rajen Kilachand has been wonderfully surreal in terms of his generosity," Nichols says. Through a series of gifts totaling $150 million that created Kilachand Honors College, renovated Kilachand Hall, and resulted in the Rajen Kilachand Center for Integrated Life Sciences & Engineering and an endowment to support its research, BU trustee Kilachand (Questrom'74, Hon.'14) has become one of the largest donors to higher education in US history. "This was someone we didn't know a decade ago," Nichols says. "That kind of discovery has been phenomenal. That often takes decades and even generations to get someone to be comfortable to make a commitment of that scale. That's been remarkable to me."
Brown says that one of the reasons Nichols was able to forge the kind of relationship he has with Kilachand, as well as with others, is that he had both the right strategy and the right approach to reaching out to the BU community. "Scott knew how to structure a fundraising operation and has led the development of philanthropy from our alumni and friends to be a critical resource for University support and the implementation of our strategic plan," the president says. "He accomplished all this with infectious enthusiasm and commitment. His legacy is huge."
Karen Engelbourg, BU's vice president for development, says Nichols' emphasis on building volunteer boards, in particular Deans' Advisory Boards and the International Advisory Board, had monumental impacts on the campaign. The new scholarships and 70 new professorships funded through the campaign "really move the needle," she says, in terms of BU's quality of education and accessibility.
Engelbourg also rattles off a litany of new buildings and research investments that have begun during the campaign, in particular the Shamim and Ashraf Dahod Breast Cancer Research Center and the Dahod Family Alumni Center in the venerable BU Castle. Both were created as a result of gifts exceeding $12 million from BU trustee Shamim Dahod (CGS'76, CAS'78, MED'87).
"Scott's tremendous partnership with Dr. Brown and the trustees, who are also some of the lead donors for the campaign, really brought to BU that incredible culture of philanthropy, which we hadn't had previously," she says.
Nichols' path to fundraising started in college, when he headed up the gift drive during his senior year at Bucknell University. His passion intensified through a stint with the Peace Corps in Morocco—"an extraordinary experience," he says. After 20 years at Harvard, he came to BU shortly after the University hired Brown as president. In addition to being a longtime trustee of his alma mater, Bucknell, he's held leadership positions at the Council for the Advancement and Support of Education.
"This guy was 24-7," Feld says. "He set the bar quite high for anybody that comes in after him. I don't believe he wanted to do this for another five to seven years, so I do think it is the right time. It made sense that if he's going to leave, you don't want to leave in the middle of something. It's a wonderful time for him to go on to the next stage of what he's going to do."
What does that next stage look like? Nichols says he and Brown have agreed that he will continue to advise the University as needed and assist in making sure BU maintains its momentum coming out of one campaign cycle and into the thought process for a future one.
"We've increased our ambitions for the future," he says. But, adding quickly with a smile, "I am about 312 years old. I'm ready to move on and do other things."