The Dahod Family Alumni Center Opens for Business
Year-plus restoration of historic mansion, formerly the Castle, complete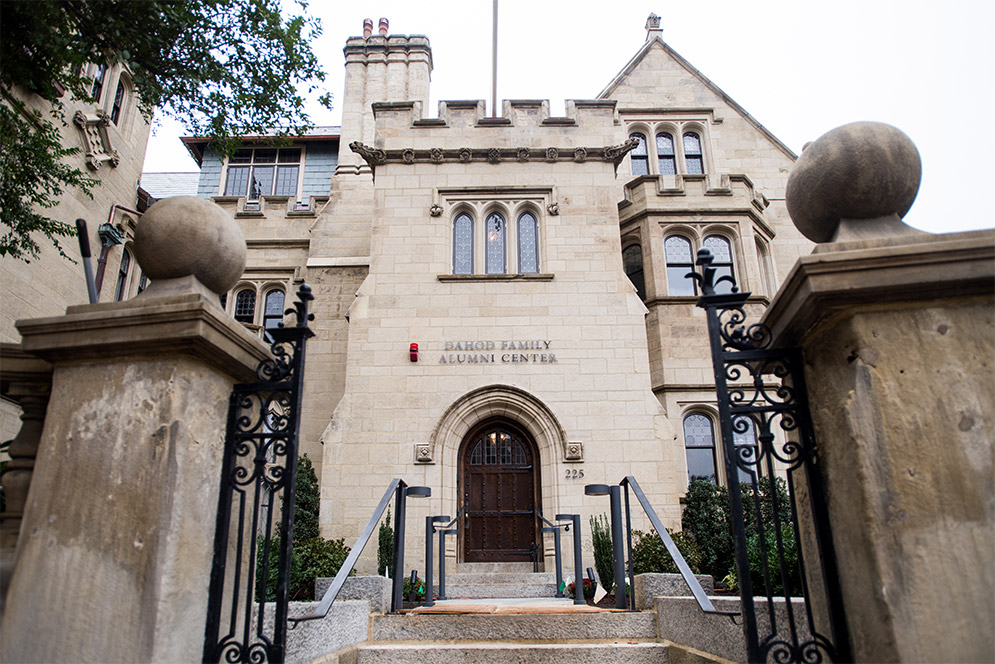 Arguably BU's grandest and most stately building, the new Dahod Family Alumni Center—housed in the 103-year-old mansion known for decades as the Castle—looms over Bay State Road and Storrow Drive, with its stone gargoyles, peaked roof, and leaded Gothic windows.
But age had taken a toll on the century-old Tudor Revival building. The exterior was covered in soot, and inside, years of piecemeal renovations hadn't managed to adequately squash leaks and electrical issues. And the mansion, which was called upon regularly to host dinners, lectures, and weddings, wasn't fully handicap accessible.
Now, thanks to a major 15-month restoration, which included a scrubbing of the exterior of the gray edifice to restore the original sandstone color as well as extensive interior work, the building is starting off the new school year with a new look. And it officially reopens this weekend during Alumni Weekend, September 21 to 23. First floor space will now have a faculty dining area and be used for programs run by Events & Conferences. The second floor will house facilities and gathering places for alumni and the Alumni Relations offices, and the third floor will be staff offices and meeting spaces. And the improved BU Pub, which was closed during the construction, is reopening.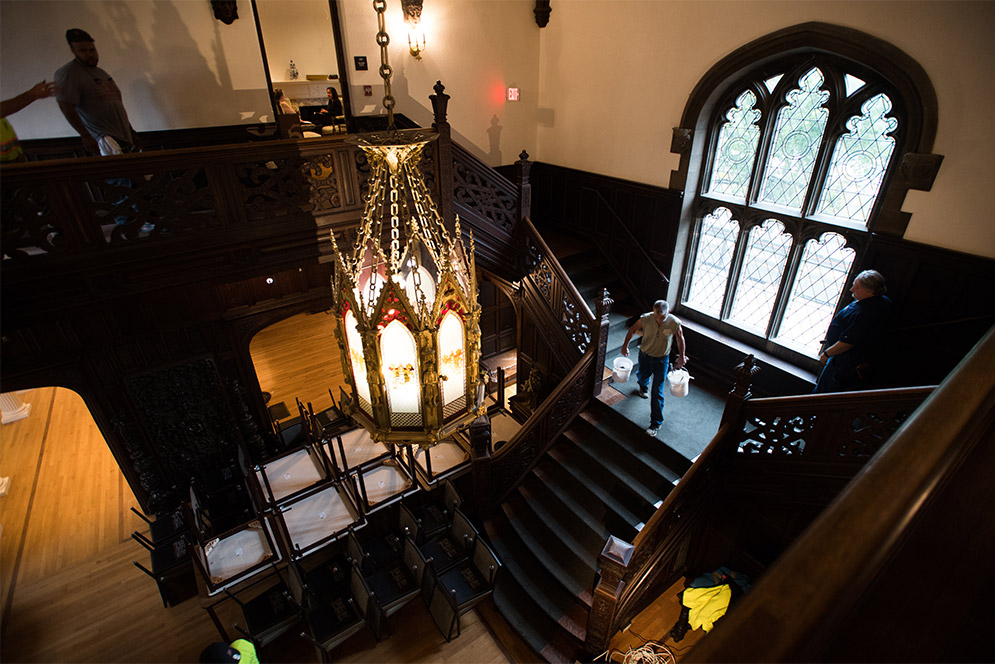 The construction cost of the top-to-bottom restoration, designed by the Boston firm Finegold Alexander Architects, Inc., was $10 million, much of it paid for through the generous support of BU alumni, starting with the naming gift of $2 million from BU trustee Shamim Dahod (CGS'76, CAS'78, MED'87) and her husband, Ashraf Dahod; $1 million from former trustee Sid Feltenstein (COM'62), whose name appears on the first floor of the building; and $1 million from former trustee Ed Fuller (Questrom'68) and his wife, Michela Fuller, whose donation transformed what had been known as the BU Pub into Fuller's BU Pub. In total, more than 800 donors contributed to the building's renovation, says Steve Hall, vice president for alumni relations.
"It started with the vision of having a recognizable place on campus that alumni could call their home," says Walt Meissner (CFA'81), BU associate vice president for operations, who oversaw the LEED-certified (Leadership in Energy and Environmental Design) project for the University. "The other thing that drove the project was the practical need. This is a highly sought-after, recognizable event space, with at least 175 events last year. So this was a complete renovation, with new systems and amenities, but we wanted it to look and feel the same."
Balancing old and new
The mansion at 225 Bay State Road was built by businessman and author William Lindsey, Jr., in the early years of the 20th century for what was then the staggering sum of $500,000 (the equivalent of $11.6 million today). The house was modeled on Britain's stately Athelhampton Hall, and the exterior's elaborate stonework was carved by the sculptor who worked on Copley Square's Trinity Church. English craftsmen built the interior's large hooded fireplace, sweeping dual staircase, and dark mahogany walls. After construction was completed in 1915, the house was a private home for several years. BU trustee William Chenery (Hon.'38) purchased it and donated it to the University, and BU Presidents Daniel Marsh (STH'08, Hon.'58) and Harold Case (STH'27, Hon.'67) and their families lived there during their tenures. In addition to hosting BU events and galas, the house has also attracted Hollywood. It can be seen in films such as The Proposition (1996), 21 (2007), The Social Network (2010), and Ghostbusters (2016).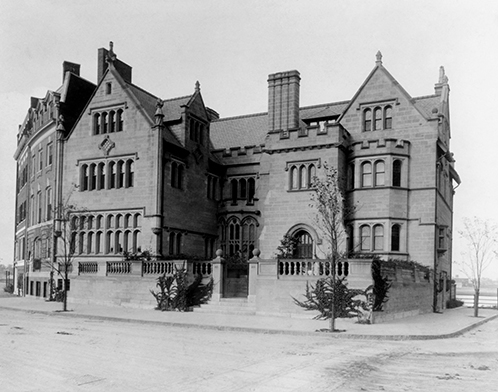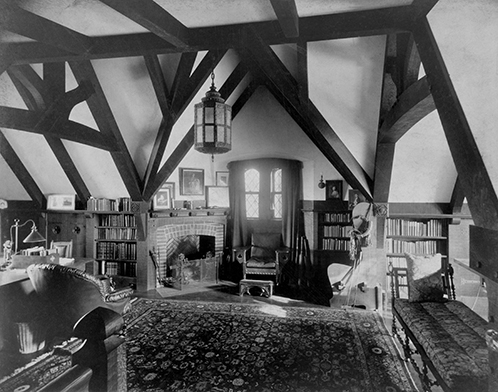 As part of its complete rehab, the Dahod Family Alumni Center's exterior masonry, original windows, and slate roof have all been restored. Gone are the window AC units, and in their place is a building-wide HVAC system.
"When a building has that kind of cultural significance to the collective memory of an institution, it's always going to be both a wonderful opportunity and a particularly strong challenge to an architect to preserve the aspects of the building that contribute to its historical significance," says Rebecca Berry, a principal with Finegold Alexander Architects, "while at the same time doing work that enables the building, built 100 years ago as a house, to function as a modern event center.
"The complexity of this project was far greater than the scale of the building."
One of the architectural team's biggest challenges—making the mansion fully handicap accessible—began several years ago, when the Alan and Sherry Leventhal Center, home of BU Admissions, was being built next door. The two buildings are connected through a wall.
"Provisions were made at the time to enable the eventual cut-throughs, so those in a wheelchair could enter the Castle through the Leventhal Center," Berry says. To make the building compliant with the Americans with Disabilities Act, the team had to take into account "things like door hardware, and stair handrails, and very small, subtle things that blend into the historic detailing that no one is going to notice except for the design and construction team," she says.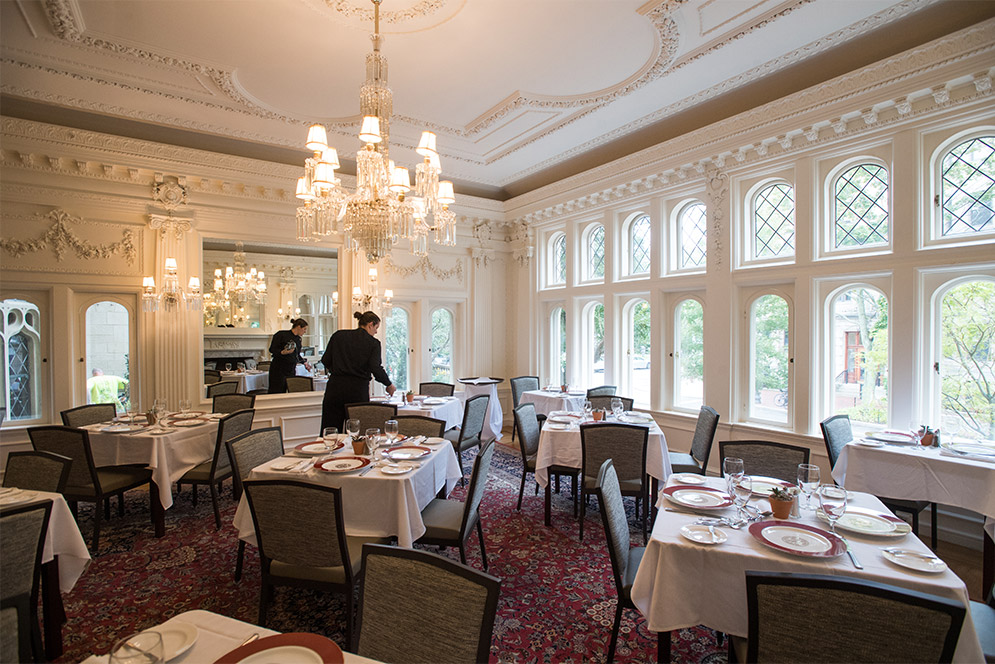 Next Monday, guests will be able to dine in the new first floor Faculty Dining Center and in Fuller's BU Pub, which now has an enclosed year-round patio, a new chef and commercial kitchen, a new menu, 16 beer taps—and yes, the return of the Knight's Quest. (BU Today will publish an in-depth story about Fuller's BU Pub next month.) "When people return to the Pub, clearly it's going to be different—it's nicer, but it shouldn't be unfamiliar," Hall says.
Alumni will be among the first to get a glimpse of their new center this weekend, when the building hosts several Alumni Weekend open houses and private events.
"Many alumni have told me that they are hugely impressed with the fact that the University has dedicated such an iconic building to be our Alumni Center," says Mary V. Perry (CAS'79, GRS'80, LAW'83), president of the Boston University Alumni Association. "It says great things about the importance of BU alumni: much more than using words, our University leadership is showing us how much we are valued. The Dahod Family Alumni Center will not just provide us a home, it will provide a draw to come home to BU."
The Dahod Family Alumni Center Grand Opening is being celebrated this weekend during Alumni Weekend. Find a list of events and registration information here.