Frederick S. Pardee Pledges Another $25 Million to Pardee School of Global Studies
Alum's gift could pave way for stand-alone building for school he endowed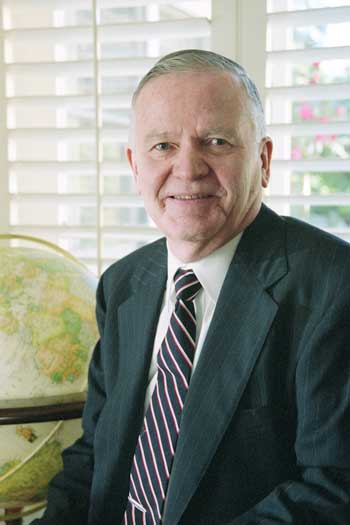 Five years after Frederick S. Pardee donated $25 million to endow the Frederick S. Pardee School of Global Studies and advance the next generation of global leaders by supporting education and research at Boston University, BU announced on Saturday that Pardee has committed another $25 million to further support the school he created.
A former economist who runs a real estate management firm in Los Angeles, Pardee (Questrom'54, Hon.'06) has said his passion and determination to help build a more peaceful society was born when he was a child during World War II. He was able to attend BU on scholarship and has said the financial aid that provided him that opportunity—he earned a bachelor's and a master's degree at what was then the School of Management—became a driving force in his desire to better the world.
The latest gift from Pardee, which is meant to provide partial funding for a stand-alone building for the Pardee School, brings his total support to BU's comprehensive fundraising campaign to $50 million, making him one of the University's largest supporters.
"Fred Pardee has an amazing vision for how education and scholarship with a global focus can help shape our world," says Robert A. Brown, BU president. "His generosity has converted this vision into the Pardee School of Global Studies as an enduring academic unit focused on this goal."
Pardee first helped establish the Frederick S. Pardee Center for the Study of the Longer-Range Future in 2000. Then, 13 years later, that center, while remaining independent, became the research engine for the Frederick S. Pardee School of Global Studies. Today, the Pardee School has 750 undergraduate students, 150 graduate students, 5 undergraduate majors, 5 graduate degrees, 40 full-time faculty, and another 150 affiliated faculty from across the University.
Adil Najam, inaugural dean of the Pardee School and a professor of international relations and of earth and environment, says Pardee's gifts to BU have had an impact far beyond its Boston campus. He describes Pardee as a "serial transformer of the University," and says he has a genuine desire to help shape how the world approaches and solves giant global challenges.
"Having a school of international and global affairs is not a common thing," Najam says. "Most institutions do not have a place of global affairs; it is a mark of a major university. That's one transformation right there. This gift does not just help continue what we are doing. It allows us to do things we were not able to do: to become among the leading institutions in this field."
The school's stated mission is in many ways a reflection of Pardee's own global mission: It is dedicated to improving the human condition through rigorous and creative education, path-breaking interdisciplinary research, and innovative initiatives to make a real-world difference in the critical challenges humanity faces.
"We are thrilled about Fred's most recent gift to BU," says Jean Morrison, University provost. "His long-standing and continuing support for various elements of our global efforts has ensured that we have outstanding programs and an outstanding School of Global Studies. We are all deeply grateful to Fred for his generosity, which will have long-lasting impact on BU and the world as our graduates go on to become leaders of their field."
Najam says that Pardee's first gift gave BU the motivation to provide more programming in global studies. For Pardee, the inspiration for giving that first gift came from his BU studies, where he learned from the work of noted urban and technology historian Lewis Mumford.
After he graduated in 1954, Pardee served in the Air Force before working as an economist for the nonprofit RAND Corporation for $7,500 a year, examining economic, social, and political issues. Although he moved on to a successful career running an apartment building management firm, he always maintained his ties to, and fondness for, BU, reflected in his numerous donations to his alma mater and his desire to see the Pardee School of Global Studies thrive.
With the world changing at such a rapid speed nowadays, Najam says, the Pardee School will now be able to now change with it by providing even greater studies in global politics, global technology, global trade, global finance, and global climate change.
A major reflection of the Pardee School's commitment to global studies, he says, can be seen in the six different centers that are part of the school: the Center for the Study of Asia, the Center for the Study of Europe, the Latin American Studies program, the African Studies Center, the Institute for the Study of Muslim Societies & Civilizations, and the Global Development Policy Center.
"BU is staking its claim to this field thanks to Fred's generosity," says the Pardee School dean, "to talk about and try to understand and find solutions to these problems."
Najam saw Pardee a week ago in Los Angeles, prior to a one-day panel event BU held at Paramount Picture Studios, Boston University Envisions the Future, and he says that Pardee was excited about more than BU's future. "He is truly optimistic about the potential of what humanity can do," he says.
Pardee is famously reserved about discussing his donations, but he has talked about how BU afforded him the opportunity to give back—to the school and to society. "I was very appreciative of the fact that BU provided me with a scholarship," he said several years ago. "My time at BU would have been much more difficult had I had to work between classes." With the success of the Pardee School, he said, his desire to build a legacy around "global human progress" feels fulfilled.